Lahore Smart City Allocation of Plots Confirmed – Breaking News
by UPN
May 20, 2022
0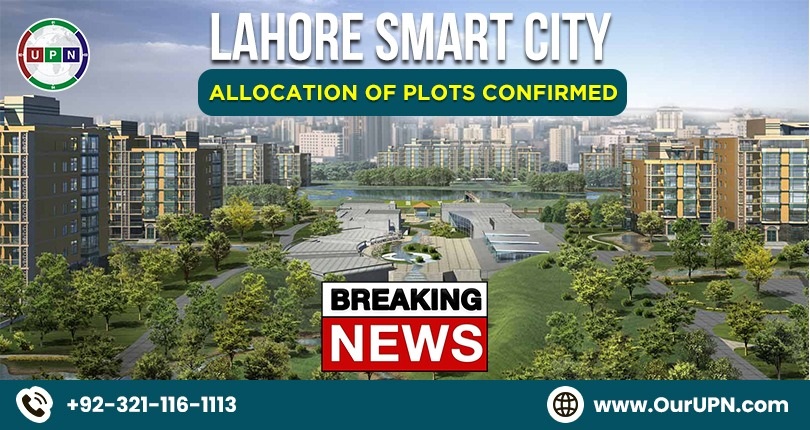 Lahore Smart City allocation of plots is confirmed. Universal Property Network brings you an important update on this premium housing society. We congratulate all the Lahore Smart City members who had confidently invested their capital in this outstanding project. Also, the location-allocation of plots is confirmed by the management of this top-class venture. It was got because of Ramzan and balloting of Overseas Central, Harmony Park, and Overseas Prime in Capital Smart City. It's great and undoubtedly, the most-awaited news that will surely bring happiness for investors looking for early allocation. Further details are:
Lahore Smart City Allocation of Plots in Sector A and Sector B
This recent plot allocation in Lahore Smart City is announced for the properties of Sector A and Sector B. It includes all the plots of these sectors available in the following categories and sizes:
5 Marla Residential Plots
7 Marla Residential Plots
10 Marla Residential Plots
12 Marla Residential Plots
1 Kanal Residential Plots
4 Marla Commercial Plots
8 Marla Commercial Plots
This allocation of plots will start on 1st June 2022. So, be ready to get your plot in a prime location.
Who is Eligible for this Early Allocation?
This Lahore Smart City allocation of plot criteria is simple and convenient. All the members of this society with updated dues till the date of allocation and investors with clear/lump sum payments will be eligible for plots' allocation in Sector A and Sector B. In this regard, a guideline letter will be issued this week. Therefore, all Lahore Smart City members are requested to only follow those guidelines.
Development Updates of Lahore Smart City Sector A and Sector B
The development work of this premium housing society started a long time ago. The pace of development is impressive. According to the recent updates, the development work of Sector A is more than 90% completed. The work on road developments, plot leveling, sewerage, and other infrastructure is going on smoothly. On the other hand, Sector B development is around 85% complete. Also, the rest of the work will be completed in a couple of months. The level and quality of work are simply heart-winning.
Current Profit Updates on Plots in Lahore Smart City
This state-of-the-art venture offers a variety of options for residence and investment in Lahore Smart City. A diverse range of residential as well as commercial plots is available to facilitate investors as per their requirements. At the same time, the launching prices of these plots were reasonable, and the availability of easy installments added value to them. But due to high demands, all these plots' options can be purchase by paying profit amounts. The own amount of the plots vary from size to size and booking to booking. Moreover, below, we are sharing the minimum to maximum own amount on Lahore Smart City plots:
4 Marla Commercial Plots
51 lacs to 52 lacs
8 Marla Commercial Plots
75 lacs to 80 lacs
5 Marla Fresh Booking
Own Amount Varies Between 6 lacs to 6.5 lacs
5 Marla Second Booking
These plot files are available on 8 lacs own.
5 Marla First Booking
The profit amount varies from 9 lacs to 9.5 lacs
7 Marla Fresh Booking
These plots are available on 7 lacs own.
7 Marla Second Booking
6 lacs to 6.25 lacs
10 Marla Plots First Booking Profit Amount
Around 15 lacs
10 Marla Plots Second Booking
12 Lacs Own Amount
10 Marla Fresh Booking
7 lacs to 7.50 lacs Profit Amount
1 Kanal Plots First Booking
These plots are available in 28 lacs to 29 lacs profit.
1 Kanal Plots Second Booking
19 lacs to 19.50 lacs own amount.
1 Kanal Plots Fresh Booking
15 lacs to 15.50 lacs profit.
That's all the current profit amount on Lahore Smart City plots. Furthermore, an increase in the plots profit amount is expected as the allocation of plots in Sector A and Sector B will begin in the next 1 – 1.5 weeks.
So, if you are still looking to invest in the plots of Lahore Smart City, please be quick and contact us as the prices are increasing day by day. Missing out on this golden opportunity for investment at reasonable rates will surely benefit you.
Please contact Universal Property Network For More Information click here or visit our youtube channel further assistance