Is Lahore Smart City Investment Really Worth it?
by UPN
November 28, 2022
0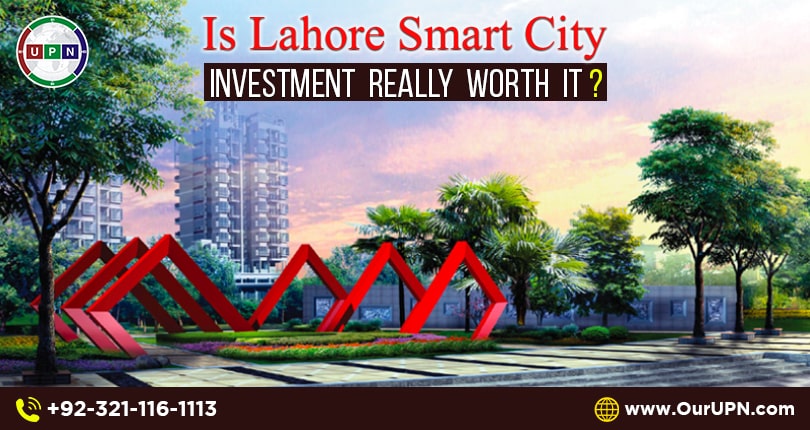 Is Lahore Smart City investment beneficial? Should we invest in LSC and it will return high? Is this the right time to invest in Lahore Smart City? Well, all these are the most commonly asked questions by our respected clients and the regular visitors of the website. If you are also thinking the same, let us discuss these things together for satisfactory answers.
Lahore Smart City Investment Opportunity, How to Get Huge Profit?
About Lahore Smart City
Since its inception, Lahore Smart City has become a popular housing project among investors. It is planned perfectly by the two top developers i.e. Habib Rafique and FDHL. Moreover, its location is outstanding and easily accessible. It's a master-planned society covering a major land area. It features several blocks where the best residential and commercial properties are designed. Also, these residential and commercial come in different plot sizes so that modern buyers can invest as per their requirements.
The facilities planned in this society are up to date. Most importantly, the prices are reasonable and availability is on easy installments. People looking for good investment opportunities in Lahore but also on installments should definitely consider this.
Lahore Smart City Investment
Universal Property Network is advertising and dealing in Lahore Smart City properties from day 1. It's a well-planned development with smart features and unique attractions. At first, its residential plots were launched where the prices start from 18 lacs. Also, booking starts at 10%. After getting huge success in the pre-launch phase, the developers later introduce commercials and a new deal residential. Currently, the available sizes of plots in Lahore Smart City investment are:
5 Marla Residential Plots
7 Marla Residential Plots
10 Marla Residential Plots
12 Marla Residential Plots
1 Kanal Residential Plots
The other options are:
2.66 Marla Commercial Plots
4 Marla Commercial Plots
6 Marla Commercial Plots
8 Marla Commercial Plots
All these plots of LSC are available to invest in with flexible payment plans. However, the prices are different as there is availability in old and new deals. The profit amount on these plots also varies.
Expected Deal in LSC
Undoubtedly, Lahore Smart City is a premium option to invest in Lahore's real estate market. It is full of opportunities attractive for residence and investment growth. But still, many of the investors are waiting for the new deals to launch. The upcoming deals in Lahore Smart City are:
2 Kanal Residential Plots
Everyone is anxiously waiting for the launch of 2 Kanal residential plots in Lahore Smart City. UPN is regularly receiving queries related to 2 Kanal plots LSC. Even, a few months ago, there was news of bookings of 2 Kanal, but that all was wrong and only false rumors. The developers have not disclosed the details yet. Hopefully, this deal will launch in the first quarter of 2023. The prices of these bigger sizes of plots will be reasonable and installments option will be provided.
Luxury Villas Lahore Smart City
Another attractive upcoming deal is the launch of Lahore Smart City villas. These are the luxury villas of 10 Marla and 1 Kanal. Featuring all the attractions of modern lifestyle, these are fully-equipped houses. The development work of these Villas Lahore Smart City was started a long time ago. Currently, many of these villas are ready in grey structures and the finishing work is progressing speedily. As per market updates, Lahore Smart City developers will launch these villas upon completion. It will offer buyers an opportunity to immediately get possession and move to their dream houses. The prices of Lahore Smart City villas are not yet disclosed. Also, it is hard to confirm whether the developers will introduce a payment plan or not.
Is this the Right Time to Invest?
Lahore Smart City investment is always beneficial even though many of the investors had already earned good returns. It's true that all the plot files of LSC are available with a profit amount. For example, 5 Marla plot files can be purchased by paying a profit amount of 5 – 12 lacs. Similarly, 7 Marla files are available on a profit of 4.50 lacs to 8 lacs. But still, the rates are reasonable. Once there was a time when the same plots were available with a 15+ lacs profit amount. The rates are currently stable. These rates will not go down as the chances are only 30%. On the other hand, market experts are confident that the prices will begin to increase soon.
So, this is the right time to invest in Lahore Smart City plots. Investment at the right time in the right property will surely return you with good profits.
You can confidently contact UPN to get a profitable piece of advice about Lahore Smart City investment. We have a team of real estate experts working hard and dealing professionally in LSC all properties. With us, your investment will be secure and returns will be as per your expectations. Be quick and contact us!
FAQs (Frequently Asked Questions)
Here are the answers to commonly asked questions about Lahore Smart City:
Is Investment in Lahore Smart City Beneficial?
Yes, it is! You can confidently invest in LSC properties to generate good returns.
When Lahore Smart City New Deal Launching?
It is expected in the first three months of 2023. Hopefully, it will be the plots of 2 Kanal. The launch of LSC Villas is also not too far.
Is Lahore Smart City LDA Approved?
Yes, authorities has approved it 100%. Lahore Smart City have a valid NOC.
What is the Best Residential or Commercial Properties?
All the options in Lahore Smart City are attractive. You can easily choose the plot of your desires and as per the requirements. You will surely enjoy your investment as both of these categories are good.
Is this the Right Time to Invest in Lahore Smart City?
These days the profit amount on the plots is reasonable. The rates are expected to increase soon. So, this is 100% the right time to invest in LSC plots.
Please contact us through WhatsApp, the Contact Us form, or visit our UPN Youtube Channel for further assistance.