Lahore Smart City National Cricket Stadium Ground Breaking Ceremony
by UPN
December 2, 2022
0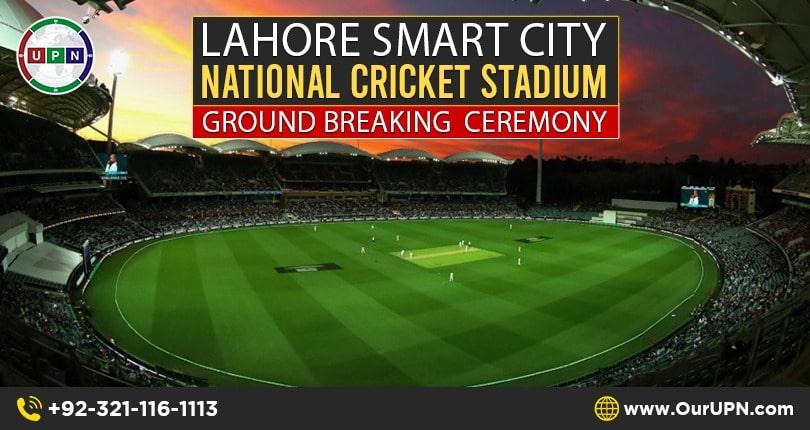 Are you a cricket lover and living in Lahore? Do you want to invest in an attractive society but also search for a place where all the best sports activities are available? Also, wishing for something heart-winning and beneficial too? Then, be happy as Lahore Smart City is the perfect option for you. This premium housing project has achieved another major milestone by setting up Lahore Smart City National Cricket Stadium. Yes, the groundbreaking ceremony for the construction of the cricket stadium was held at the LSC project site.
Lahore Smart City National Cricket Stadium Video
It is big news for cricket fans especially for the buyers searching for a housing project with high-level sports facilities. Lahore Smart City which is already popular among investors brilliantly combines smart elements with sustainable construction. The entire project planning and top-class development will create a lasting legacy, making it the jewel in the crown of Lahore real estate.
Lahore Smart City National Cricket Stadium
LSC brings you the opportunity to enjoy the gentle man's game, cricket at your walking distance. HRL and FDHL have smartly planned and progressed ahead with a National Level Cricket Ground in Lahore Smart City.
This Lahore Smart City National Cricket Stadium is designed and will be developed in collaboration with PCB approved consultant. The groundbreaking ceremony of this cricket stadium was held a few days back at the LSC project site. The development of the National Level Cricket Stadium will not only bring entertainment and joy to this society's residents but also to the people living nearby.
Also, its development will bring more opportunities for commercial, recreational, tourism, and economic sectors. It will also bring more job opportunities, helping people who are in need.
Most importantly, this cricket stadium will not only promote sports activities but also bring future athletes.
The development work of the Lahore Smart City stadium is started. Hopefully, it will be completed within the given timeframe.
Short-Term Investment in Lahore Smart City
Many investors prefer short-term investment in property. A similar expect in Lahore Smart City. However, there is a number of the best plots available both in the residential and commercial. So, what can be the ideal choice for short-term trading? We suggest buying 5 Marla plots files of 21.60 lacs.
These plots are perfect to make your property in Lahore especially if you want to make quick profits. Booking starts with a few percentages of the down payment and remains in easy installments. However, all these plots are only available with profit amount. Only a few weeks back, these Lahore Smart City plots were costs 8 lacs profit amount. But due to current political uncertainty, the prices of properties are decreasing.
The current profit amount on Lahore Smart City 5 Marla files of 21.60 lacs is around 4 lacs. This amount will quickly start increasing in the next few days. Your investment in LSC plot files will be 100% beneficial.
Lahore Smart City Investment?
Wishing to invest in Lahore Smart City but still searching for the top reasons that stand out this project among others? Then, please keep on reading! The next paragraph will surely help you in making the right property investment in Lahore:
It's a high-standard project with unmatchable features and amenities
Its location is outstanding and easily accessible. Most importantly, LSC has a dedicated interchange on Lahore Ring Road.
Plots are available in different sizes so, you have more choices to compare and select as per requirements.
Availability on easy installments. Lahore Smart City plots booking starts at 10% only.
High investment returns. This society will offer you huge investment benefits.
Lahore Smart City National Cricket Stadium is one of the major reasons to buy property in it. Undoubtedly, it is first of its kind project where you will find a National Level Cricket Stadium approved by PCB.
There will be more facilities especially attractive sports and games for cricket lovers and athletes
Peaceful and fresh environment.
Secure investment as this society is approved by LDA and enjoys a valid NOC. You can easily check its approval status on the official site of the Lahore Development Authority.
Final Words:
Planning and developing a cricket stadium within a housing project is not an easy task. It takes lots of effort, time, and land. LSC Developers are constructing a high-level stadium inside this housing project to promote more healthy activities and sports. People who love fitness, games, and outdoor activities will surely consider this factor and invest there. Especially it will also attract an international audience i.e., Overseas Pakistanis.
It will be also a reason for the increase in property prices. So, it would be better to make the right time investment before the prices go high, out of your budget.
Hurry up, Lahore Smart City investment benefits are waiting for you!
Frequently Asked Questions:
Here are the answers to the most common questions about LSC and Upcoming Cricket Stadium:
Is it true that Lahore Smart City is developing a cricket stadium inside?
Yes, LSC is progressing ahead with a National Level Cricket Stadium designed by PCB approved consultant. The construction work will be up to mark.
When LSC National Cricket Stadium will be operational?
Its groundbreaking ceremony was held a few days ago. The speedy development work is already started at the site. Hopefully, its construction work will be completed within a couple of years.
Is buying worth near a cricket stadium?
Yes, buying a property near any sports stadium is always beneficial. Even, properties are always expensive near such landmarks. Here you can take the example of Karachi Cricket Stadium and Faisalabad Cricket Stadium. These areas are considered the most expensive places to buy houses, shops, and offices as experience huge footfall.
Is there any other project in Lahore where you will find a cricket stadium?
There are few societies where you will see the development of cricket stadiums. But none of these have any comparison with Lahore Smart City. This society is winning the game as it features National Level Cricket Stadium.
Please contact us through WhatsApp, the Contact Us form, or visit our UPN Youtube Channel for further assistance.