IT Market in Orchard Mall Lahore – New Deal
by UPN
February 19, 2021
0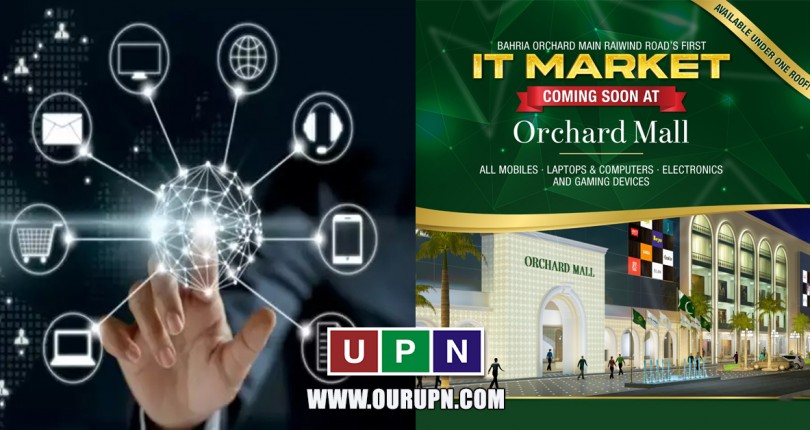 IT Market is launching in Orchard Mall in Bahria Orchard Phase 4 Lahore. The exact location of this fully -equipped technology market is the third floor of Orchard Mall Raiwind Road Lahore. Launching soon, it will be developed as a modern place full of technology, where all your needs for the technology will be perfectly fulfilled. Orchard Mall, an iconic development by Q- Links Developers is now developing with the first IT Market in Orchard Mall Lahore.
IT Market in Orchard Mall – What You Will Find?
This IT Market in Orchard Mall is going to change the lives of people living on Raiwind Road. Opening soon, this project is offering a limited number of shops completely dedicated to IT-related businesses. At this IT Market in Orchard Mall, you will be provided with, or you can start your business related to:
All the Latest Mobiles
Laptops
Mobile and Laptop Accessories
Electronic Devices including CCTV Cameras and Other Security Equipment
Gaming Devices
Technology Related Services and More
In other words, this IT Market will be a one-stop solution to all the technology needs of people living in Bahria Orchard and the nearby localities.
IT Market in Orchard Mall Lahore – Project Plan, Shops, and Bookings
This IT Market is planned to be developed on the third floor of Orchard Mall Lahore. There is a limited number of shops completely reserved/offered for businesses related to information technology.
IT Market Orchard Mall Lahore features the best shops where the sizes and prices are different. You can buy a standard shop, corner shops, and corner + front-facing shops. Available with the easy installment plan of 3 years, IT Market shops are affordable and profitable to choose from.
The starting prices of shops in IT Market Bahria Orchard Phase 4 are between 15 lacs and 16 lacs. Booking can be made with a down payment of only a few percent. The remaining will be payable in equal installments. However, there is also something more beneficial for you.
6% Annual Rental Income
Besides offering you the best business and investment opportunities, Q-Links Developers are also providing you a chance to earn 6% rental income. Yes, this is another benefit of investing in the IT Market in Orchard Mall.
You will be eligible to earn monthly income on your shop by paying the lump sum payment at the time of booking. Suppose your shop's amount is 20 lacs, so the rental income provided to you will be 10,000/- monthly.
Current Development Status of Orchard Mall Lahore
Orchard Mall, as we all know, is an ideally located project developing at the fastest pace. The basement + ground + first floor's grey structure is ready, and the finishing work is near completion. Moreover, soon the company is going to announce the possession of all these storeys, hopefully, in the next few months. The project's complete possession will be given within the next two years, even before completing IT Market shops installments.
One of the most significant features of this IT Market is that it is located in a project that is already developing. Yes, you can visit the site physically and check the development status and quality of the project on your own.
IT Hub Lahore and IT Market Lahore – Different Projects with the Same Concept
While discussing the features and benefits of IT Market Orchard Mall investment, it is essential to list down IT Hub Lahore's details. This IT Hub launched around 15 to 20 days ago in the Jasmine Grand Mall of Bahria Town Lahore. Bahria Town's IT Hub in Jasmine Grand was also the project by Q-Links Developers where all the shops sold out within a couple of days.
Even most of these shops are now on own price.
This project was a great success. By keeping this success in mind, Q-Links Developers are now offering another golden opportunity for everyone! This is a lifetime investment opportunity, especially for those who had missed a chance to invest in the IT Hub of Jasmine Grand Mall.
Why is IT So Important?
IT plays a vital role in the success of every business. No matters what the size of your business is, Information Technology has both tangible and intangible benefits. It helps to produce results as per the customer demands as well as to make more profits in your business. IT has countless uses in people lives and business, however; some of the top uses are:
It helps improving communication.
Improves efficiency
IT provides an endless supply of knowledge.
Keeps employees engaged.
IT is necessary for business expansion.
It increases the capacity of the businesses.
Overall, IT is used in every sphere of life like education, communication, banking, treatments, and businesses. So, investing in an IT-related project can be highly beneficial, even, it would be a great success.
IT Market Orchard Mall – Booking Process and Document Required
The booking process of shops at IT Market Orchard Mall is easy and convenient. You can easily book your desired property by:
Visiting Our Office at (22-A, Main Boulevard Commercial, Sector C, Bahria Town, Lahore, Pakistan)
Without Visiting Physically through WhatsApp
Following are the documents required to book your shop in IT Market Orchard Mall Lahore:
NIC Copies of a Buyer
Two Passport Size Pictures
NIC Copies of Nominee
Booking Amount of the Shop
Once the booking process is done, the file of your property will be forwarded to you.
Let's have an overview of this iconic Orchard Mall Lahore!
Orchard Mall Lahore – A Heart-Winning Development on Raiwind Road
Orchard Mall Lahore is an iconic development by the well-known Q-Links Developers. This project is excellently located at the entrance of Bahria Orchard Phase 4. Developing to become the biggest commercial hub on Raiwind Road, Orchard Mall Lahore covers a large land area. It has amazing features and countless attractions that will not make you able to ignore it.
It is perfect in all terms, starting from its state-of-the-art development to the beneficial location and investment opportunities.
The basement, ground, first, and second floors of Orchard Mall Lahore are reserved for commercials. Its third floor will feature the "First IT Market of Raiwind Road." Moreover, the fourth floor is offering the best hotel apartments.
The well-known Aslam Super Market is opening soon in the basement. Moreover, the top brands, like Ideas by Gulahmed, Rani Fashion, and Ego, have displayed their banners.
Even DOCÉ Bakers have already opened their branch in it.
Reasons to Invest in IT Market Orchard Mall Bahria Orchard Phase 4
There are many reasons to invest in Orchard Mall's IT Market such as:
You can choose it if you are looking for a life-changing real estate investment opportunity.
It is perfect for investing in running a successful IT-related business on Main Raiwind Road Lahore.
It can be proved as a golden investment chance as the shops' investment potential will be huge.
Shops are beneficial to invest in generating handsome rental income.
IT Market shops for sale are beneficial to buy and give your IT-related services such as repairs, modifications, etc.
The shops for sale in IT Market Orchard Mall are affordable as the prices start only 15 lacs.
Further ease of investment is provided by offering the Installment plan of 3 years.
Possession of the property will be hand over within 2 years before the completion of the installment plan.
Even you can start earning the attractive rental income from the next month of booking.
The location of this project is ideal that can return you with futuristic returns.
We hope that all these reasons are enough to choose this IT Market in Orchard Mall Lahore for investment.
For booking, complete payment plan as well as for further details contact us. We  Universal Property Network   are the Authorized Sales Partners of Q-Links Projects!