IVY Farms Lahore – Location, Development, and Prices
by UPN
April 16, 2021
0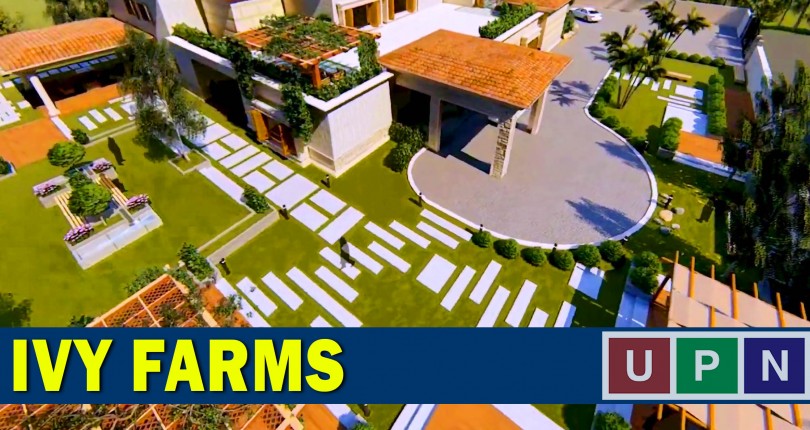 IVY Farms Lahore is a luxury farmhouses project in Lahore. It is society offering large sizes of plots for the development of your dream farmhouses. Located perfectly at Barki Road Lahore's prime location, IVY Farms Lahore is a gateway to a new and modern lifestyle. If you are a nature lover, desire to live a peaceful and comfortable lifestyle with your loved ones in Lahore, IVY Farms Lahore can be your dream destination. It's an on-ground society with state-of-the-art infrastructure and modern town planning. IVY Farms Lahore is planned exceptionally to make it the best choice for investors and buyers.
The plots for sale in IVY Farms Lahore comes along the top-class facilities and attractions anyone can desire at his place. Let's know more about the location, development and prices.
IVY Farms Lahore – Location
IVY Farms Lahore is located at the heart-winning, the most peaceful location of Lahore. This society is located on Barki Road Lahore, close to DHA Phase 7 Lahore. The location of Chaudhary Farms Lahore is also at a short distance. Moreover, this society's main gate is at a distance of 1 kilometre from the main Barki Road Lahore. But still, the overall location of this project is outstanding and have beneficial surroundings.
IVY Farms Lahore – Properties and Prices
This beautiful society is enjoying the lush green surroundings, simply full of natural beauty. As the name depicts, IVY Farms is a farmhouses project with the farmhouse's plots for sale. The plots sizes available in IVY Farms are:
2 Kanal
4 Kanal
8 Kanal
16 Kanal
All the farmhouses' plots of 8 Kanal and 16 Kanal are sold out and only available on re-sale. Similarly, the availability of 2 Kanal and 4 Kanal farmhouses plots is limited. But still, there are some good options available for you.
Prices?
The launching prices of plots per Kanal in IVY Farms Lahore is 25 lacs. The latest prices for the per Kanal land are 25 lacs to 40 lacs. The 8 Kanal and 16 Kanal farmhouses will cost you between 35 lacs to 40 lacs per Kanal. However, the other options are available between 25 lacs to 30 lacs per Kanal.
IVY Farms Lahore – Development
The infrastructural development work of IVY Farms Lahore is complete. Plots are on-ground, and possession is available. Most of the roads are carpeted and 100% completed. However, the society has recently acquired some more land where the development work is under process. Also, the development pace is satisfactory.
IVY Farms Lahore comprises four blocks, i.e., A Block, B Block, C Block, and D Block. All these blocks have the best farmhouses plots. The ratio of population in IVY Farms is low. However, most of the owners of the farmhouses has secured their plots with boundary walls.
Also, the land is reserved for the development of society's parks, restaurants as well as a mosque. Hopefully, soon the development work will begin on them.
IVY Farms Lahore plots for sale are good enough to construct a beautiful and spacious farmhouse. At the same time, buying is suggested from an investment point of view. Contact us for further details!
Please contact Universal Property Network  For More Information click here or visit our youtube channel further assistance