Izmir Town Lahore – Location Map, Payment Plan, and Complete Details
by UPN
February 2, 2023
0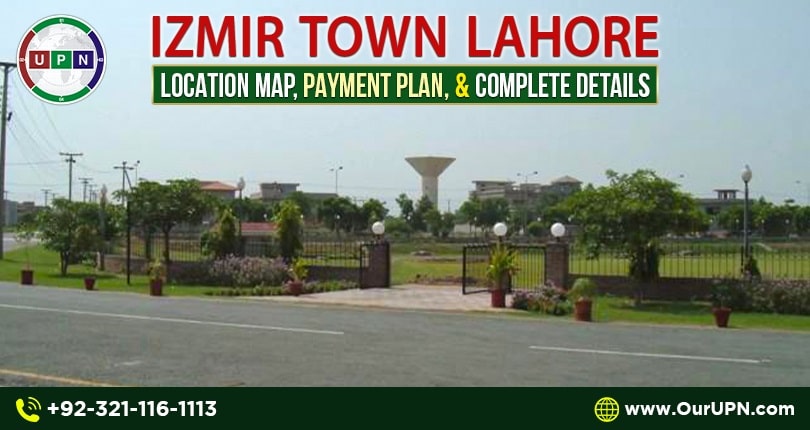 Izmir Town Lahore is one of the oldest and most well-developed housing schemes in the city.  It's a modern society with up-to-date amenities and attractions. Covering a major land area, Izmir Town has everything one can desire in a modern housing venture. This society has 100% development and complete approval from LDA. Izmir Town has a peaceful and lush green environment, ensuring a comfortable lifestyle for its residents. Having wide and beautiful entrances gives the heart-winning vibes of luxury and class.
There are top-notch sports facilities and entertainment things. The commercial areas of this society are completely developed and offer the best grocery and other shopping things. Izmir Town plots for sale are also reasonable in price, making them a prominent option for residents in Lahore. Moreover, its properties are attractive enough to make profitable investments and capital growth. Check out the further details below:
Izmir Town Lahore Master Plan
Izmir Town is a master planned housing society covering a large area of land. It would be not wrong to say that it is one of the biggest housing societies in that locality. Quite old as launched many years ago, the Izmir Town's master plan is up to date. It features outstanding planning and high-level development. This society spreads over a large area and is divided into several blocks. The total number of blocks in this society is 17. All these blocks are named alphabetically.
Starting from A block to Q block, you will see magnificent development in these blocks. All these have incredibly attractive features and facilities good enough to live a comfortable lifestyle.
The plots for sale in Izmir Town Lahore are:
5 Marla
10 Marla
1 Kanal
2 Kanal
Moreover, you will also see the construction of many houses. Some of these houses are also available for sale. You can buy your desired size of house both old and new. The properties of Izmir Town come with all the top-class living amenities and unique features like wide roads, electricity, Sui Gas, clean water, beautiful parks and landscapes, and more.
Izmir Town Lahore Location
Izmir Town Lahore is an ideally located housing society. It is close to almost all the major areas of Lahore and enjoys the proximity of developed surroundings. Izmir Town Lahore is located on Main Canal Road or Mohlanwal Road near Chung. This society lies close to DHA EME Sector as well as it is very next to NESPAK Phase 2 and while Jubilee Town is located on the Southern side of it. Bahria Town Lahore, a popular development is at a distance of 5 – 6 KM from it.
The Izmir Town Extension is located adjacent to Tricon Village. Many of the popular developments are lying nearby. This housing venture is also close to Green Forts 2, and P&D Housing Society. Moreover, its location is 7 km from Thokar Niaz Baig on Mohlanwal Road Lahore. This society has two entrances one is from Canal Road and the second from Jubilee Town.
Izmir Town Lahore Plots Prices – Latest 2023
Izmir Town Lahore offers the best plots for sale. Here you can buy the best, on-ground plots available with possession. As it's a mega-housing project with many blocks. You will find plots at different prices. However, below we are sharing the minimum to maximum prices of the plots such as:
5 Marla Plots for Sale in Izmir Town Lahore
These plots cost between the prices ranges of 90 lacs to 1.15 crores. 5 Marla plots prices vary as per location and surroundings.
10 Marla Plots for Sale in Izmir Town Lahore
These plots' prices are starting from 1.50 crores. However, the highest price for 10 Marla plots in Izmir Town is 2.50 crores.
1 Kanal Plots for Sale in Izmir Town Lahore
These plots of 1 Kanal can be purchased at reasonable prices of 3 crores. However, some of these sizes of plots will cost you between 3.5 crores to 4 crores.
2 Kanal Plots for Sale in Izmir Town Lahore
These 2 Kanal plots are available in the price bracket of 4 to 6 crores. Plots are available with possession. However, the prices vary as per the location and block.
Izmir Town Development and Possession Updates
This society features incredibly attractive development. All the infrastructure work and provision of amenities are done. You will see the beautiful, wide entrance and roads. Its plots are on-ground and have possession. All of its properties can be purchased in lump sum amounts while the possession will be quickly available. One can easily start construction on his plot. On the other hand, there are many houses for sale in the size of 5 Marla, 10 Marla, 1 Kanal, and 2 Kanal. These are ready-to-move houses, you can buy confidently.
Investment in Izmir Town Lahore
Buying property is not an easy task. No one can invest his hard-earn money in a property without proper research, especially in a non-verified housing venture. But you don't have to think/wait for investment in Izmir Town Lahore. This society enjoys 100% approval from the authorities. Your buying will be safe. Above all, there are numerous options such as plots, apartments, and houses. One can purchase his desired property as per the requirements. Izmir Town plots for sale have many investment benefits such as:
This society has complete development and good residence.
The plots are on-ground and availability is with possession.
Buying can be made for residences as all the living amenities are available.
The investment will be secure and beneficial, especially for capital growth.
You can purchase property confidently without thinking of any scams or fraud.
Izmir Town plots for sale are among the best investment choices in Lahore both for residents and investors.
Facilities and Features
Izmir Town Lahore is a facilitated housing venture where people have access to all the top-class amenities and attractions. Some of its top facilities are:
Lush Green Landscapes and Spacious Parks
Wide and Beautiful Entrance
High Tech Gated Community
Sports Facilities and Play Grounds
State of the Art Hospitals
Best Educational Facilities Within and Outside Society
CCTV Cameras Monitoring
Food Courts and Shopping Arena
Mosque in Every Block
Wide Network of Roads and Green Belts
Properly Developed Commercial Zone and Markets
Graveyard
24/7 Electricity Provision
Uninterrupted Water and Gas Supply
Community Club
Strict Security Checks and Surveillance
Starting from the planning of this society to its development, location, masterplan, and availability of properties, Izmir Town holds special importance. This society is incredibly attractive for residents as it has the best commercial areas. There are parks and the best sports facilities. Moreover, it offers high returns on investment as the prices are speedily increasing. The right time investment decision can help you in earning good returns.
Frequently Asked Questions
Here is the answer to the commonly asked questions:
What is the location of Izmir Town Lahore?
This society is located ideally on Main Canal Road a 5 minutes' drive from Bahria Town Lahore.
What is the development status?
It is a 100% developed housing society with many blocks and on-ground properties.
What is the legal status of Izmir Town?
It is LDA approved housing society with complete legal and verified status.
Which plot sizes are available in Izmir Town Lahore?
The plots for sale in this society are 5 Marla, 10 Marla, 1 Kanal, and 2 Kanal in the residential category. You can also find a wide range of commercial options. Both as shops and plots.
Is investment safe?
Yes, buying in Izmir Town Lahore is safe and beneficial for residence and investment purposes.
Please contact us through WhatsApp, Contact Us form, or visit our UPN Youtube Channel for further assistance.