Khayaban-e-Amin Cricket Stadium – Complete Details
by UPN
January 31, 2023
0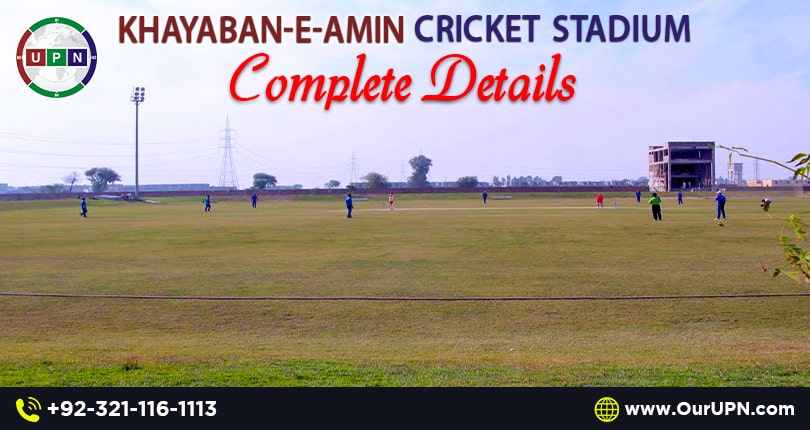 Khayaban-e-Amin Cricket Stadium is one of the well-planned and perfectly developed cricket grounds in Lahore. Located ideally in the heart of Khayaban-e-Amin Housing Society Lahore, this cricket ground is spreading over a large area. Properly maintained, this cricket stadium enables people to visit and enjoy the best sports in the town.
Cricket, the game of gentlemen is undoubted, everyone's favorite. That's why having a cricket ground near your residence surely makes you happy. Unfortunately, Khayaban-e-Amin Crocket Ground is not as popular in the area as most people are unaware of its development.
Don't worry, we at UPN bring you the complete details of this iconic cricket ground in Lahore. Starting from its location to the development, maintenance, fees, and pitch, everything is discussed below in the blog, please keep on reading.
Khayaban-e-Amin Cricket Stadium Location
This society is ideally located in the prime location of Lahore. Khayaban-e-Amin Cricket Stadium location is heart-winning. It is situated in the center of this society and easily accessible from multiple routes. The housing societies in proximity are:
Fazaia Housing Society
Valencia Town Lahore
Lake City Lahore
DHA Rahbar Lahore
Bahria Town Lahore
The distances to this cricket stadium are:
Right next to Rawalpindi Ring Road
8 minutes' drive from Lake City Lahore
10 minutes' drive from Raiwind Road Lahore
12 minutes' drive from Valencia Town Lahore
8 minutes' drive from Fazaia Housing Society
Overall, this cricket stadium can be easily approachable from the major routes of Lahore.
Spreads Over A Large Area
Khayaban-e-Amin Cricket Ground spreads over a large area. It is covering a good amount of land. There is a proper pitch, a practicing area, and a boundary. Also, the space for the visitors/spectators is enough. Overall, it's a good development with everything available in one place.
Peaceful and Good Environment for Picnic
Khayaban-e-Amin Cricket Stadium is ideally maintained as per the latest standards and trends. It is not only an attractive cricket ground in Lahore but also a peaceful place for family picnics and gets together. The environment of the stadium as well as the surroundings are attractive. The neat and clear appearance of this place makes this ground a great place to visit and enjoy.
Well-Maintained
Khayaban-e-Amin Cricket Ground is beautifully maintained. The grass of the stadium is properly cut, even if it's good quality grass as per the requirements of the cricket grounds. The entire area is maintained for proper ball traveling. You will find a good marking of double rope on the boundary. The boundary of this ground is clear and visible from a far distance.
Flood Lights for Day n Night Matches
Khayaban-e-Amin Cricket Stadium is also special even different from the other cricket grounds of Lahore because of its floodlights. This stadium has flood lights on the four sides. Each side of the flood light/panel contains 10 lights. In other words, there are forty lights for the day and night matches. The availability of these lights ensures that even, this stadium is good to play in the evenings and nights. There will be no shortage of lights.
Electronic Score Card
To keep all the visitors updated with the ongoing situation of the game, there is a proper scorecard on the ground. Additionally, it is not an ordinary card, it's an electronic scorecard. This scorecard shows the score, the name of the bowler, the details of the over, the ball's remaining, wickets, no of wide balls, and more. In other words, this electronic scorecard of Khayaban-e-Amin Cricket Stadium is enough to keep the people updated.
Pitch
The pitch of Khayaban-e-Amin Cricket Ground also holds importance. There are three pitches on the cricket ground. One is the main and two extra. These are 23 yards pitches (each). All of these pitches have a smooth appearance and low scars. Even, you will see blue lines for wide ball details.
Neat and Clean Ground
One of the main and attractive features of this cricket ground is the neat and clean environment. The entire ground is beautiful and maintained. It is lush green. Even, you will see no trash as there are baskets for it.
Nets for Practices
Like all the other or high-standard cricket grounds of Lahore, Khayaban-e-Amin Cricket Stadium also have a net for training and practicing. Players not only showcase their talent on this ground but also it's a place to learn. There are proper nets, where players play and learn together.
Booking Fee
Khayaban-e-Amin Cricket Stadium booking fee is nominal. As there is already a lack of cricket grounds in Lahore. The booking fee for the matches on this ground is kept low. The fee per match on the weekends is 15,000/- per match. On the other hand, it is 10,000/- per match on weekdays. Players/teams can easily book this ground for their matches by contacting the management of this ground on the given numbers.
Conclusion
Khayaban-e-Amin Cricket Ground is a magnificent development in Lahore. It features all the major attractions of a cricket ground. This stadium is attractive both for visiting and enjoying the gentlemen's game. At the same time, it can be your next picnic point on the coming weekend. Do plan your trip to Khayaban-e-Amin Cricket Stadium with your friends and family. It will be surely memorable.
For any assistance in buying and selling property in Khayaban-e-Amin Housing Scheme Lahore, do contact Universal Property Network. We are here to guide you with the best.
Please contact us through WhatsApp, Contact Us form, or visit our UPN Youtube Channel for further assistance.