Best Housing Societies on Jia Bagga Road Lahore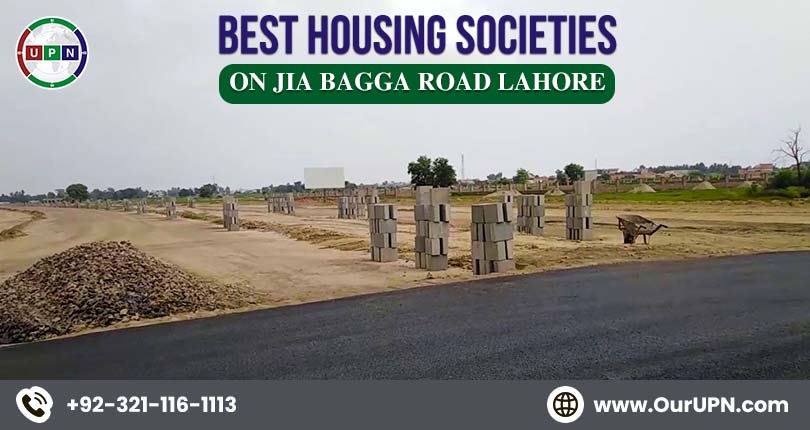 Lahore's real estate market is one of the most popular and profitable options for investors. It has bundles of opportunities that benefit a lot. Previously, people prefer investment in Raiwind Road Lahore, Canal Road Lahore, and G.T Road as these areas are well-developed with modern societies. But now, the societies on Jia Bagga Road Lahore offer incredible residence and profitable investments at affordable rates.
Jia Bagga Road is one of the major arteries of Lahore. It is a properly developed place. However, now it is shaping into a new hub of modern housing societies and advanced developments. Several well-known developers have launched and developed top-class residential and commercial ventures. The speedy development of these projects assures that this place will be attractive to reside in and offer good returns in the next 2 years.
Societies on Jia Bagga Road Lahore
The best housing societies where you can invest confidently are:
Khayaban-E-Amin Lahore
It is the first housing society when we moves to Jia Bagga Road from the Dry Port side. Khayaban-e-Amin is an approved and well-developed project. It spreads over a large area of land and has several blocks with numerous properties for sale. This high-standard venture offers the best residing and investment opportunities along with top-class facilities. This society's entrance and other infrastructural work are impressive. Most importantly, this project offers residential plots, commercial plots, houses for sale, villas, and apartments. The availability of so many options makes it a prominent venture to invest in Lahore.
Mid City Greens
The housing society opposite Khayaban-e-Amin was Naval Anchorage Lahore (it was not yet launched). Its developers have acquired a large area of land and were planning to launch it soon. But now, this project will be launched as Mid City Greens Lahore. It will be a high-standard, state-of-the-art venture with complete lifestyle amenities. Also, it will offer you commercial plots and villas on easy installments. The launching dates of this society are not yet confirmed. However, the news is circulating about the launch in the next 6 – 12 months.
Park Avenue Lahore
Now we have another attractive project on the list of the best societies on Jia Bagga Road Lahore. Park Avenue Housing Scheme is the first well-developed residential venture in that location. It's a project by Musa Developers. Completely approved by LDA, this society is offering low-price plots for sale. Not only the rates are low, but also people can buy them with flexible payment plans. The high-in-demand residential plots in this society are 5 Marla and 8 Marla. The master plan of Park Avenue Lahore is currently comprising 3 blocks. However, the work on the society's extension is under process.
Liberty Lands Lahore
It's another masterpiece in the heart of Lahore. Launched only a few months ago, it's a heart-winning project with countless amenities and attractions. Undoubtedly, Liberty Lands Lahore is the most popular housing venture on Jia Bagga Road Lahore. Have proximity to Park Avenue Lahore; this society offers the best residential and commercial plots on installments. However, due to high demands, these plots can be only purchased by paying own amount. Both new and old deal plots of this society are profitable to consider. Buying in this state-of-the-art project will surely return you with lots of benefits.
Etihad Town Lahore
Needs no introduction; Etihad Town Lahore is one of the best housing societies in the town. This society enjoys a prime location on Main Raiwind Road; however, its back area touches Jia Bagga Road Lahore. This society offers the ideal properties for sale in Lahore, where investment is secure and highly beneficial.
LDA City Lahore
It is another impressive project on the list of housing societies on Jia Bagga Road Lahore. This society has its prime location on Ferozpur Road Lahore. However, it's a mega project which spreads over a large area and will soon get connected to Jia Bagga Road. The plots for sale in LDA City Lahore are low in cost. Most importantly, many of these options are available on easy installments. The complete approval and supervision of government bodies had made it a good option to consider in Lahore.
Lake City Lahore
Like several attractive housing societies discussed above, Lake City Lahore has its ideal location on Main Raiwind Road Lahore. However, its M8 Block is touching Jia Bagga Road. This society is already popular for offering high-standard living and profitable investment opportunities. Buying any of its properties will surely fulfil your property requirements to the fullest.
Zaitoon Lifestyle Lahore
Recently launched by Zaitoon Group, it's a new housing society with budget-friendly plots for sale. Offering lucrative investment opportunities, this project is developing on the latest trends and modes. People looking to invest on installments should consider this masterpiece. The amenities in this venture are also outstanding as per the requirements of modern investors.
Conclusion:
All these societies on Jia Bagga Road Lahore are ideal to invest in today. The future returns in these projects are high. Both buyers and investors should plan their investments in these developing and newly launched projects to meet their property needs in a good way. Jia Bagga Road Lahore is rapidly growing to become the hub of modern housing societies. So, don't miss the chance of low-budget investment to earn maximum returns in the next 2 years.
Contact our experts to get further details, including prices and payment plans.
Please contact Universal Property Network For More Information click here or visit our Youtube channel for further assistance.