Lahore Smart City Balloting and Possession Update 2022
by UPN
December 23, 2022
0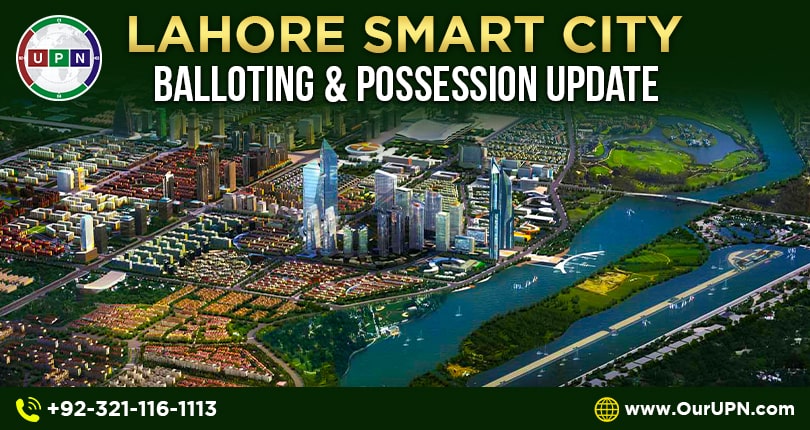 Lahore Smart City is a premium project of Habib Rafiq Pvt. Ltd. This society's location is excellent, and the recently approved Lahore Ring Road interchange adds value to it. There are two sectors in this society: sector A and sector B. They recently renamed Sectors A and B as Overseas Prime Lahore Smart City. This project's balloting date is also announced. In this blog, we will discuss the overseas prime block balloting and possession update.
Lahore Smart City Balloting and Possession
Lahore Smart City is an excellent place to live because of its many modern features and amenities. This society is a cutting-edge project created by the best developers in the country. The prices of the plots are reasonable and affordable. The booking is just from a 10% down payment. Due to high demand, you will have to pay a profit on both new and old bookings.
Sectors A and B as the Overseas Prime Block
Overseas Prime is the new name for the previously known sectors A and B of Lahore Smart City. Both of these blocks have high-end construction. Sector A is now a fully developed block that has advanced development, beautiful infrastructure, and all living facilities for a peaceful lifestyle. Sector B's development work is also 95% complete. Plots are available, and the developers are ready to hand over ownership of these blocks. The overseas prime possession date and balloting date have been announced.
Overseas Prime Balloting and Possession
The balloting and possession event for Overseas Prime Lahore Smart City is scheduled for December 24, 2022. This balloting will include all updated files from Sector A and Sector B. Plots will be handed over according to some rules, such as:
Those members who booked their plots with 50% to 100% payment will be included in the Ballot.

Those members will be facilitated who booked their plots timely when the payment plan was launched. Such as "first comes first."
All members who successfully receive a plot allocation in this balloting, are allowed to construct homes within three months.
Next Balloting Expected
The people who did not get their names on this balloting will have another chance in next year's balloting. The next balloting is expected in May or June 2023.
Lahore Smart City Plots
Lahore Smart City has residential and commercial plots for sale. These plots are designed to provide people with a fantastic living experience. It has all the modern conveniences and amenities.
Residential plots are various in size:
5 Marla residential

7 Marla residential

10 Marla residential

12 Marla residential

1 Kanal residential
The commercial plots are in various sizes:
2.66 Marla commercial

4 Marla Commercial

6 Marla Commercial
Lahore Smart City Balloting & Possession Updates 2022
Our Recommendation
The dates for balloting have been officially announced. After the balloting, the prices of residential and commercial plots will increase. Prices will rapidly increase as plots become available for purchase and construction. This is the best time to make a profitable investment in Lahore Smart City. The plots are at a reasonable price, and they are available in easy installments. You will make a huge profit in the future and in the coming year. Once the possession is handover, the prices will double.
There are some best reasons for investing are:
It is ideally located on Kala Shah Kaku Lahore

For entertainment, there will be a sports complex and a theme park.

A health district for medical facilities will be established.

A school district will be built to provide the best education possible. In Lahore Smart City international-level university campuses will be available.

The business area will be established as a Central Business District. You can do business according to your choices.

Residential and commercial properties are available

You will get a profit after the balloting announced

A return is expected from this project
So, this is the best time to invest in this project. Contact Universal Property Network for more information or to book a property in Lahore Smart City.
Please contact us through WhatsApp, the Contact Us form, or visit our UPN Youtube Channel for further assistance.