Lahore Smart City Grand Announcements
by UPN
December 22, 2022
0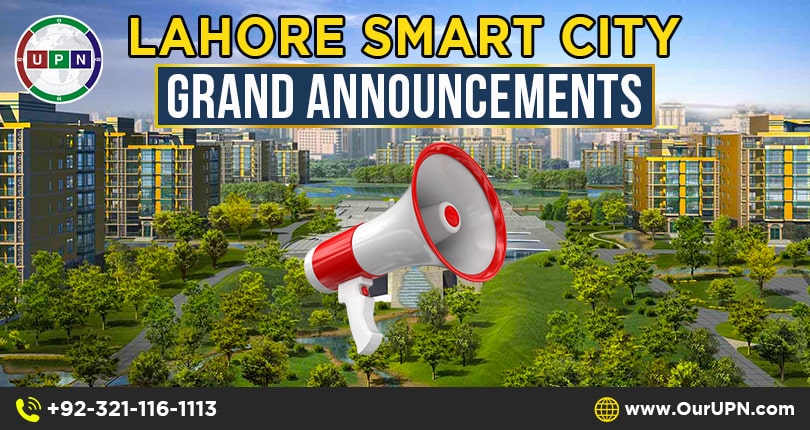 Lahore Smart City is going to be the second Smart City in Pakistan. Clients and investors regard it as the most demanding housing society. Malik Aslam, COO of Lahore Smart City, revealed Lahore Smart City Grand announcements and master plan at the event on December 13, 2022. It is a modernly planned project that provides high-quality living as well as profitable investment opportunities. This society is designed with world-class amenities, modern infrastructure, advanced features, and an elite living environment. 
Lahore Smart City offers a peaceful environment, sports facilities, clubs, restaurants, gardens, and other residential facilities. This project is spread over 55,000 Kanal of land.
Lahore Smart City Grand Trunk Road Announced
In this blog, we will discuss new updates and the master plan for Lahore Smart City.
Location
This society is located on the main GT Road near Kala Shah Kaku in Lahore.
·

     

4 minutes from M2 Motorway

·

      

5 minutes from Lahore Ring Road

·

      

7 minutes away from Bahria Town Lahore

·

      

18 minutes from DHA

·

      

19 minutes from Lahore International Airport
Lahore Smart City is a society approved by the LDA (Lahore Development Authority).
Plots in Lahore Smart City
The plots for sale in Lahore Smart City, like everything else, are heart-warming. This new development offers a wide variety of residential and commercial plots in a variety of sizes. Currently, the following plot sizes are available:
The residential plots:
·

      

3 Marla

·

      

5 Marla

·

      

8 Marla

·

      

10 Marla

·

      

1 Kanal
The commercial plots:
·

      

2.66 Marla

·

      

4 Marla

·

      

8 Marla
Lahore Smart City Blocks
·

      

General Block

·

      

Overseas Block

·

      

Executive Block

·

      

Overseas Executive Block
Payment plan
There are three payment options for Lahore Smart City. The first payment plan was introduced in 2020, the second payment plan in 2021, and the third payment plan in 2022. All payment plans are now closed. The Lahore Smart City payment plan is attractive for several reasons. Above all, the plot booking with a certain amount of down payment is making it the ideal choice.
The payment plan for Lahore Smart City is flexible and designed for potential investors and buyers. Society is a significant living and investment focus for both local and international investors.
Master Plan revealed for Lahore Smart City
This plan was developed by the Singapore-based firm that created the Capital Smart City master plan. The primary goal of establishing this society is to provide people with an advanced and luxurious environment that is also affordable. The master plan has been revealed by Malik Aslam, COO of Lahore Smart City. This project's master plan has been updated with new high-class additions.
Sports Complex
The sports complex will be built on 117 acres of land. A theme park will introduce you to places where you can spend time with your family and relax. This theme park is inspired by Disneyland Paris. Roller coasters, Farris wheels, and other thrill rides will be available here.
Health District
This health district will be constructed on 20 acres of land. There will be three medical colleges established there. For your medical care, a well-known Saudi-German hospital will be built on 200 Kanal. This is the best feature added to this society for the healthcare of its residents.
Education District
In Pakistan, education is the most important factor. Every parent desires the best education possible for their children. Lahore Smart City will construct five top-university campuses where students will receive the best education. Malik Aslam, COO of Lahore Smart City, announces two university names for their second project, Capital Smart City Islamabad. NUML (National University of Modern Languages) campus on 100 Kanal of land and New Tech University Islamabad campus on 200 Kanal of land.
After finalization, the names of universities for Lahore Smart City will be announced.
Medical Complex
In the medical complex, schools and colleges will be built. Additionally, 616 apartments are going to be available for residence in March 2023. Mr. Daniyal Friel, one of the top designers in Spain, designed these apartments, and the structure was designed by top Lahore designers.
Food Tech Valley
In Pakistan, food tech valley is a novel concept. There will be four seven-story sheds where you can buy fresh vegetables and fruits. This project is being designed in Singapore and will begin in June 2023. These fruits and vegetables will be soilless and free of pesticides and fertilizers.
Ravi Boulevard
Ravi Boulevard is both a high-rise and a financial square. Two business towers will be constructed. This lovely location was inspired by the Lahore Canal Vision. There will be a view of Canal Road.
Central Business District
In the central business district, three towers will be built for businesses. There is no residential space in these towers; they are only for business. This beautiful place will also have a lake view, and these towers will get a Ring Road view from the front.
Sports District
One FIFA standard football stadium and one cricket stadium will be built in the sports district. These stadiums will have a capacity of 25,000 people. These stadiums are approved by the ICCT and the PCB (Pakistan Cricket Board).
Indoor games such as badminton, tennis, and others will also be available. The construction of these stadiums and indoor games will begin in the middle of 2023.
Office for Designers
One building will be built for top designers and architects to work under one roof. This lovely structure will be known as Connection 1, which is the name of the Surbana Jurong office in Singapore. Lahore Smart City got permission from Surbana Jurong to use this name. The design of this building is also designed by Surbana Jurong from Singapore.
All highly qualified and experienced designers, architects, and staff will work in this building.
Silicon Valley
Silicon Valley was designed specifically for IT hubs. An IT company will be established, which will start in June 2024. The development of this building will be completed within 1–1.5 years. This IT hub will be managed by a Los Angeles-based IT firm. They will provide 25,000 desks for work. Their employees are already working in Pakistan from their homes or other little offices. Lahore Smart City will be responsible for the remaining 75,000 desks.
One of the most appealing news is that Lahore Smart City will provide 75% of its area free to the people who want to work in this IT Company. The people will just pay their utility or electricity bills.
Lahore Smart City Grand Announcements
Revealed by COO Malik Aslam
Here is the most important Lahore Smart City Grand Announcements!
The survey of this lovely society has been completed by the NHA (National Highway Authority) and the FWO (Frontier Works Organization) team. Motorway access from Lahore Smart City now has a 50% chance of being approved. After the approval, you will have easier access to the main road.
Features
Lahore Smart City has world-class amenities. Some of them are:
·

      

Gated Community

·

      

Boundary Walls

·

      

24/7 Security

·

      

Water, Sui gas, and Electricity

·

      

Infrastructural Development

·

      

Hospitals

·

      

Educational Institutes

·

      

Business Options

·

      

Mosque

·

      

Lush Green Parks

·

      

Gym and Sports Facilities

·

      

Sewerage systems
Benefits of Investing
This attractive project is a great place to live and invest. The prices are reasonable, and purchasing there will be beneficial for you. However, making the right decision at the right time is more beneficial. After the revealing of the master plan, it is easier to make the decision to invest in Lahore Smart City. The following are some of the most important reasons to invest:
Ideally located on Kala Shah Kaku, Lahore

Residence facilities that are modern

Commercial and residential properties are available

Motorway access will be approved soon

Sports complexes and medical complexes are available

Separate towers for business and the IT hub

International Business options

Education facilities available such as schools, colleges, and universities

There are healthcare facilities such as clinics and hospitals

Sports complexes are available

The best return expected after investment
So, what are you waiting for? Let's invest in this beautiful project. Don't delay this opportunity for your best future. Contact Universal Property Network for more information or to book your property in Lahore Smart City.
Please contact us through WhatsApp, the Contact Us form, or visit our UPN Youtube Channel for further assistance.