Lahore Smart City Balloting Announced – Latest News 2023
by UPN
January 28, 2023
0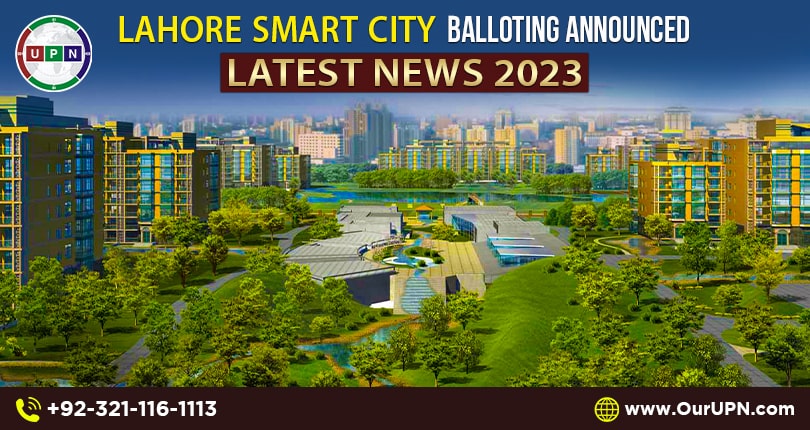 The wait is over and the time has come! Lahore Smart City Balloting Announced. It's the most happiest and awaited news of January 2023. LSC Management has finally made the biggest announcement of the balloting of plots in Overseas One and Executive One Sectors. Congratulations to all the plot holders of these sectors who had confidently made investments in Lahore Smart City plots.
Lahore Smart City BALLOTING Criteria Announced | 28 January 2023
The time to get to the location of your plot is near. Soon, you will earn the maximum return on your investment as your LSC file is turning into an ideally located plot. LSC Ballot 2023 will take place soon as the official date and details are disclosed. Please keep on reading to know more!
Lahore Smart City Balloting 2023
The balloting of Overseas One and Executive One blocks will take place on 13th May 2023.
The smart technology is not only deployed for its state-of-the-art infrastructure but is also used for LSC balloting. All balloting to date has been executed by using electronic and IoT technology to ensure transparency. It will be a computerized ballot where each member will be treated equally. Lahore Smart City balloting results will be available once the successful balloting is done. The details/criteria to become eligible for the upcoming LSC Ballot is:
A person who desires to include his file in the upcoming ballot should have a minimum of 40% to be paid in each file before 21st April 2023.
In order to choose the plot of their own choice, the member has to pay a minimum 60% payment before 21st April 2023.
Important to note that in the first ballot, we have limited numbers of plots, therefore, do not wait for the last date.
In order to be part of the first balloting, the member has to get an acknowledgment receipt to make sure that they are included in the balloting.
This is applicable for both Residential & Commercial properties of all categories.
So, the plots categories included in the LSC upcoming ballot are:
5 Marla Residential Plots
7 Marla Residential Plots
10 Marla Residential Plots
12 Marla Residential Plots
1 Kanal Residential Plots
2.66 Marla Commercial Plots
4 Marla Commercial Plots
6.33 Marla Commercial Plots
8 Marla Commercial Plots
Lahore Smart City Balloting Results
The results of Overseas One and Executive One Balloting will be available online the next day. To view the results on the portal, you only need to enter your CNIC number and contact number. Please click on the below link to know more:
Right Time to Invest in Lahore Smart City
The most awaited balloting of LSC is announced. Lahore Smart City members are excited and very hopeful as they have made the right property investments in Lahore. Soon, their plot files will be changed into real on-ground plots with good locations. In other words, LSC investors will soon get their desirable returns on investments as the demands and prices are going to increase after balloting 2023.
But what if you are still waiting to invest in Lahore Smart City and are confused between the available options and prices? Then, stop thinking and contact UPN for the best guideline and assistance to invest in Lahore Smart City. Our experts are here to assist you according to your demands.
Undoubtedly, this is the right time, even the last chance to make handsome profits on investments in Lahore Smart City.
Overseas One and Executive One both are attractive sectors of LSC offering incredible residential and investment opportunities. This society is ideal to choose for a dream lifestyle as its properties come with top-notch amenities. Also, it's a popular investor's choice, the right destination to grow your capital. The current rates of LSC files are reasonable. But the prices will increase even, the profit amount on the bookings will increase after this ballot date's announcement.
So, making the right time investment and choosing the right property as per your requirements will surely benefit you a lot. Hurry up and contact Universal Property Network today!
When Lahore Smart City Next Balloting will take Place?
It will take place on 13th May 2023.
What is the Last Date to Clear Outstanding Dues?
It is 21st April 2023.
Which Categories of Plots will be Included in the Upcoming LSC Balloting?
Both the residential and commercial categories will be the part of upcoming LSC Balloting 2023.
How New Investors Can Get Benefits from LSC Investment?
The right time investment (before 21st April 2023) in suitable properties will surely benefit the new investors of LSC.
Please contact us through WhatsApp, Contact Us form, or visit our UPN Youtube Channel for further assistance.