Lahore Smart City Cricket Ground is Ready to Host Royal Smart League 6
by UPN
June 17, 2023
0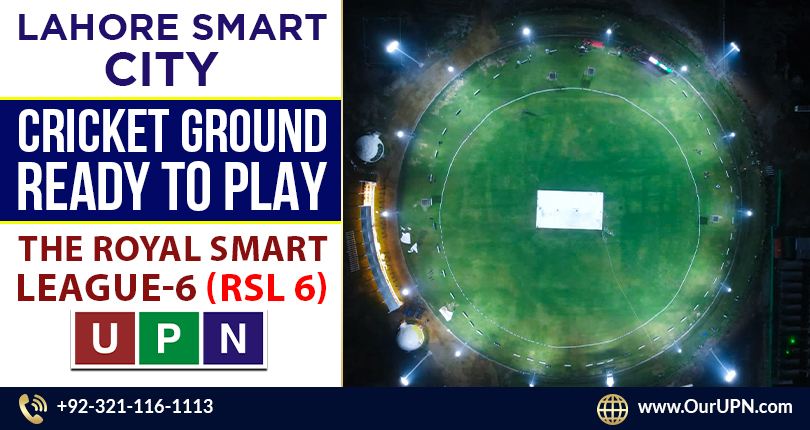 Lahore Smart City, the first smart city of Punjab and the second smart city of Pakistan is gearing up to host an exhilarating cricket event. The highly anticipated Royal Smart League 6 is just around the corner, and the Lahore Smart City Cricket Ground is fully prepared to embrace the excitement. Get ready to witness an unforgettable display of sporting prowess and electrifying moments at this state-of-the-art venue. Don't miss out on the action! Further details are:
Lahore Smart City Cricket Ground – First Mega Event is Around The Corner
The Lahore Smart City Cricket Ground stands proudly as a state-of-the-art venue specifically designed to host national-level events. This extraordinary facility, known as the Lahore Smart City National Cricket Stadium, is completed in collaboration with a PCB-approved consultant. The groundbreaking ceremony for this remarkable cricket stadium took place in November 2022, and now, this ambitious project is fully prepared to welcome the prestigious RSL 6. Get ready to witness a cricket game, you have not experienced before.
Royal Smart League 6 at Lahore Smart City
The Royal Smart League 6 is a grand national-level mega event that features the participation of eight prominent teams. Scheduled from 16th June to 24th June 2023, this prestigious tournament unfolds at the magnificent Lahore Smart City National Cricket Stadium. The popular Habib Rafiq Group is serving as the official host for RSL 2023. The teams participating in RSL 6 are:
Group A Teams in RSL 6
Royal Orchard Sultans
Islamabad Kings
Sargodha Falcons
Lahore Lions
Group B Teams in RSL 6
Multan Saints
Sahiwal Panthers
Lahore Smart City Tigers
Islamabad Stars
The first opening match of this event will witness a thrilling encounter between Sargodha Falcons and Lahore Lions. Additionally, another exciting match scheduled for today features Sahiwal Panthers taking on Multan Saints
Prepare yourself for a captivating display of cricketing excellence and unforgettable moments during this graceful event.
LSC Cricket Ground – A Marvelous Development
This Lahore Smart City Cricket Stadium will not only promote sports activities but also make future athletes. By providing a world-class facility for cricket, it aims to inspire and cultivate a new generation of talented persons in the realm of sports. Moreover, this venue will serve as a breeding ground for aspiring athletes, offering them a platform to showcase their skills and potential. So, with its state-of-the-art amenities and supportive environment, the stadium will play a pivotal role in shaping the sporting landscape.
The development of the LSC Cricket Stadium will not only bring entertainment and joy to the residents of this society. But also to the people living in the nearby vicinity. Moreover, this exceptional project is graceful to create a vibrant and engaging environment that will attract both the local community and the residents. The stadium will serve as a hub of excitement, joy, and thrilling cricket games.
Final Words
The planning and development of a cricket stadium within a housing project is undoubtedly a challenging task. It requires substantial effort, time, and land. However, LSC Developers have achieved this feat with great pride, completing the project in record time. The primary objective is to promote a culture of health, well-being, and sports. It provides ample opportunities for people who enjoy fitness, games, and outdoor activities. This outstanding feature is sure to attract people who prioritize an active lifestyle, making Lahore Smart City an alluring investment option. Moreover, it holds particular appeal for an international audience, including Overseas Pakistanis.
So, confidently invest in Lahore Smart City properties by contacting us directly.
Please contact Universal Property Network For More Information click here or visit our Youtube channel for further assistance.