Lahore Smart City Development Update – June 2023
by UPN
June 9, 2023
0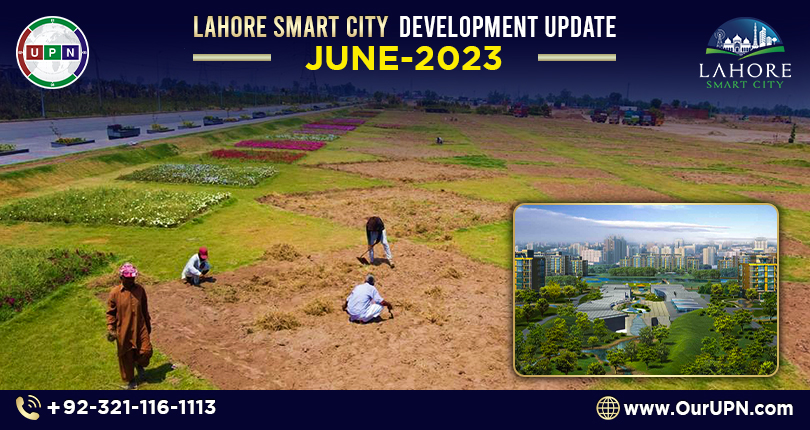 Lahore Smart City is a stunning urban project that displays elegance and modernity. It offers a luxurious living experience with beautiful architecture, green spaces, and thoughtful planning. Since its inception, it has become one of the popular choices for investors. Offering incredibly attractive properties, this project is an ideal option to meet residential and investment needs. Furthermore, the Lahore Smart City development is going on smoothly. The infrastructure is developing rapidly. By keeping an eye on this speedy development, we ensure that soon it will be a ready to move and live spaces. This society provides top-notch amenities such as smart grid systems, advanced security, and eco-friendly initiatives. It also features excellent educational institutions, healthcare facilities, and recreational areas. This project has everything needed for a thriving and enjoyable urban lifestyle.
Please keep on reading to get the latest details of this society's development so that you can get the real image.
Lahore Smart City Development
Lahore Smart City Developers has undoubtedly, planned this project smartly. They are developing this masterpiece at the fastest pace. Some of the latest development updates are:
Service Road Main Boulevard
The development is currently underway to apply a layer of concrete on the Service Road Main Boulevard. Surely, this enhancement aims to provide a durable and long-lasting road surface for the convenience of residents and visitors. Once it is complete, the other development work will begin.
Main Boulevard
The Main Boulevard of Lahore Smart City is also undergoing development. Soil road work is currently in progress, ensuring that the boulevard meets the required standards.
Connector Road 5
Moreover, the construction of Connector Road 5 is nearing completion. This road serves as an important link within the Smart City, connecting different areas and facilitating smooth transportation. Also, its impending completion indicates the project's commitment to providing the best connectivity.
Connector Road 1
Another significant development is taking place on Connector Road 1. This road is currently under construction. This Lahore Smart City development will further enhance the transportation infrastructure of the community.
Ring Road Patch
This development is underway to improve and expand the Ring Road patch within Lahore Smart City. Moreover, it will offer smoother transportation for residents and visitors.
Lane 7 Overseas 1 Sector B
This particular lane within Overseas 1 Sector B is currently under development. Efforts are being made to improve its infrastructure and ensure its completion in a timely manner.
Land 6 Overseas 1 Sector B
The development of Land 6 within Overseas 1 Sector B is in progress. Moreover, this sector is being enhanced to provide essential amenities and infrastructure.
Smart STEM College Building
The construction of the Grey Structure for the Smart STEM College is underway. This educational facility aims to provide a modern and well-equipped learning environment for students. The construction progress signifies the commitment of Lahore Smart City Development toward providing quality educational institutions within the community.
Overseas Prime Masjid A
The grey structure of Overseas Prime Masjid A is nearing completion, indicating that the main structural framework of the mosque is almost ready.
Overseas Prime Masjid B
Also, the development work for Overseas Prime Masjid B has commenced. This project aims to provide another dedicated prayer facility for the residents. It ensures easy access to religious services within the Lahore Smart City.
10 Marla Mediterranean Villas
The construction of 10 Marla Mediterranean Villas has reached the grey structure phase. The finishing work has also begun, implying that the final touches and interior detailing will be complete soon.
Signature Villas Sector B
The development of Signature Villas in Sector B has begun. Surely, these villas aim to provide exclusive and high-end residential options within Lahore Smart City. This development showcases the project's dedication to offering diverse housing options to cater to different preferences.
1 Kanal Georgian and Contemporary Villas
The 1 Kanal Georgian and Contemporary Villas will be ready soon. These villas offer spacious and modern living spaces, highlighting the development's commitment to providing luxurious and well-designed housing options.
Overhead Water Tank Overseas Block
The construction of the overhead water tank in the Overseas Block is nearing completion. Undoubtedly, this infrastructure enhancement ensures a reliable water supply for the residents of this society.
Executive Office
Lahore Smart City Executive Office has been completed in its grey structure. This facility serves as an administrative hub within Lahore Smart City, providing a centralized location for management and operations.
Sales and Marketing Office
Additionally, the Sales and Marketing Office is also nearing completion. This office space will serve as a dedicated center for sales and marketing activities. It will provide communication and engagement with potential buyers and investors.
Incubation Center
The development of the Incubation Center is progressing at a good pace. This center aims to provide a nurturing environment for startups and businesspersons. It will foster innovation and economic growth within Lahore Smart City.
Plantation Work
Lahore Smart City development work is also being carried out throughout the society. This initiative enhances green spaces. Surely, it will promote environmental sustainability and contributes to a visually appealing and eco-friendly environment.
Flower Park
The development of the Flower Park is progressing rapidly. This park aims to provide a serene and picturesque recreational space filled with beautiful flowers. Lahore Smart City development work creates a peaceful and vibrant ambiance for residents to enjoy.
Final Words
In conclusion, Lahore Smart City Development stands as proof of the vision of creating a modern and vibrant urban community. With its elegant architecture, rapidly developing infrastructure and wide range of amenities, Lahore Smart City offers a luxurious and convenient lifestyle for its residents. The progress made in various aspects such as the construction of mosques, residential villas, offices, and recreational spaces demonstrates the commitment to providing a well-rounded living experience. As the development nears completion in several areas, Lahore Smart City will soon be ready to move and live place.
Please keep on visiting this page to know more. For booking, buying, selling any property in Lahore Smart City contact us directly.
Please contact Universal Property Network For More Information click here or visit our Youtube channel for further assistance.