Lahore Smart City Development and Prices
by UPN
November 4, 2021
0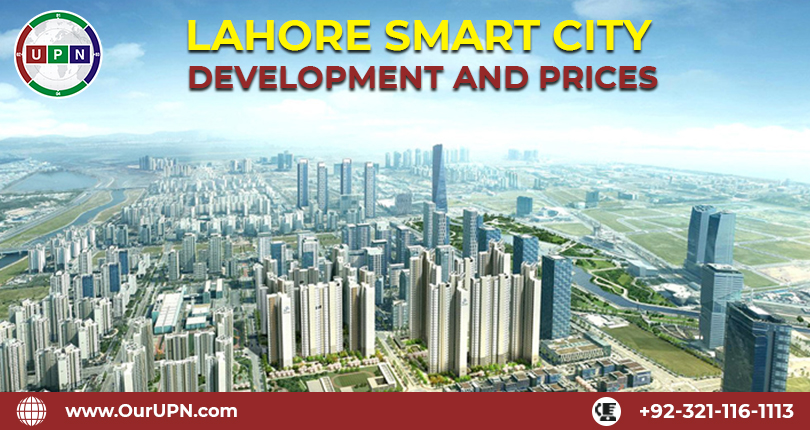 Lahore Smart City is a gem in the jewel crown of the real estate sector of Lahore. It's the 2nd smart city project in Pakistan. Launched 1 year ago, it's a beautiful and prime location project. Lahore Smart City development is going on smoothly while the prices are affordable. This society features countless attractions making it an ideal choice for residence and investment purposes. A variety of plots are available for sale in Lahore Smart City, while the new villas deals are launching soon.
In this latest blog post, we will share the latest details of Lahore Smart City development and the booking prices of properties. So, let's get started:
Lahore Smart City Development Update
This society is owned by the country's top developers, whose collaboration has shown incredible results in Capital Smart City Islamabad. They are again working together to make Lahore Smart City a significant development and an appealing society.
Lahore Smart City is developing at the fastest speed. The development work on roads and infrastructure is satisfactory as Sector A and Sector B main boulevards and collector roads are underway. Moreover, the pace of work is astonishing. Some details of the latest developments are:
Most of the roads in Sector A have a top layer, while some have an aggregate base in progress.
Similarly, Sector B streets have chamber collection in progress; some have a top layer in-process and top slabs fixing underway.
A park is underdeveloped in Sector A. Moreover, the work on Goregaon Villas is started.
Lahore Smart City Possession
By analyzing the current pace of development, we are hopeful for the possession in Sector A and B by the next 6 – 8 months.
Lahore Smart City Prices and Bookings
This marvellous housing society offers the residential plots in several sizes. Also, the commercial plots of 4 Marla and 8 Marla are available on easy installments. The payment plans of these plots span over 3 – 3.5 years. The booking prices of plots in Lahore Smart City are:
5 Marla plots booking price: 2.16 las
10 Marla plots booking price: 3.96 lacs
1 Kanal plots booking price: 6.48 lacs
7 Marla are available at both pre-launch and launch prices. So, investors looking to invest less and earn good benefits can also get these plots at pre-launch rates.
The booking prices for 12 Marla plots is: 7.82 lacs
The booking prices for 7 Marla plots is: 4.38 lacs
Moreover, the commercial plots for sale in Lahore Smart City are available on installments. You can easily book these with a 10% down payment + profit amount.
Conclusion:
Lahore Smart City development and the latest prices are adding grace to the overall shine of this project. This society has been on top of the list since its inception. However, its value and investors' interest will increase with the increasing development. So, don't wait and invest in the right society for beneficial returns.
Contact us for further assistance.
Please contact Universal Property Network For More Information click here or visit our youtube channel further assistance