Top 5 LDA Approved Housing Societies in Lahore
by UPN
October 14, 2021
0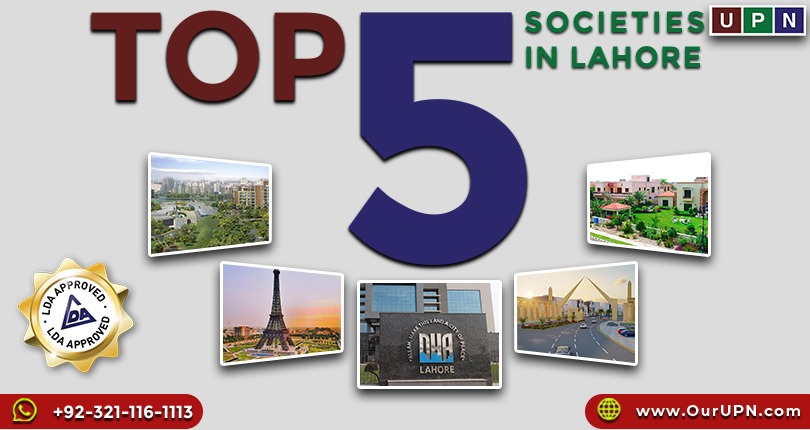 Are you searching for the LDA approved housing societies in Lahore? Want to make a safe and profitable investment and desire to buy something best? Then, we are here for you! UPN always try its best to provide its valuable customers with things they desire for. The list of LDA approves societies have all the top-class facilities where residence and investment are safe.
The top five LDA approved housing societies in Lahore have made an excellent investment in 2021 and got good feedback from the buyers. Moreover, these societies are upholding particular importance in the real estate market of Lahore. Their details are;
LDA Approved Housing Societies in Lahore
Defense Housing Authority (DHA)
Defense Housing Authority (DHA) is providing the best investment opportunities in 2021.
Location 
This society has around 11 phases, and all have several prime locations of Lahore.
Safe investment Opportunity 
The unique feature is that the investment in DHA is always safe. There are scarce chances to see any loss in investment as they have trustworthy policies, which give confidence to buyers and investors. In DHA, even if your plot is ten years old, there is still no chance of possession, and the property is safe and sound. Considering all these factors and phases, the DHA is ranked first as it has provided buyers and investors with the best residential and commercial opportunities in 2021.
Prices of Plots
The prices phases vary from 40 lacs to 110 lacs for 5 marla plots, 60-180 lacs for 10 Marla plots, 70 Lacs to 360 Lacs for 1 Kanal residential plot, and 275 and 800 Lacs for 2 Kanal plots.
Al Noor Orchard Lahore
Al Noor Orchard is the most dominant name among the best housing societies of Lahore. Society is setting new standards and trends of lifestyles. Al-Noor housing society is famous for its unique and stylish trends, making it different from other societies of Lahore. It has all the necessities and charms to prove itself a competitive marketplace. It is an ideal place if you are looking for luxurious and peaceful living in Lahore.The Al-Jalil Developer has successfully given possession to people even before time in Al Noor Orchard.
Location
Al Noor Orchard is located at the prime location, which complements the value of housing society. Its location is the key factor that adds value to the Housing scheme. The excellent feature is the M2 motorway which gives easy access to Multan Road and Thokar Niaz Baig. Moreover, International Airport and Theme Park are the other two prominent mega projects adjacent to Al Noor Orchard and enhance its worth.
Plots
The three marlas, five marlas,20 Marla, and 1 Kanal plots are available for five years easy installment plan. The 3 Marla plot is in 16 lac which is quite reasonable in such a marvellous housing scheme. Also, the rates are rising. The new block is getting ample and excellent response due to its attractive payment plan.
Artificial Lake Monument
The West Marina will have an artificial lake monument good park. Furthermore, this attraction is attracting a large number of customers for investment.
Bahria Town and Bahria Orchard
Both these societies are providing excellent options to people in 2021. Also, these are the projects by Bahria Town. Due to these developers and their excellent work, these societies are top of the list. No doubt, it is one of the attractive LDA approved housing societies in Lahore. Bahria town has efficiently aided Lahore in accommodating a large number of people through their housing societies. Besides that, it also provides various business opportunities to people. Hence, it is one of the very famous top societies of Lahore.
Location
Bahria town is on Canal, and Bahria Orchard is on Raiwind Road, The most important feature is the construction of the Shahkam flyover, which gave the rising twist to the Bahria market. Thus, both (Bahria Town and Bahria Orchard) have accomplish the market and have further margin for more boom and rise in this market.
Lifestyle at Bahria Town
The establishments of Bahria Town Lahore are splendid as it provides the essence of green lands with modern coverage. Life is nuzzled at this beautiful place as it allows for the combination of traditional and contemporary ways to entitle a complete lifestyle. Moreover, the developmental forms of Bahria Town Lahore produce the unique vista of the historical land of Punjab.
Lahore Smart City
The Lahore Smart City is rank 22 in the world and 2nd in Pakistan as the smart city. Also, it is one of the top five LDA approved housing societies in Lahore. It offers excellent opportunities from a residential and commercial point of view. Its areas are about 20,000 Kanals. Moreover, the Lahore Smart City has established itself in a very progressive way, and we hope to see more boom in its market. Lahore Smart City proposes one of the most pleasing surroundings.
Currently, the Lahore Smart City is unquestionably one of the most extraordinary Investment projections in Pakistan. It has a prime location, exciting features, and stress-free payment plans, making Lahore Smart City a triumph among the various investor classes in Pakistan.
Location
Lahore Smart City is near the N-5 national highway adjacent to the Kala Shah Kaku motorway exchange. Also, this locality appreciates a fundamental place in Lahore. It is reachable both by the motorway and Ring Road that crosses the city and connects the LSC to several imperative locations.
Payment Plans
Lahore Smart City administration bids one of the most straightforward payment plans for 5 Marla, 10 Marla, and 1 Kanal residential plots. Also, the reason is that this society developing. The community has also reviewed its payment plan as it is getting higher accomplishment even in the pre-launch stage. Furthermore, the residential plots of 3,5,712 and 20 Marla and commercial plots of 4 and 8 Marla are available.
Lake City
Lake City Lahore has the main objective of facilitating investors and buyers with the best.  It's LDA approved housing societies in Lahore and develop properly. Moreover, it has undergrounded electrical supply lines, a spacious network of roads, green belts, and a gold course of 1600 Kanal.
Location
Lake City Lahore location has become more reachable and readily available with the opening of Lahore Ring Road. Its total entry and exit points are two. The main entrance and second entrance are from Raiwind road and ring road lake city respectively. Lake City has a highly hygienic and green environment and almost zero level pollution. You will hardly find such a garden-fresh atmosphere at another place in Lahore.
Lake City Golf and Country club
Lake City Golf and Country club deliver a calming round of golf with environment-friendly carts and a midway Hut. It is one of Pakistan's most thought-provoking golf courses, full of inexpert and professional golfers lining up to examine their skills.
Conclusion
These top five LDA approved housing societies in Lahore are fulfilling all the requirements of the citizens. Moreover, you can choose any one of these according to budget and location. In this way, you can provide a better future to your next generation.
Contact us for further assistance.
Please contact Universal Property Network  For More Information click here or visit our youtube channel further assistance