Lahore Smart City – Latest Development and New Property Deals
by UPN
July 31, 2021
0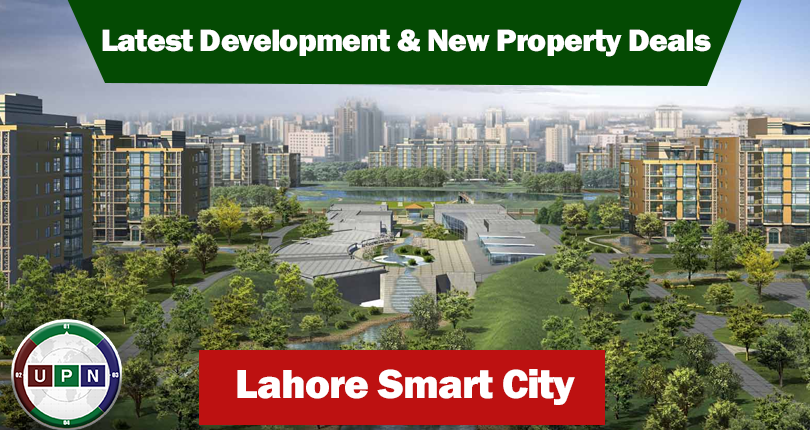 Lahore Smart City – Latest Development and New Property Deals
Lahore Smart City is a mega-development under process at the ideal location of Lahore. It's a new society with new, exciting, or life-changing investment opportunities. Lahore Smart City is launch 8 – 9 months and got its NOC approval in record time. The development work of this society was started so far. It's a top-class housing project where many investors have investors while many are ready to invest in new property deals.
Those who had made bookings at the initial stages, as well as those planning to, desire to know the complete details of the latest development. At the same time, we have received many queries regarding the upcoming property deals in Lahore Smart City. So, in this latest blog, we will surely update you with the information you are looking for! Let's begin:
Lahore Smart City Development Update August 2021
The 2nd Smart City project, Lahore Smart City, is developing at the fastest pace of development. It's a project by the well-known Habib Rafiq Pvt Ltd and FDH, the champions of construction and development in Pakistan. Both these firms, along with the Surbana Jurong (a Singapore-based consultancy firm), have brilliantly planned the development of Lahore Smart City.  According to the latest updates and our on-site visit, the current development details of Lahore Smart City are:
Work on the main boulevards is clearly visible. Workings teams are showing speedy development on the main boulevard that will get connected to Ring Road Lahore.
Street lights are also installed.
Society has cleared the land for the infrastructural and plots development
One of the main boulevards of this society is blacktopped. Similarly, other roads are structured.
Developers camp offices are operational at the site
Also, society is maintaining green belts and other greenery alongside streets
A maximum quantity of machinery is working at the site of Lahore Smart City, performing the development tasks perfectly.
New Property Deals in Lahore Smart City 2021
Currently, Lahore Smart City offers the residential plots of 5 Marla, 7 Marla, 10 Marla, 12 Marla, 1 Kanal, and 2 Kanal. However, Lahore Smart City is soon launching new property deals. The upcoming new deals at Lahore Smart City are:
4 Marla and 8 Marla Commercials
These are the first and the most-awaited commercial plots in Lahore Smart City. The official launch of these commercials is not confirming; however, it will be a big surprise for investors and buyers. Lahore Smart City commercial plots will be affordable and will be available with flexible payment plans.
Additionally, several new deals will be available soon in Lahore Smart City, such as 5 Marla and 10 Marla ready to move houses.
Once anyone of these deals launch, we UPN will surely update you to make on-time bookings
UPN
Average rating:
0 reviews