Lahore Smart City New Rates
by UPN
February 23, 2022
0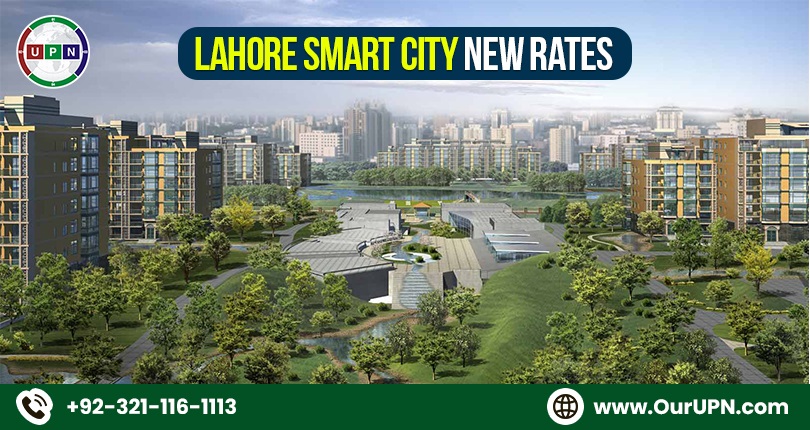 Lahore Smart City needs no introduction. It's a top-class society, the second smart city project in Pakistan. Launched almost 1.5 years ago, this project has touched the heights of success in a short span of time.  Moreover, Lahore Smart City new rates is something everyone is waiting for. This project is already offering a variety of investment options in both residential and commercial categories. However, everyone is anxiously waiting for Lahore Smart City new deal, which is launching soon. The further details of this property are:
Lahore Smart City New Deal
The new deal of Lahore Smart City is launching soon, hopefully by the next couple of days. That's why investors and buyers are looking for complete information. This new deal will feature:
2 Kanal Residential Plots/Farmhouses
4 Kanal Residential Plots/Farmhouses
Smart Villas of 10 Marla and 1 Kanal
These properties are upcoming and will be undoubtedly beneficial for everyone.
Lahore Smart City Development Status
Undoubtedly, Lahore Smart City has no comparison with others. This society is one of the top projects in Lahore, with all the world-class living amenities. In addition, it is developing at the fastest pace. The development work of Sector A and Sector B is very much impressive. Moreover, you can also see the iconic construction of villas in Sector A. In addition, there is a beautiful, well-maintained park, water storage tank, and graceful roundabout and streets. Hopefully, this work will be completed in record time.
Lahore Smart City Possession
It's another milestone achieved by Lahore Smart City that the possession of plots will be available in a couple of weeks. Yes, Lahore Smart City has announced its possession from March 2022. The residential plots located in Sector A and Sector B are ready, and soon the management will allow construction over them.
Lahore Smart City New Rates
This society already had no comparison with others in many terms. Similarly, it is one of the best housing societies in offering plots at the lowest prices. In a good, well-developed housing society of Lahore, 5 Marla residential plots will cost you between 45 lacs to 60 lacs. On the other hand, Lahore Smart City first deal of 5 Marla was launched in 18 – 19 lacs. The second booking was offered in 21.60 – 22.80 lacs. These plots are currently available with profit amounts. However, the latest prices are still reasonable to meet your residential and investment purposes.
Soon, Lahore Smart City new rates and the new deals of plots are launching. The prices of plots will be no more the same. New deal plots will be high in the prices; however, we expect these new deal plots on easy installments to provide ease of investment.
Why Lahore Smart City?
This thoughtfully planned housing venture is ideal in all terms. Lahore Smart City investment is profitable for both buyers and investors looking to invest in the best. This society is designed and developing under Habib Rafique Group's banner, a renowned name in Pakistan. This firm has already proved it's excellent by completing several top-class construction projects. After that, they move ahead in Capital Smart City which is a perfect description of the class, luxury, and style.
Now the exclusive launch of Lahore Smart City at the prime location. Moreover, the project planning, speedy development, and possession announcement differ from others. In addition, the recent approval of the entrance on Ring Road Interchange is further boosting up its value. This society will for sure get more success after the launch of Lahore Smart City new rates and new deals.
So, be ready to invest in the best plots and villas for sale in Lahore Smart City. Contact Universal Property Network for further details and assistance on upcoming new deals in this mega venture.
Please contact Universal Property Network  For More Information click here or visit our youtube channel further assistance