Latest Prices & Updates of Quaid Villas Bahria Town Karachi
by UPN
January 16, 2019
0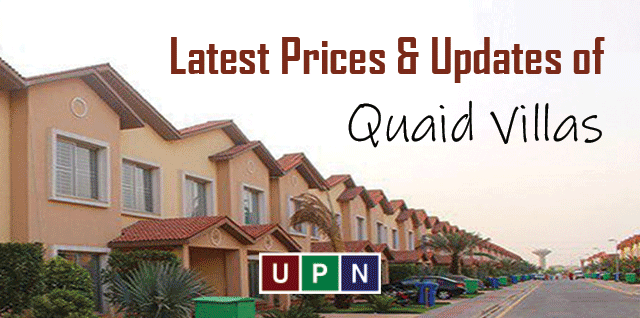 Bahria Town Karachi is a master plan and that would not be wrong to say that it's a complete city in the city. It's an excellent housing project that is providing some great and amazing options to enjoy luxurious residence in Karachi.
Starting from the search of different categories of residential plots, and then moving to built-in property, Bahria Town Karachi is the one and the only choice. Quaid Villas Bahria Town is beautifully designed villas in this mega project for those who desire to make their dreams come true for residence in Bahria Town as soon as possible. Bahria Town Quaid Villas is located in Precinct 2. These are 200 sq. yard villas that are so beautifully constructed to provide you with the best residence option in Bahria Town.
Quaid Villas Bahria Town Karachi – Location Overview
Quaid Villas Karachi is located in Precinct 2. These villas are ideally located at the difference of some kilometers from the Main Entrance of Bahria Town Karachi. Precinct 2 is positioned at the walking distance of 10 minutes from the main gate. The ideal location of these villas catches the attention of buyers and investors in it.
Quaid Villas Karachi – Latest Prices & Updates
The total number of constructed villas in Precinct 2 is about 650 to 700 villas. The demand for these 200 sq. yard villas in Bahria Town Karachi is very high as the limited villas are available in it. The starting price for 200 sq. yards villas in Precinct 2 is 1.50 Crores to 2 Crores. Still, the availability of luxurious Quaid Villas provides you with a great chance to enjoy the peaceful and comfortable residence in Bahria Town Karachi.
Quaid Villas Bahria Town – Top Facilities
The best family place, International Theme Park is located at the drive of 5 minutes from Quaid Villas. Investing in Quaid Villas that are located close to the biggest attraction of a Bahira Town Karachi is a promising profit and best residence option for you.
All the up-to-date health facilities are already available in Precinct 2 as the state-of-the-art hospital is Begum Akthar Rukhsana Memorial Hospital which is situated close to it.
Fully operational and a well-developed Bilal Developmental Store is located in Precinct 2. It's the best place for the residents of Quaid Villas to meet the grocery requirements.
Quaid Villas – Ideal Residency & Handsome Rental Income
Quaid Villas Bahria is the top choice of buyers who desire to enjoy the comfortable and peaceful atmosphere of Bahria Town Karachi. These 200 sq. yard villas are ideal to cherish every single moment of your life with family at a place where all the luxuries and top amenities are waiting for you.
Quaid Villas are providing a great opportunity for investors who are looking it to earn handsome rental income every month.
Universal Property Network is the authorized dealer of Bahria Town Karachi. For any details about the Quaid Villas, call UPN today!