Latest Update in Bahria Town Case on 15th January 2019 Hearing – Complete Details
by UPN
January 16, 2019
0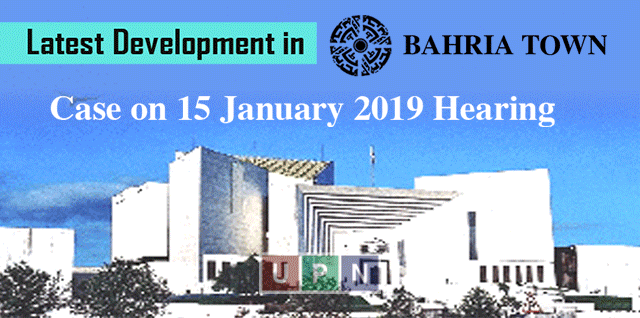 On Tuesday, the Supreme Court of Pakistan had rejected the hefty offer of Bahria Town to deposit Rs.250 billion as a fine to avoid any legal proceedings for NAB references on its projects in Islamabad, Murree and Karachi.
The apex court was hearing a case regarding the implementation of SC verdict of May 4, against Bahria Town.
Under the order, SC had restricted Bahria Town Karachi from selling any residential or commercial plots or any of the constructed property that is located at the border of the port city. According to the verdict, it was declared that the grant of land to MDA and its exchange with private property is illegal.
The apex court has ordered the real estate giant, Mr. Malik Riaz, the CEO of Bahria Town to submit the fine of Rs.285 billion.
At the onset of hearing on 15 January in the SC, an advocate of Bahria Town on the behalf of Malik Riaz proposed to submit Rs.200 billion to undo charges against them.
Justice Azmat Saeed on Bahria Town Case
The three-member bench who was headed by Justice Azmat Saeed replied the advocate of Bahria Town that a fine of Rs.285 billion had been charged to Bahria Town in 2004. He further added that the amount of fine will be Rs.300 billion if it is increased by 40 percent.
Honorable Judge reminds that there are three separate verdicts that had been passed against Bahria Town. He further recommended that "separate and reasonable" offers should be presented for its projects in Karachi, Islamabad, and Murree.
To this, the advocate of Bahira Town increased the hefty offer to Rs.250 billion.
But Justice Azmat Saeed while reprimanding the lawyer said, "This is not a suitable way to deal with the apex court."
After this reaction, the advocate requested the time of one week to file a reply. The apex court granted the appeal and ordered Bahria Town to submit the offers in all the three cases in written form.
Few Details of Last Bahria Town Case Hearing
During the last hearing of this case, the apex scolded NAB and Upper Atmosphere Research Commission (Suparco) and Pakistan Space for their "non-cooperation" to execute the ruling of SC. Justice Azmat Saeed had directed NAB to show their progress "through their actions"
For more updates and details about Bahria Town Case stay connected to Universal Property Network.