LDA City Lahore – Detailed Development Update March 2020
by UPN
March 29, 2020
0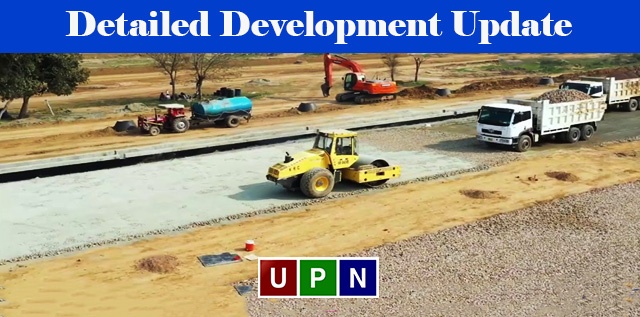 LDA City Lahore is a best-rated, new and modernly developing project by Lahore Development Authority. Spanning over a large area of land, LDA City Lahore is the right place to buy residential and commercial property. It is a society where you can confidently buy property to meet your residential needs in the future as well as to earn the best returns on investment.
LDA City Lahore is located ideally and featuring the residential plots and plot files of 5 Marla, 10 Marla, and 1 Kanal. The prices of property in LDA City Lahore are quite affordable as the project is currently developing. However, it is important to mention here that the development work is progressing rapidly. LDA City has successfully held the first two ballots of plots in the past 6 months. The next balloting of the plot is expected soon.
Here check the location, current development status, and the latest prices of plots in LDA City Lahore!
LDA City Lahore – Prime Location
LDA City is beautifully located on Ferozepur Road Lahore. This society enjoys a prime location near the last Metro bus station, Gajju Matah, along the southern arc of Lahore Ring Road.
Moreover, this project is accessible form Allama Iqbal International Hospital on the drive of only 15 minutes. Indeed, it lies in the proximity of Lake City and Valencia Town.
Development Status March 2020
LDA City Lahore is among the best housing projects in Lahore that is covering a large area of land and featuring all the modern-day facilities in them. This new housing project is divided into many blocks and most of these blocks are developing while the development work will soon begin in remaining blocks. Here we are sharing the complete block-wise development details for your ease.
A Block and B Block of LDA City are waiting for development work to begin
C Block and D Block are partially developed while the remaining work is moving at a steady pace
The residential property in E Block is developing. However, the area comprising commercials are not yet developing
Speed development work is also progressing in block F, J, and L.
K Block is awaiting for development work to begin. However, Block G and Q Block especially the area near Olympia Village Housing Scheme is not yet developed.
Moreover, Development work is not yet begun in Block N, Block M, and Block P.
In addition, Business District is not yet developing.
Latest Prices of Plots in LDA City Lahore
5 Marla plot files in LDA City are available at the price of 22 lacs.
10 Marla plots files are available at the price of 33.50 lacs.
Similarly, 1 Kanal will cost you around 50 lacs
For more details, contact Universal Property Network!
Check out our site for more detail. Latest News