Liberty Lands Development Update
by UPN
March 14, 2022
0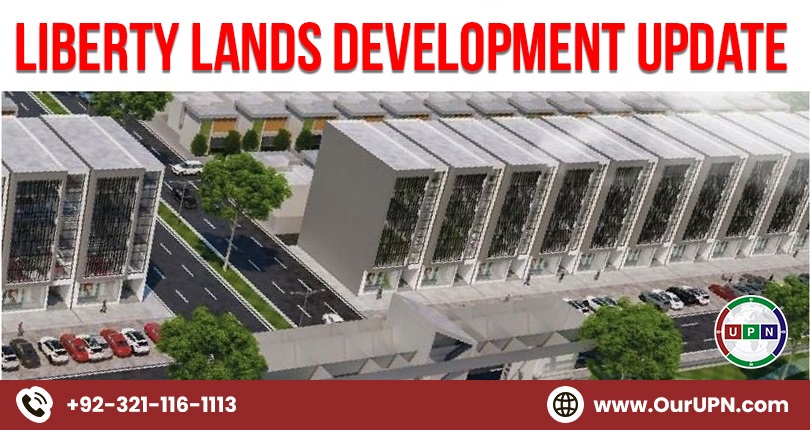 Liberty Lands development work is starting soon. The society officially announces the date for the development work to begin. Congratulations to all the plot holders of Liberty Lands who had confidently invested in it. Now, the time for their investment growth and profit earning is not so far. At the same time, this latest development is also an alarm for the people still waiting to invest their capital in Liberty Lands Lahore. This society is an impressive initiative by Union Developers. These are the same developers who had successfully delivered Etihad Town Lahore Phase 1 and Phase 2.
Now they are heading toward another masterpiece planned at the prime location of Lahore. Without any further delay, let's have an overview of this project and also the development updates.
Liberty Lands Lahore NOC
Launched a couple of months ago, Liberty Lands is a state-of-the-art project with all the top-class amenities and attractions of this modern world. This venture features all the high-standard developments essential to consider a place for living and investment—also one of the major factors to consider before buying in NOC. So, here we would like to clarify that the NOC of Liberty Lands is under process. Union Developers are always championed in completing and delivering their projects on time. However, they are waiting for the NOC to get approved by the concerned authorities. Keeping an eye on their previous track record, we can say that they always start the development work on the site after acquiring 100% valid NOC.
The current updates have confirmed that all the Liberty Lands NOC documentation work is done, and the approval work is under process. It will soon get approved.
Liberty Lands Development
This appealing project's development work will start from 15th March 2022. This is an official announcement by the Union Developers. Liberty Lands development work will surely begin at the given time. And as mentioned earlier, this project will also have timely completion. Even, the possession of plots will be available before completing the installments plan.
Soon, heavy machinery, teams of experienced workers, and labor will reach the site. The work on land leveling and infrastructural development will begin in the next few days. This society will surely experience high-quality development like the developers have done in their previous residential projects.
Plots for Sale in Liberty Lands Lahore
This beautiful housing venture offers the best residential and commercial plots. These plots are available in the sizes:
5 Marla Residential Plots

2.66 Marla Commercial Plots

5.33 Marla Commercial Plots
Please Note: These plots are available in two deals, i.e., old deal and new deal. The details of these deals are:
Liberty Lands first deal launching prices:
5 Marla (R): 31.95 lacs

5 Marla (C): 1.49 crores

2.66 Marla (C): 79.95 lacs
Liberty Lands second deal launching prices:
5 Marla (R): 39.95 lacs

5 Marla (C): 1.75 crores

2.66 Marla (C): 94.95 lacs
Here is one thing important to clarify: the above-mentioned are the launching prices of the plots. The current plots prices include the own amount. This profit amount varies from 2 lacs to 10 lacs depending on the plot size and category.
Booking of plots starts from 15% down payment + own amount. Moreover, the remaining amount will be payable in 8 quarterly installments. Possession of the plots will be handed over before completing the installments plan.
Why Should You Invest?
Investment in the projects of Union Developers is always profitable. Many of the investors are comparing Liberty Lands with Etihad Town Lahore. Undoubtedly, we also expect the same. The living standards available in Etihad Town also make this housing society perfect to choose and invest in. Once the Liberty Lands development work begins, the prices of the plots will increase further. Moreover, this society offers the best living and incredible investment opportunities to everyone. So, if you want to make a safe, secure, and profitable investment on Jia Bagga Road, we suggest Liberty Lands Lahore.
This society spreads over 4000 Kanal of land and features all the essential living facilities. The clean and peaceful environment of this project ensures a quality lifestyle. At the same time, the ROI in this appealing project is also high, even more than your expectations.
Please contact Universal Property Network  For More Information click here or visit our youtube channel further assistance