Low-Cost Plots in Bahria Orchard Lahore
by UPN
February 5, 2022
0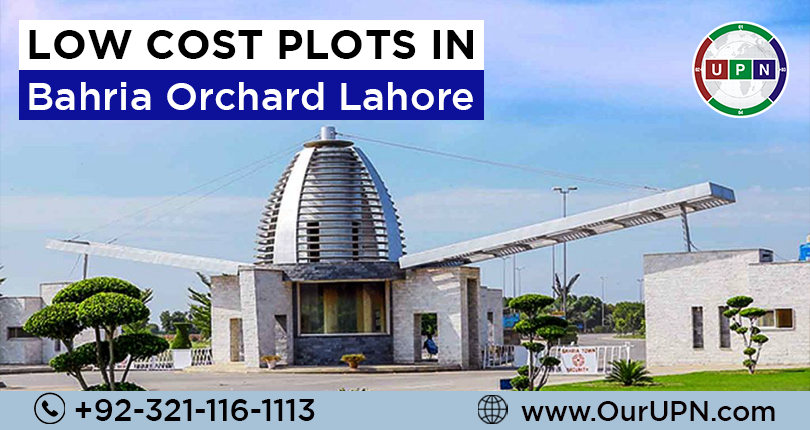 Bahria Orchard Lahore is state of the art, appealing housing society. It's a venture by the well-known Bahria Town. Designed thoughtfully, it's a budget-friendly project with reasonable price properties for everyone. But no compromise is made on the facilities and attractions. Comprising four phases, this society is divided into several blocks. Almost all of its blocks are good, featuring the best plots for sale in Lahore. However, many of our investors prefer buying in low-cost 5 Marla plots. These plots in Bahria Orchard Lahore are available in abundance. Further details are:
Affordable Plots in Bahria Orchard Lahore
If you are looking for a 5 Marla plot with possession and also at reasonable rates, then the following blocks are ideal for you:
G Block and F Block Phase 2
These are the two beautiful blocks in Bahria Orchard Phase 2. Ideally located on Raiwind Road, these blocks are easily accessible from gate no 1, gate no 2, and gate no 6 Jati Umrah Road. The development status of Block G and Block F is impressive as most of the development work is complete. Even these blocks have more than 25% construction. According to an estimate, more than 65 families are living there. All the latest-day living amenities are provided, and families are enjoying their residence.
All these plots of 5 Marla are on-ground, and possession is available. Moreover, the latest prices of plots are starting from 38 lacs to 45 lacs. The location of these blocks is outstanding, and the surroundings are beneficial. Even the distance from Bahria Town Head Office C Block is also short.
These are the best plots in Bahria Orchard Lahore for residence and construction within your budget.
Lowest Prices Plots for Investment Gains
The return on investment in Block G and Block F is also high. But if you have a limited budget and looking for something highly beneficial, choose LCO Phase 2 for investment. It has several blocks; however, the recently launched K Block Extension and N Blocks are ideal in all the terms.
It offers you 5 Marla residential plots at the starting prices of 38 lacs to 42 lacs. Currently, the costs of the plots are low, but once the development work completes, prices will surely increase to 55 – 60 lacs.
Other Latest Investment Opportunities in Bahria Orchard Lahore
Bahria Orchard is full of options and opportunities. This society is not only famous for offering residential and commercial plots. But also, people who desire to invest in high-rise projects, shops, offices and apartments find it suitable.
Several new and exciting property deals are launched in Phase 4 of Bahria Orchard Lahore. One can easily invest in the following projects by the renowned private builders:
Times Square Mall and Residencia
It is the biggest mall in Bahria Orchard Phase 4. Offering a diverse range of options in shops, offices, apartments and penthouses, Times Square Mall is a project by Sheranwala Group. Developing at the fastest pace, its developers are offering several investment benefits such as guaranteed rental income, discounts on booking, etc.
Tower 3
Launched at the prime location of Phase 4, it's another high-rise building project in Lahore. Designed with a range of residential apartments, it's a project by Dua Developers. Tower 3 offers the lowest prices options with all the latest-day amenities and profits you are looking for.
Q Bazaar
It is the recent addition to the landscape of Bahria Orchard Phase 4. Located in the proximity of Orchard Mall and Times Square Mall, it offers shops and offices are the best prices. Booking of properties starts with a 20% down payment while the rest of the amount will be payable in 3 years installments.
Arabian 99 Mall
This project is also owned by one of the well-known developers and builders of Lahore. Located just after the entrance, this project is also full of options for residential and commercial purposes. So people with a desire to get something at the lowest rates with an easy payment plan can confidently choose this.
So, that's all about the lowest prices plots in Bahria Orchard Lahore. These plots are exceptional to meet your residential needs. But on the other hand, the high-rise projects in Bahria Orchard Phase 4 provide everyone with a chance of safe and profitable investment in Lahore.
Stay in touch to get the latest property updates, deals, and best investment analysis at Universal Property Network. You will surely enjoy our services at the best. Contact us today!
Please contact Universal Property Network For More Information click here or visit our youtube channel further assistance