What Makes Paragon Towers Better Than Bahria Heights Karachi?
by UPN
January 25, 2021
0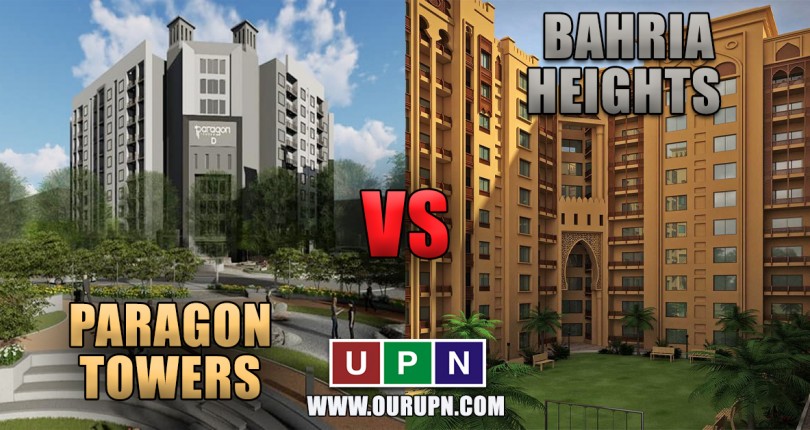 Paragon Towers are the recently launched but well-constructed apartments project in Bahria Town Karachi. It is located ideally and is beautifully surrounded by so many attractions. On the other hand, the location of Bahria Heights is heart-winning, and the apartments are also good to choose for residence and investment. However, investors seem to be more interested in the properties for sale in Paragon Towers. People are confidently investing in Paragon Towers, and many are ready to invest.  But why?
Today, in this latest blog, we will find out what makes Paragon Towers better than Bahria Heights? What are the things that are attracting more and more investors? Let's discuss!
Ideal Location of Paragon Towers
This project's location is ideal as these are developing at a distance of 3 KM from the main gate of Bahria Town Karachi. This project is located adjacent to Precinct 16 and Precinct 17, close to Bahria Paradise's entrance. Paragon Towers are located opposite Grand Jamia Mosque, while Bahria Theme Park, Danzo, and Bahria Farmhouses are at their back. This project is indeed enjoying the executive location in Bahria Town Karachi. Its location is easily accessible and has more attraction than Bahria Heights.
Structure of Paragon Towers
Paragon Towers are a total of four identical, high-rise buildings projects. This upscale project offers apartments and shops for sale in Bahria Town Karachi. The grey structure of all these buildings is ready. The prices of the apartments are attractive while the easy payment plans are offered. These apartments' total prices are the same in all the towers; however, there is only a difference in the payment plan.
Apartments in Tower A are available on the easy installment of 2 years.
Tower B apartments are available with a convenient payment plan of 2.5 years.
However, Tower C and Tower D offer the apartments with 3 years flexible payment plans.
The launching prices for the two-bed apartments in Paragon Towers are 84 lacs. Similarly, the shops' prices are the same, but different payment plans are offered as per towers.
Price Comparison with Bahria Heights
The prices of the two-bed apartments in Bahria Heights is ranging between 65 lacs to 75 lacs. All these apartments are available on full cash payment. On the other hand, the apartments for sale in Paragon Towers are available with a convenient payment plan of 2 to 3 years. So, by investing in Paragon Towers, you will be able to pay the total amount in easy installments.
Secure Gated Community
Paragon Towers are developing as a secure and safe gated community within the boundaries of Bahria Town Karachi. All the four towers of Paragon Towers will be accessible through one main entrance. So, in other words, you will feel more secure and comfortable while residing in Paragon Towers Karachi.
Load Shedding Free Zone
Bahria Town housing societies are already famous and appear attractive for the uninterrupted supply of electricity. However, these Paragon Towers Karachi are planned with their own power plant and power backup. So, this place will be a load-shedding free zone where you will love to live with your family.
Clean and Green Environment
Paragon Towers are thoughtfully planned to ensure a clean and green environment in the surroundings. This project is designed with many parks, walkaways, and also have swimming pools for kids. Once ready, the entire area will give you a healthy, green, and clean environment to live in.
Playing Areas and Sports Facilities
Paragon Towers features the best facilities, including the latest day sports facilities. This project is planned with a gymnasium, basket club, jogging track, swimming pool, and tennis courts. Also, the beautiful and spacious playing areas are designed for kids.
Free Wifi in Paragon Towers
This is the most appealing facility offered in Paragon Towers. Yes, you will get free wifi and intercom services in Paragon Towers Karachi.
Some of the other facilities are:
CCTV Cameras Monitoring
Spacious Lobbies
Beautiful Exterior and Interior
Four Passenger Lifts and Two Cargo Lifts
Sitting and Praying Areas
Saloon and Shopping Center
Overall, Paragon Towers are the well-organized, heart-winning development in Bahria Town Karachi. You can confidently buy apartments and shops in Paragon Towers by contacting Universal Property Network  .For More Information click here or visit our youtube channel further assistance.