Why Making Investment in Gwadar Golf City Is Highly Recommended? Attractive Details
by UPN
April 20, 2019
0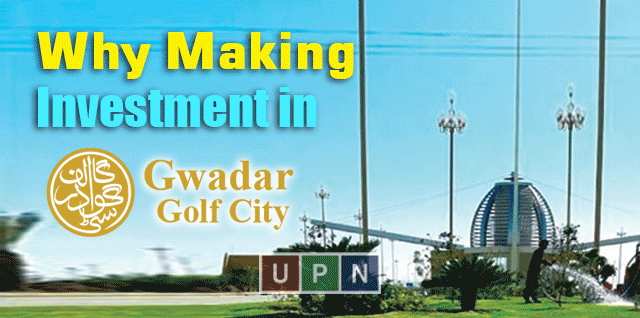 Making investment in Gwadar Golf City is highly recommended by UPN but why? There are many reasons that make this project unique and top choice for investment. Like the current development status, ideal location, reasonable rates of plots, expected possession, the location is away from industrial zone and much more. So let's discuss these details that will also make you attract to invest in Gwadar Golf City.
It's Top Developers
Gwadar Golf City is a well-planned project of BSM Developers. Gwadar Golf City is the wonderful example of architectural elegance that is beautifully combined with the state of the art amenities and thus changing the golden sands into an ideal housing project and latest development. The introduction of the developers is enough to define the excellence of Gwadar Golf City.
BSM (Bilal Shabeer Malik) is the grandson of Mr. Malik Riaz, the owner of Bahria Town Private Limited, and so that BSM developers are working brilliantly under the supervision of top property tycoon of the country.
Best Location of The Project
GGC is ideally located in Mouza Paleri Garbi. It is located at the distance of 3 Km from proposed 500 Acres International Shabi University and in the north of Makran Coastal Highway. Gwadar Golf City is located close to new cantonment area as per upcoming revised GDA Master Plan 2019.
Current Development Status
The development work at Gwadar Golf City was started in April 2018 and now almost all area is developed. Land is leveled, boundary wall is already completed, head office work is also done, and even the development work in Block A & B is almost completed. However, the remaining work is moving at the satisfactory pace.
Best Site of Gwadar Golf City
The site of this fabulous project is ready for visit and living and that makes the project highly recommended for investment. Adding more, Gwadar Golf City is located at the prime location in residential zone.
Reasonable Prices of Plots & Expected Possession
Residential and commercial plots of different categories are available in Gwadar Golf City. The prices of the plots are already reasonable and at the same time, BSM Developers are offering these plots on flexible payment plans. The development work of the plots is moving at the fastest speed; even some of the fully developed plots are also available at the same low prices. The possession of these plots is expected to be announced till the end of this year. By keeping all these points in mind, more and more investors attract and show their keen interest in Gwadar Golf City.
Investment Analysis & Recommendations
In the current scenario, this is the right time to make investment in Gwadar Golf City. There are different options are available to invest, such as the residential plots of different categories, especially, the plots announced in newly-launched block " Pak China Enclave". The project is also offering the attract commercial plots on installments and even, limited numbers of shops are also available in Private Pak China Expo Center that will be soon complete as the development work of the project is already started.
Buyers with medium to low investment can easily opt. the desirable option of investment in Gwadar Golf City as this is a project that is designed to worth every single rupee, you will invest in it.
For best consultancy services, contact Universal Property Network.