Marina Sports City Al-Noor Orchard New Deal
by UPN
January 12, 2022
0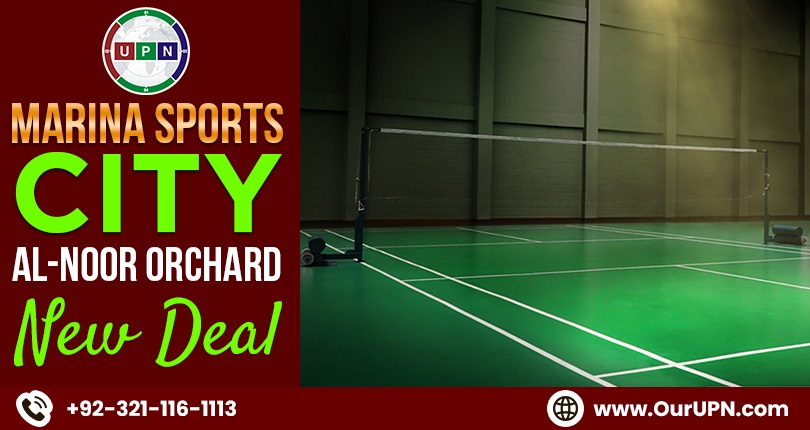 Do you want to invest in Lahore? Are you planning to buy property in Al-Noor Orchard but waiting for a new exciting deal? Also, do you want to invest on installments? Then, get ready as Marina Sports City is launching soon.
After getting tremendous success in West Marina Block and West Marina Executive Block, Al-Jalil Developers now launching Marina Sports City. It's a new block with new residential and investment opportunities in Lahore. Designed perfectly on the latest ideas and trends, this new premium block will be a great addition no doubt. As the name depicts, this Sports Complex is planned with advanced sports facilities hard to find anywhere else. These features are making this block unique and simply heart-winning in all terms. Further details are:
Marina Sports City Lahore
Al-Noor Orchard Lahore is a beautiful housing society even it is the biggest project of Lahore West. All the blocks planned and developing inside are attractive for several reasons. From the location, planning to the prices and ROI, everything adds charm and value to them. But this Marna Sports Complex brings you something different that you are always searching for.
It will be a complete sports complex with a luxurious living community. Here you will find:
A Cricket Stadium
Football Stadium
Golf Course
Tennis Court
Squash Court
Hockey Stadium
Sports Academy
Sports Trainee Centers
Gymnasium and Much More
In other words, Al-Noor Orchard new deal will be not only attractive for affordable property, but it will be a complete package for Sports Lovers and Fitness Freaks. So, let's learn about the properties awaits you in this new block in the top housing society of Lahore.
Marina Sports City Plots for Sale
It's a new block coming in Al-Noor Orchard Lahore's prime location. Planned in the proximity of West Marina Block and Executive Block, this new block has all the features and facilities to win investors hearts.  Moreover, its appealing sports features and facilities add value to the whole concept. The plots for sale in Marina Sports City are:
3 Marla Residential Plots
5 Marla Residential Plots
10 Marla Residential Plots
1 Kanal Residential Plots
Soon, it will have new deal of commercial plots on installments. Stay in touch for latest updates and details of plots.
Marina Sports City Booking and Payment Plan
Al-Noor Orchard Marina Sports City is a mind-blowing addition to the map of this society. It is perfectly planned with several sizes of plots which excellently meet the needs of the property. At the same time, the prices for the plots are affordable. One of the main features of this new deal and new block plots is easy installments. Not ending here but these West Marina Sports block plots are surprisingly low in cost. Have a review at the prices.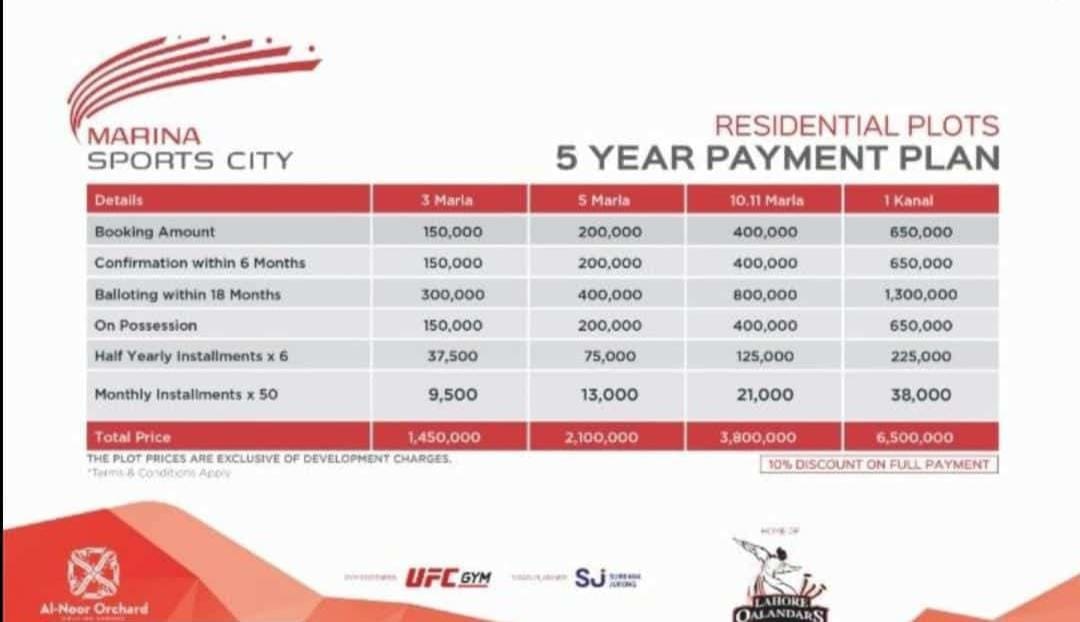 The prices of plots in Marina Sports City are:
3 Marla Plots Prices: 14.50 lacs
5 Marla Plots Prices: 21.00 lacs
10 Marla Plots Prices: 38.00 lacs
1 Kanal Plots Prices: 65.00 lacs
Booking of plots starts with 1.50 lacs only. The remaining prices will be payable in the flexible payment plan of 5 years.
Note: The following prices are yet to be confirmed
According to the latest details, the payment plan of plots has 50 monthly and 10 halves yearly installments. Moreover, the possession of plots in Marina Complex will be handover within 4 years of booking. Once the official payment plan is available, we will surely share it with you.
NOC Approved Project
Al-Noor Orchard Lahore is completely approved by the concerned authorities. The NOC of this society is acquired in 2019. The approved NOC#LDA/DMP1/SKP/913 makes it a complete residential and investment option for buyers and investors.
About Developers
It's a project by the well-known Al-Jalil Developers. These developers have gained immense popularity for high standards of work and quality in their previous projects. However, they have further redefined their working patterns to deliver Al-Noor Orchard new blocks with advanced developments.
Al-Noor Orchard – Location
This appealing housing society is located in the heart of Lahore on Main Sharaqpur Road. Al-Noor Orchard have the most sought-after location in the West of Lahore. It is located ideally at the prime location; one can easily approach. Undoubtedly, its developers have chosen an excellent place to develop this outstanding project.
Other Options in Al-Noor Orchard Lahore
Al-Noor Orchard is a mega housing society, with seven blocks in total i.e.,
A Block
B Block
C Block
D Block
West Marina Block
West Marina Executive Block
Marina Sports City
Its A and B Blocks have possession; C Block's balloting is done. Moreover, D Block and West Marina Blocks are developing at the same time, West Marina and Executive Block development will begin soon.
So, don't wait and buy the best plots for sale on installments in Lahore. This society is safe, secure, and a beneficial option for investment growth and gains.
Investment in West Marina New Block
Al-Noor Orchard West Marina Sports City provides everyone with a new opportunity for low budget investment. It's a life-changing investment chance for those who have missed it earlier. Designed with several sizes of plots, available at the lowest prices, this new block will change the whole game. It is a block with properties for salaried and low-income persons.
But don't think that any compromise will be made on quality and facilities. Even, it will have advanced and upgraded amenities. The entire block planning shows resembles the planning of Bahria Sports City Karachi which had gained huge success.
People with a desire to invest in an ideal property in Lahore on installments but also want to enjoy advanced facilities, choose Marina Sports City Al-Noor Orchard Lahore.
So, don't miss out on this golden chance of investment in one of the top housing societies of Lahore, Al-Noor Orchard. Book your plot today at affordable rates to earn maximum returns in future. You will surely enjoy your investment in this best block!
Contact Universal Property Network for further details, full prices, payment plan, booking and investment analysis.
Please contact Universal Property Network For More Information click here or visit our youtube channel further assistance