Naval Anchorage Gwadar Balloting Results & Expected Launch Of Map
by UPN
December 6, 2017
8 Comments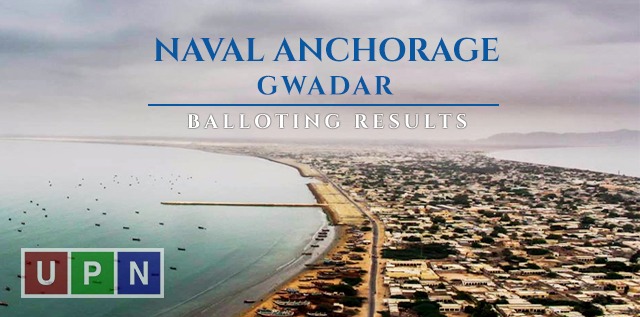 Naval Anchorage Gwadar Balloting was held on 5th December 2017 in Bahria Auditorium Karachi. All the applicants who have waited for 2 months for the balloting can breathe a sigh of relief. Balloting results will be uploaded on the official website of Naval Anchorage Gwadar and you will be able to check only the status of your own booking application with help of your CNIC number.
Naval Anchorage Gwadar Balloting Results
Naval Anchorage Gwadar management is saying that balloting results will be uploaded on their official website at 12:01 pm, 7th December 2017. If you applied for a plot in Naval Anchorage Gwadar and you were successful in balloting process, you will receive a confirmation SMS as well from Pakistan Navy, congratulating you for getting a plot in the housing scheme.
But as we know that several applicants did not receive confirmation SMS regarding submission of their booking applications. So if you do not receive SMS for being successful in balloting as well, don't worry. Just visit official website of Naval Anchorage Gwadar or call on their helpline numbers to confirm the status of your booking application.
051-20063214
051-20063994
Naval Anchorage Gwadar Map
It is highly probable that Pakistan Navy might even upload Naval Anchorage Gwadar map as well on their website. Their representatives claimed that map of the housing scheme will also be uploaded along with the balloting results.
Naval Anchorage Gwadar – A Brief Introduction
Naval Anchorage Gwadar is a GDA approved housing scheme launched in August 2017 by Pakistan Navy. Covering more than 1400 acre land, Naval Anchorage Gwadar is the first project launched by any branch of Pakistan Armed Forces in Gwadar. All the land has been fully acquired by Pakistan Navy and development is expected to commence soon after the balloting process. Residential plots of 5 Marla, 10 Marla and 1 Kanal were offered for booking, in addition to a limited number of 2 Kanal plots.
A number of confirmed plot files were also available in Naval Anchorage Gwadar on lump sum payment as part of a special dealer's quota. Previous success of Naval Anchorage Islamabad, GDA approval and backing of Pakistan Navy attracted huge number of buyers. Now the timely commencement of balloting will strengthen the repute of the project among investors and future buyers.
For further information regarding Naval Anchorage Gwadar or any other real estate project of Pakistan, sign up for our free newsletter.