Naval Anchorage Gwadar Rates – Project Details, Booking Details, Location Map, Plot Prices and Development
by UPN
September 23, 2017
99 Comments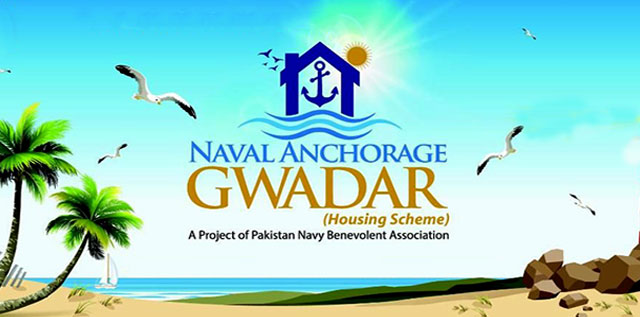 Naval Anchorage Gwadar is the latest addition in the real estate market of Gwadar. It is the first real estate project launched in Gwadar by any branch of Pakistan Armed Forces. Earlier, confirmed plot files were available only for 500 Sq. Yard residential plots. Now open-booking of residential plots has been announced in the luxurious housing project. This time the plot files and booking process will follow similar criteria followed by all major real estate projects. In order to book a plot, you will submit application forms in authorized banks along with processing fee.
Successful owners will be selected through balloting process. Let's say you got lucky in balloting, now you will pay 10% down payment to confirm the booking. You can also pay the whole amount in lump sum, however there is no discount.
Plot Cuttings and Location of Naval Anchorage Gwadar
Booking is open for following plot cuttings of Naval Anchorage Gwadar
5 Marla/ 125 Sq. Yards
10 Marla/ 250 Sq. Yards
1 Kanal/ 500 Sq. Yards
2 Kanal/ 1000 Sq. Yards
Out of all these plot cuttings, limited number of plots are available in 2 Kanal/1000 Sq. Yard category.

Booking Process for Naval Anchorage Gwadar
Booking of plots has started in Naval Anchorage Gwadar from 30th August 2017. You can either download the forms from Naval Anchorage website OR
Application form and processing fee can be submitted in any branch of following banks:
Allied Bank
Askari Bank
Habib Bank
Bank Al Habib Ltd.
Meezan Bank
Detail of processing fee against each plot category is given below:
| | |
| --- | --- |
| Residential Plot Cuttings | Processing Fee |
| 5 Marla | Rs. 5,000 |
| 10 Marla | Rs. 7,500 |
| 1 Kanal | Rs. 10,000 |
| 2 Kanal | Rs. 15,000 |
There are different categories of customers mentioned in the application form. Each category will have separate quota of plots. List includes:
General Public
Retired Persons of Armed Forces
Disabled Persons
Employees
Overseas Pakistanis
Senior Citizens (above 70 years of age)
Make sure that application form and processing fee is submitted in the same bank branch. Last date for submission of forms and processing fee is 20th September 2017.
Payment Plan of Naval Anchorage Gwadar
After balloting process is completed, successful individuals will have to deposit 10% down payment within 30 days of balloting. Rest of the price will have to be paid in the form of 3-year payment plan equally divided into 12 quarterly installments. In case, you decide to pay full price after balloting, you will receive 10% waiver in the price of your plot. Payment plan for each plot category is mentioned below:
| | | | |
| --- | --- | --- | --- |
| Residential Plot | Total Price | Down Payment | Installment Price |
| 5 Marla/125 Sq. Yard | Rs. 1,900,000 | Rs. 190,000 | Rs. 142,500 |
| 10 Marla/250 Sq. Yard | Rs. 3,000,000 | Rs. 300,000 | Rs. 225,000 |
| 1 Kanal/500 Sq. Yard | Rs. 4,800,000 | Rs. 480,000 | Rs. 360,000 |
| 2 Kanal/1000 Sq. Yard | Rs. 9,000,000 | Rs. 900,000 | Rs. 675,000 |
Naval Anchorage Gwadar is a promising housing project and offers a lucrative opportunity to investors who want to invest in real estate market of Gwadar. Fine more about features and investment in Naval Anchorage Gwadar.
For further information regarding Naval Anchorage Gwadar or any other real estate project, contact Universal Property Network (UPN).