New Open Form Plots in Bahria Orchard Phase 2
by UPN
September 24, 2021
0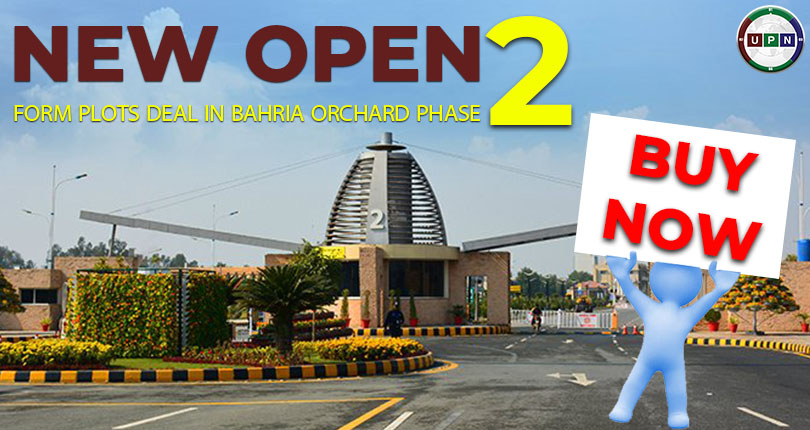 Bahria Town Pvt. Ltd once again providing you with a golden investment chance by offering a new deal of 5 Marla. These are new open form plots in Bahria Orchard Phase 2. Located ideally, there is a limited number of plots that you can purchase for residence as well as investment returns.
Bahria Orchard Phase 2 is an already developed community where a number of families are living. It's a beautiful housing society on Raiwind Road featuring state of the art infrastructure, modern development and amenities. Also, it's a mega project and has many options available for investments. But still, Bahria launches several new deals to facilitate its buyers and investors with more options. This new deal of open form plots is also announced on a newly acquired land that comes in the surroundings of Bahria Orchard Phase 2. Further details are:
Open Form Plots in Bahria Orchard Phase 2 – Location, Plots, and Prices
This new deal offers 5 Marla residential plots.
The location of these plots is D Block Extension. Easily accessible this extension block is lying adjacent to D Block, which is one of the famous blocks. D Block is located at a short distance from the society's main entrance. Moreover, it has the very impressive Awami Villas, where hundreds of families are living comfortably.
Additionally, the location of D Block Extension is close to LCO Phase 2, a new development in Bahria Orchard Phase 2. This extension block is also accessible from Gate No 6 on Jati Umrah Road as well as have access from Raiwind Road Lahore.
5 Marla open form plots are available at the launching prices of 38 lacs. These are the prices for general plots. However, the category plots, i.e., main road, corner, and park facing, are available in 40 lacs. These are new openings/open form plots means no transfer fee.
Investment in D Block Extension Plots
In the past, the D Block Extension location was not so attractive as it was at the end, i.e., near the boundary. But after the launch of LCO Phase 2, the importance of plots in D Block Extension is increased. This is because this block has good development in the surroundings. Moreover, have access to multiple routes.
Buying in D Block Extension plots in Bahria Orchard Phase 2 is suitable for both construction and investment returns. Prices are reasonable as well as the availability is limited. So, it will be good to make the right time investment decision.
Contact us for further assistance.
Please contact Universal Property Network  For More Information click here or visit our youtube channel further assistance