Nova One Lahore – Location Map, Payment Plan and Complete Details
by UPN
March 15, 2022
0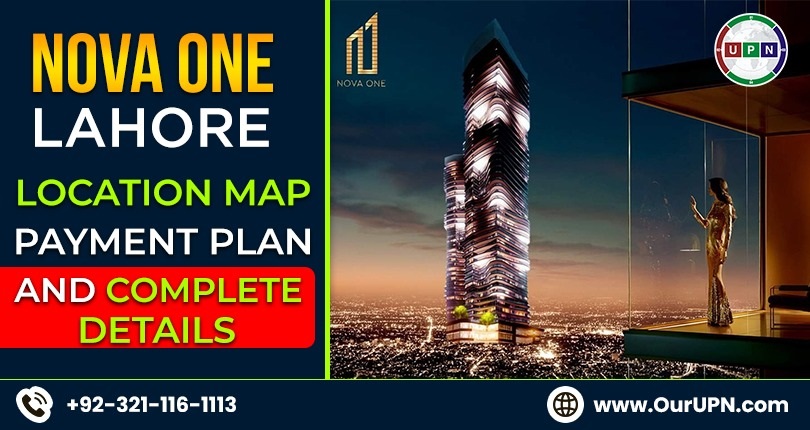 Nova One Lahore is an upcoming luxurious development launched recently. It's a project by Nova Developers who had perfectly planned it as per the latest standards. Nova One is a beautifully described class, luxury, and style by introducing incredible living and investment opportunities. The excellence and innovation element further boost its value to the next level. It has an abundance of amenities, with makes it ideal. It's a high-rise building project with impressive apartments and commercial options. So, it's a place, an excellent choice to redefine your living standards by booking the best property for sale in Lahore.
Starting from the planning to the development, everything in this project is extraordinary. Also, Nova One is a one in all property solution as it hosts a variety of commercial, residential, and recreational options. Most importantly, this project will have easy access from all the major parts of Lahore. It's a place where living will be like enjoying luxury and amenities happily. Finding similar facilities in any of the other projects is quite hard. That's why we suggest you buy luxury apartments for sale in this high-rise building. Undoubtedly, it's a destination for your sophisticated lifestyle. Here we assure you that this project is a heart-winning example of world-class development with a prime location and luxurious amenities.
At the same time, Nova One offers incredible views of the city views with its graceful architectural design. Overall, it's a magnificent development designed according to international trends and concepts.
Nova One Lahore Project Plan
The developers of this project have carefully planned everything. Starting from the floors to interiors and exteriors, everything describes the brilliant work of its planners. They've also made sure that it's sustainable in every way possible, making it marvelous in all the terms.
Planned to be the tallest building in Lahore, it is the most iconic real estate project in Lahore. Spreading over 18 Kanal of land, it's a completely modern venture with incredible residential and commercial options. This project features the best amenities which perfectly meet the residential needs of people and also provide them a chance to enhance their living standards. Nova One offers innovative solutions to all your property needs by offering comforts, exclusivity, and conveniences.
Nova One Lahore offers a diverse range of residential properties, a proper commercial zone where you will find the best malls and offices, and several recreational activities.
The properties for sale in Nova One are:
Shops (3 Floors)
Corporate Offices (3 Floors)
Luxury Apartments (40-50 Floors)
Moreover, a large area, almost 3 basements are offering spacious parking for over 3000 cars.
The first three floors of this high-rise development will have the iconic shopping mall. The next 3 floors have the proper business activity as it features corporate offices. Furthermore, the remaining floors offer luxurious apartments in different sizes.
Overall, this project will have more than 60 floors, making it the tallest building of Lahore, here adding one more thing that the second building of this project will have a 7-star hotel completely bought by the King of Bahrain.
Nova One Lahore Location
Location matters a lot; even, it is one of the main factors which everyone considers before investing in any property. That's why Nova Group has smartly chosen the finest location in Lahore. Nova One Lahore location is prime and easily accessible. It is located at the ideal location of Walton, Lahore Cantt. It is an upmarket area with beneficial surroundings as all the top-rated schools, hospitals, restaurants, and malls in the city are lying nearby. Indeed, this strategic location of Nova One will surely provide you with every facility at your doorstep, and you will never miss anything.
Some of the nearby locations to Nova One are:
It is a 3-4 minutes drive away from Gulberg Lahore.
The distance from MM Alam Road, Liberty Market, Kalma Chowk, Model Town, and Jail Road is around 10 – 15 minutes.
Moreover, it is on the drive of 10-minutes from DHA Lahore.
The distance from Allama Iqbal International Airport is also 25-30 minutes only.
The Cavalry Ground and Ferozpur Road Lahore are only 4 – 5 minutes' drive away.
Nova One Payment Plan
Like all the other fields, Nova Group has smartly made this project extraordinary by offering surprisingly affordable prices. Yes, the prices of shops, offices, and apartments in Nova One Lahore are the best in all terms. The rates of the apartments are starting from 30,000 square feet while going high up to 1 lac for the offices. Booking starts with a few percentages of down payment, and the rest of the amount will be payable in 4 years flexible payment plan. Following are the complete prices and payment plan details:
Shops Prices and Installments Plan
Note: The per square feet rate of the shops is 40,000/- only.
Section
Area

(SqFt)

Total Price
Token Amount
Booking
Confirmation 10%
48 Monthly Installments
On Possession 20%
Smart Business Shop
250
25,000,000
1,500,000
1,000,000
2,500,000
312,500
5,000,000
Growing Business Shop
432
43,200,000
2,000,000
2,320,000
4,320,000
540,000
8,640,000
Established Business Shops
864
86,400,000
2,500,000
6,140,000
8,640,000
1,080,000
17,280,000
Offices Prices and Payment Plan
Note: The per square feet rate of the shops is 100,000/- only.
Offices Categories
Area

(SqFt)

Total Price
Token Amount
Booking
Confirmation 10%
48 Monthly Installments
On Possession 20%
Startup Office
518
20,720,000
1,000,000
1,072,000
2,072,000
259,000
4,144,000
Entrepreneur Office
1037
41,480,000
1,500,000
2,648,000
4,148,000
518,500
8,296,000
Corporate Office
2066
82,640,000
2,000,000
6,264,000
8,264,000
1,033,000
16,528,000
Apartments Prices and Installments Plan
Note: The per square feet rate of the shops is 30,000/- only.
| | | | | | | | |
| --- | --- | --- | --- | --- | --- | --- | --- |
| Apartment Sizes | Area (SqFt) | Total Price | Token Amount | Booking | Confirmation 10% | 48 Monthly Installments | On Possession 20% |
| 1-Bed | 1200 | 36,000,000 | 1,000,000 | 2,600,000 | 3,600,000 | 450,000 | 7,200,000 |
| 2-Bed | 1663 | 49,875,000 | 1,000,000 | 3,987,500 | 4,987,500 | 623,438 | 9,975,000 |
| 3-Bed | 2063 | 61,875,000 | 1,000,000 | 5,187,500 | 6,187,500 | 773,438 | 12,375,000 |
About Developers
Nova One is a project of Nova Developers, one of the leading and well-reputed real estate developers in Pakistan. They have successfully launched and working on some great projects such as:
Nova City Islamabad (Development Work Going On)
Nova City Peshawar (Pre-Launch Phase)
The teams at Nova Group are highly qualified and consist of experienced engineers, architects, and construction managers. All they are working hard to make this firm shine like a twinkling star in the world of real estate.
Like their first two projects, Nova Group aims to make this project iconic. They have high goals and intentions for the development of Nova One Lahore. They want this building to be both an example of excellence and offer incredible solutions to all its buyers. At the same time, they desire to offer a variety of new jobs bringing opportunities and commercial spaces for the people in need.
Facilities Await You
The marvelous planning of this project has made it a complete package for everyone. The entire project is designed and features the latest architectural concepts, making it more convenient for everyone.
Nova One Lahore's planning and development completely describe the trends of this modern time. The development work will be carried out with all-new construction materials and cutting-edge technology. At the same time, it will be an eco-friendly development.
The vision behind this project is to create a space that completely offers high-standard business and living spaces in Lahore. Starting from the views to the amenities, this project is marvelous in all ways.
If we discuss amenities, like resort-style pools set against lush landscape views, all offer buyers a chance to enjoy divine beauty and luxury. The first impression while entering this masterpiece will be like a cool, graceful, and heart-winning place with lots of amenities and attractions.
The basic concept of designing and developing this project is to offer everything at your doorstep. Nova One Lahore offers a range of facilities as per the latest demands of buyers. Here you will be able to get everything, hard to find anywhere else in the town. This marvelous jewel will surely shine in the crown of Lahore real estate for its incredible facilities and high-standard features:
Below we have the details of amenities provided in Nova One Lahore:
Appealing Exteriors
Heart-Winning Interiors
7-Star Hotel with All the Luxuries
Spacious Lobbies
High-Speed Elevators and Beautiful Stairs
Proper Firefighting System
Food Court Area and Kids Play Area
Spa and Sauna
Gym and Fitness Club
Cinema and Much More Entertainment
Scenic Views, You will Fall in Love With
Luxurious Apartments in Different Sizes
Dedicated Parking (Space for 3000 Cars)
CCTV Camera Surveillance
24/7 Security with Guards and Gates
Recreational Facilities of this Modern Age
All Basic Necessities Like Clean Water and Uninterrupted Electricity
Close to Schools, Hospitals, and Short Distance from Airport
So, if you are looking to invest in a property where you will have access to everything, and you want to pay in installments, choose Nova One Lahore. It's a chance of beneficial investment you won't want to miss.
Don't wait and contact Universal Property Network to get the complete details and assistance in booking in Nova One, the tallest building in Lahore!
Please contact Universal Property Network  For More Information click here or visit our youtube channel further assistance