Now Paying Possession and Utility Charges Is Compulsory to Get your Property Transfer in Bahria Town
by UPN
September 4, 2021
bahria, Bahria EMC, Bahria EMC, Bahria Enclave Islamabad, Bahria Farmhouses Karachi, Bahria Green Karachi, Bahria Height Apartments, Bahria Heights, Bahria Hills Karachi, Bahria Home Karachi, Bahria ICON, Bahria Karachi Plots, Bahria Nasheman, Bahria Orchard, Bahria Orchard Lahore, Bahria Orchard Phase 2, Bahria Orchard Phase 3, Bahria Orchard Phase 4, Bahria Orchard Phase 5, Bahria Paradise Karachi, Bahria Paradise Villas, Bahria Town, Bahria Town ICON, Bahria Town Karachi, bahria town karachi update, Bahria Town Lahore, Bahria Town Lahore, Bahria Town Lahore Latest, Bahria Town Lahore Plots, Eastern Block, Eastern Extension Block
0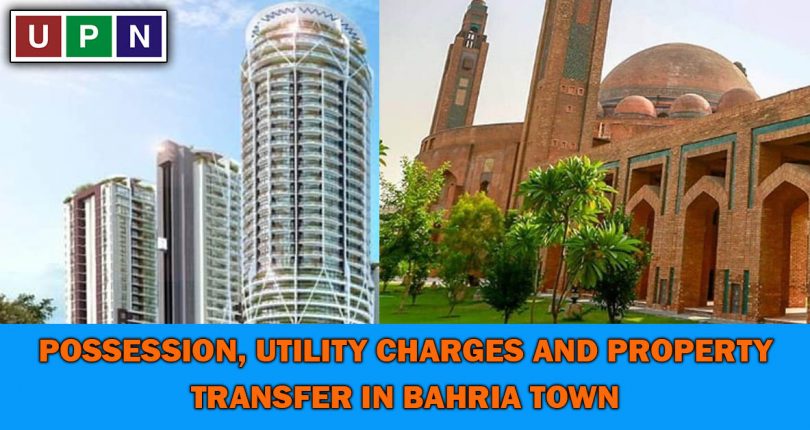 Bahria Town Private Limited has recently made a shocking announcement for all of its societies across Pakistan. In the latest notice by Bahria Town, the top developers have announced that "paying Bahria Town possession and utility charges of ready properties is compulsory for their transfers". Yes, it's true!
Bahria Town has finally come up with a solution of pending possession and utility charges by making it compulsory for property transfers. No transfers will be provided until the buyer will not clear his possession and utility charges.
Bahria Town Possession and Utility Charges – An Overview
Last year in May, Bahria Town had announced for the owners of ready to construct or ready to move properties to take possession of their properties. Several notices were issued at different times, with a warning that:
If someone does not clear/pay his possession and utility charges within the given deadline, his property will be changed into a developing property or will be cancelled.
Also, Bahria Town has imposed non – utilization charges of 1 lac on the ready properties.
But in the end, almost 12 – 14 months of regular notices and extensions in deadlines, Bahria Town has announced to pay these charges on transfers.
What Will Happen Now?
From 2nd September 2021 and onwards, a buyer will pay his property in Bahria Town possession and utility charges (if unpaid) at the time of transfer. This announcement is made for all the projects of Bahria Town such as:
Bahria Town Lahore, Bahria Town Karachi, Bahria Town Islamabad, Bahria Orchard Lahore, Bahria EMC, and Bahria Nasheman.
So, what if someone will not pay these charges at the time of transfer? The procedure of transfer will stop/not process.
What Will be the Impact of Bahria Town Possession and Utility Charges Announcement?
We UPN has been noticing the whole situation for the last two days. By analysing the visuals and details collected from Bahria Town Head Offices, we can conclude:
Transfers Process is Going Smoothly. Many of the investors and buyers have paid the possession and utility charges of their properties. Also, many had requested for some time to arrange the capital.
Prices of Properties will Increase and Decrease?
The overall property market of Lahore and Karachi has been improving for the last 6 – 8 months. As a result, the prices of properties are gradually increasing. This is because there are more buyers than sellers in the market. However, after this announcement of "forceful possession and utility charges", there are rumours that prices will decline.
So, this will not be going to happen. Yes, this sudden announcement by Bahria Town has created some uncertainty in the market. But this will not lower down the prices of plots or ready properties.
Benefits of this Recent Announcement!
Well, one and the most important benefit of this recent Bahria Town possession and utility charges announcement is that:
It will increase the construction across societies.
More buyers and investors will go for construction, which is simply a good thing, especially for Bahria Town Karachi plots.
Moreover, soon there will be a time when all the plots of Bahria Town Lahore, Karachi and Islamabad will be available with possession. It means buyers will not have to wait for 2 – 3 months to start the construction. All can easily start construction of their projects just after the transfer procedure completes.
So, that's all about the possession and utility charges of Bahria Town housing societies. For further details, please get in touch with us!
Contact us for further assistance.
Please contact Universal Property Network  For More Information click here or visit our youtube channel further assistance