Pakistan Real Estate Forecast 2021 – All You Need to Know
by UPN
January 17, 2021
0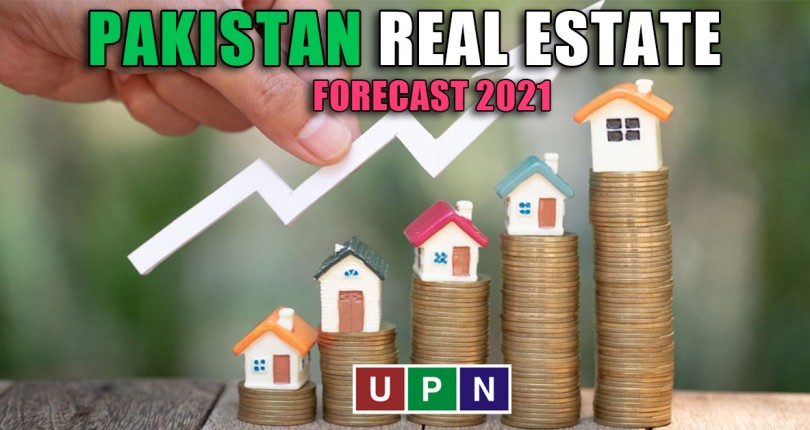 The real estate sector of Pakistan is one of the major industries contributing a lot to its economic development. According to the World Bank calculation, the size of Pakistan's real estate assets is between 70 to 75 per cent of the total country's wealth. The country's property sector did not perform well in 2019 because of several financial, economic, and political challenges. However, 2020 was a great year! It started with a big crash; a global economic meltdown due to Covid-19, but it has ended completely on a different note.
But how this 2021 will go? What are the real estate expectations in 2021? Well, we will definitely answer all these questions in this most-awaited post "Pakistan Real Estate Forecast 2021." So, please keep on reading to know more
2020 and the Real Estate of Pakistan – An Overview
The year 2020 was a game-changer for the real estate sector of Pakistan. It has started with a big crash, but it ended by offering lots of benefits to the people involved in this sector. The amnesty scheme, construction relief package of PM Imran Khan and the new policies for the sale and purchase of property has positively impacted the country's properties.
All these packages by the government have proven best for the real estate industry of Pakistan. However, after the Govt announcement to allow people to construct projects and houses without declaring their income source, we have seen an increase of 20% to 30% in the property prices. Undoubtedly, after this construction relief package, the prices of property have started flying like a rocket.
But overall, it was a good year for the real estate sector of Pakistan.
Current Situation of Property Market
The prices of property are stable from the last two months of 2020. However, the Govt of Pakistan has announced continuing its construction relief package through 2021 on 31st December 2020. This announcement has brought the positivity back, and the prices of the property have started increasing again. However, it is time to invest carefully as the property prices are showing highly speculative behaviour.
Govt's construction relief package mainly focused on the development and construction. However, the plot sector has also got a fair share, including the non-possession plots. Many societies have started developing non-possession plots and have announced possession so that investors can quickly start the construction of their projects/homes.
Here we can expect the increase in the prices of properties till April 2021. Hopefully, it will be the right assumption.
Real Estate Forecast 2021
2021 will be an interesting year for the real estate sector of Pakistan. This year will be highly beneficial, but we have to consider many factors to come out with this real estate forecast in 2021. But most importantly, this time, our government seems to be more focused on constructing real estate projects. So, we can say that 2021 will be a year where more undeclared money will be an investment in real estate. Moreover, it will be a beneficial year, especially for the construction projects and the possession areas.
Overall, 2021 will be a year for property investment. However, there will be more profit in construction while the trading in plots can be a secondary option.
At Universal Property Network, we deal with numbers of the best housing societies where your investment will be safe and return you with huge profits. So, here is the list of the housing society where you can confidently invest in 2021 to meet both your residential and investment needs:
Bahria Town Lahore, Bahria Orchard Lahore, and Bahria Town Karachi
Lahore Smart City
Capital Smart City
Bahria Town Islamabad/Rawalpindi
MidCity Lahore
DHA Lahore, DHA Multan, and DHA Peshawar
Lake City Lahore
Al-Kabir Town Lahore
Kings Town Lahore
We concluding all these details, we can say that you can invest in plots to construct your house or to do speculative trading. However, if you are interested in generating handsome rental income, then buying in high-rise building apartments, shops, and offices and villas will be more beneficial. These constructed properties are equally good for speculative trading as well as to earn monthly rental income.
Contact Universal Property Network  For More Information click here or visit our youtube channel further assistance.