Palm Vista Lahore – Location Map, Payment Plan and Booking Details
by UPN
May 19, 2022
0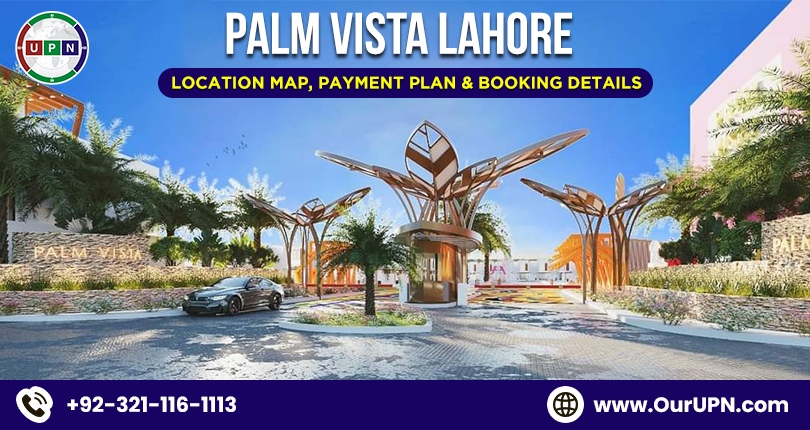 Palm Vista Lahore is a beautifully planned, modern housing society. It is designed to provide a convenient and facilitated lifestyle in the prime location of Lahore. It's a project by a well-known developer who had brilliantly planned it with all the top-class amenities and attractions. Covering a significant land area, it offers a variety of residential and commercial options. The location of this project is outstanding and easily accessible. Also, the state-of-the-art development and modern planning are just impressive.
Moreover, the main purpose behind the development of this society is to offer innovative lifestyle opportunities with affordability. This place is undoubted, opening doors for incredible residence and investment options for buyers and investors. Further details are:
NOC Approval
Having a proper NOC is very much important to term a project secure and suitable for investment. Palm Vista Lahore NOC approval is under process. All the paperwork is done, and the society's administration has applied for it. The approval is under process. Hopefully, Lahore Development Authority will soon approve this venture. Also, you can contact authorities directly to know the details of approval process.
Masterplan
Palm Vista is an impressive project with heart-winning planning and state-of-the-art development, spreading over a large area. The entire land of this society is further divided into several blocks. These blocks offer very attractive properties enough to meet your residential and investment needs. At the same time, these properties come with bundles of amenities essential to term a place modern and facilitated. These top-class facilities include the best educational facilities, hospitals, traveling facilities, parks and playgrounds, and basis life amenities. More details of the blocks will be available soon.
Palm Vista Lahore Location
Like all the other striking features, Palm Vista Lahore location is attractive for several reasons. This project is located ideally at the graceful location of Main Raiwind Road Lahore. Palm Vista enjoys the proximity to Lake City Lahore and Al-Kabir Town Lahore. Moreover, high-standard projects like Bahria Orchard Lahore, Khayaban-e-Amin, and Fazaia Housing Society are lying nearby.
Plots for Sale in Palm Vista
This society is currently offering a limited number of plots in residential and commercial categories. But the sizes are a true description of the developer's excellence. These sizes of plots are high in demand and make this place valuable. Furthermore, the plots for sale in Palm Vista Lahore are:
3 Marla Residential
5 Marla Residential
3.5 Marla Residential
Palm Vista Lahore Payment Plan
All the plots in Palm Vista are low in price and surprisingly affordable. Booking of plots starts from a 25% down payment, and the remaining amount will have to pay in easy installments of 3 years. This ease of budget-friendly prices and payment plans adds more value and charm to this project. Following are the detailed prices of plots:
3 Marla Plots Prices
The launching price of the plots is 27.50 lacs. Booking of plots starts from 7.95 lacs only. Moreover, the monthly installment of the plot is 26,834/- only. The payment plan of the plot spans over 3 years. The confirmation and possession amount is also reasonable. Furthermore, you will also have to pay 3 semi-annual installments of 1 lac.
Total Price: Rs. 2,750,000/-
Down Payment: Rs. 795,000/-
Confirmation: 300,000/-
Balloting: 150,000/-
Possession: 400,000/-
Semi-Annual: (100,000 x 3) = 300,000/-
Monthly installment: Rs. 26,834/-
5 Marla Plots Prices
The starting prices for these 5 Marla plots are 49.95 lacs. The down payment for the plot is 7.50 lacs.
Total Price: Rs. 4,995,000/-
Down Payment: Rs. 750,000/-
Confirmation: 750,000/-
Balloting; 400,000/-
Semi-Annual Installments: (200,000 x 4) = 800,000/-
Possession: 800,000/-
Monthly Installment: Rs. 49,835/-
3.5 Marla Semi Commercial Plots
These plot prices start from 46 lacs only. The down payment for the plot is 15 lacs. Moreover, the monthly installment for these semi-commercial plots is 50,000/-. The yearly installment of the plots is 3 lacs (2). The amount payable at the time of possession is 1 lac.
Total Price: Rs. 4,600,00/-
Down Payment: Rs. 1,500,000/-
Yearly Installments: 300,000 x 2 = 600,000/-
On Possession: 1,000,000/-
Monthly installment: Rs. 50,000/-
Overall the prices for these plots are reasonable, and buying will be beneficial for residence and investment gains.
Facilities Available
In this modern age, no one invests in any project without adequately checking the facilities available. Palm Vista Lahore is also developed on the latest trends and modes, offering latest-day amenities such as:
Gated Society with Boundary Wall
CCTV Vigilance as well as Security Guards
Commercial Zones
Community Center
Carpeted Roads and Green Belts
Graveyard
Masjid in Every Block
Parks as well as Play Areas for Kids
Schools and Hospital Facilities
24/7 Security System
Neat, Clean as well as Fresh Environment
Palm Vista is surely a graceful option for investment in Lahore. People searching for the good in prices residential and commercial plots will love to invest in them. Your investment in this project will be secure and will return you good profits as per your expectations. So, contact us for beneficial and convenient investment in Palm Vista Lahore.
Please contact Universal Property Network For More Information click here or visit our youtube channel further assistance