Penta Square Apartments DHA Lahore – New Booking & Development Status
by UPN
May 21, 2018
0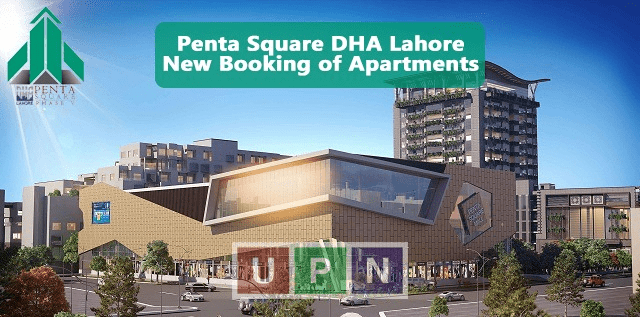 Penta Square is a missed-use project owned by DHA Lahore which will house apartments, offices and retail shops. It has a huge appeal among buyers for being located in the downtown DHA in Phase 5. In the initial phase, only apartments are up for booking and first and second launch of 3-bedroom luxury apartments have taken place previously. Before 3rd launch of apartments, bookings for some 3-bedroom luxury apartments are open now.
New Bookings of Penta Square Luxury Apartments (3-Bedroom)
The administration is planning for the 3rd launch of these 3-bedroom luxury apartments. Currently limited 3-bedroom apartments are available for booking on direct allotment.
Booking Details, Pricing Information and Payment Plan
Earlier these apartments were booked at 2 years payment plan with eight quarterly installments in previous launches. But now a 2.5 years payment plan is offered and price per square feet is Rs. 17,500. The covered area of these apartments is 1561 sq. feet minimum to 2473 sq. feet maximum and total price varies accordingly. The breakdown of the payment plan is given below.
Down Payment:                                  20%
Installments Quarterly (2.5 Years):     6.5%
On Possession:                                          15%
Booking Procedure – How to Apply
Application forms are available and can be obtained from Sales and Marketing Office in CCA, Phase V in DHA Lahore from 9 AM to 5 PM.
An applicant can apply for any number of apartments, subject to payment of due charges for each apartment separately.
In case of overseas Pakistanis, applications along with a demand draft amounting USD 960 (bank charges included) and equivalent to 20% price of the selected apartment in favor of DHA Lahore should be forwarded. For overseas Pakistanis all other payments will be in USD only.
Penta Square Development Status
Penta Square project on its way towards fast completion and approximately 75% grey structure construction has been completed. DHA Lahore is focused to deliver it as soon as possible and in less than three years; development on ground is encouraging.
Penta Square Apartments 3rd Launch
The 3rd launch of Penta Square luxury apartments (3-bedroom) is on the cards. At this stage, no date or time frame has been disclosed about the upcoming 3rd launch. DHA Lahore offered 77 apartments on two-year Installment plan in first launch while 75 apartments were booked and balloted in 2nd launch last year.
For more information and latest updates, please keep visiting Universal Property Network (UPN).