DHA Penta Square Lahore – New Booking Of DHA Penta Square Apartments – A Project of DHA
by UPN
September 26, 2017
4 Comments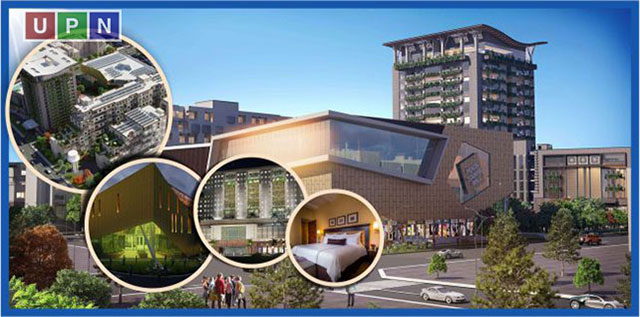 Penta Square is a condominium project being developed in Phase 5 of DHA Lahore. Expected to be completed by June 2019, the project is owned and developed by DHA. Penta Square will cover 80 Kanal of land and will have separate buildings for shopping mall, residential apartments and corporate offices. Initially, DHA Lahore had only offered residential apartments for booking. In December 2015, booking for 77 apartments was launched and it attracted remarkable interest from investors. Now, the booking for another 75 apartments has been opened and the last date to submit booking applications is Oct 2nd, 2017. To decide the lucky winners/applicants, balloting will be held on 20th October 2017. Here is little information about the project itself before we further dive into booking details.
Location of Penta Square Apartments
Penta Square is located right next to the main commercial area of DHA Phase 5. It is at a drive of 2 minutes from Lalak Jan Chowk, LUMS and Lahore Ring Road. DHA Y-Block market is hardly 5 kilometer away from the project. Penta Square is designed ingeniously to accommodate residential, corporate and commercial customers. 156 apartments make up the residential section of the project and nearly half of them have already been allotted at the start of 2016. DHA management is working swiftly to complete the project by mid 2019. Residential apartments will have facilities like:
24/7 Power Backup
Day Care Facility
Squash & Tennis Courts
Centralized Heating & Colling System
Swimming pool
Walking track
Dedicated parking area& green area
Water recycling plant
Solar Panels
Highly modernized security system
Booking Process of Penta Square Apartments
Booking forms are available on the website of DHA Lahore or you can collect them from Sales & Marketing office of Penta Square. In order to formally submit a form, you will also have to deposit Rs. 100,000 in designated branches of Askari Bank. Out of Rs. 100,000, Rs. 15,000 is collected as non-refundable processing fee for your booking application. Remaining Rs. 85,000 is collected as token money. This amount will be adjusted into your payment plan if you remain successful in balloting. If you are not successful, token money will be refunded.
After carefully filling out the booking application of Penta Square, you can submit it in designated branches of Askari Bank, DHA Lahore Head Office or at Sales & Marketing office of Penta Square.
Payment Plan for Penta Square Apartments
3-Bed room apartments are offered in the second round of booking. A 2-year installment plan is offered to buy the apartments. The down payment is limited to 20% of total price and allottees have to pay remaining amount in 8 equal quarterly installments. A 5% discount is offered on lump sum payment of apartment price. After the balloting is done on 20th October, successful applicants will have to pay the down payment by 6th November 2017. If they don't deposit money by that time, successful applicant will not only lose allotment of apartment but their token money will be fortified as well.