Which Phase of DHA Lahore Is Best for Investment? Updated Details By UPN
by UPN
April 13, 2019
0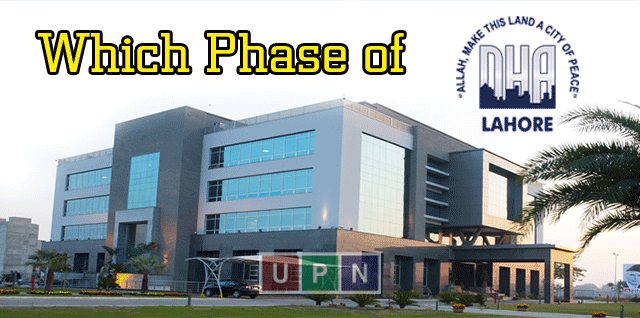 DHA Lahore is such an attractive housing project that is impossible to ignore. Designed with modern and outstanding features, the popularity of the project is increasing day by day. DHA Lahore a state of the art housing society and simply a dream destination to live a luxury lifestyle.
Not only residence but making the investment in DHA Lahore is a great opportunity to earn the promising profit and there are various options available with exit strategies and timelines. So today, we are going to discuss the best investment possibilities in the 5 different phases of DHA Lahore so that you can easily choose the best-desired one for you.
DHA Phase 5
Making the investment in DHA Phase 5 will provide you with the minimum return. But still, there are many investors who consider investment in Phase 5. Investment in B Block and D block seems on the lower side and might be the only riskier investment which may not return you with a huge profit. In today's market, M block extension sees a standstill and other areas like D Block, E Block, & F Blocks see an increase in prices
DHA Phase 6
There is a steady increase in prices of residential plots of DHA Phase 6 on a yearly basis. The strategy is only valid for residential plots with possession. And on analyzing the commercial property of Phase 6, it appears attractive and profitable to invest in the commercial plots of Main Boulevard.
DHA Phase 7
The project has witnessed an increase in prices but only on the plots that have been given possession. And at the same time, there is no significant increase in the commercial plots prices of DHA Phase 7 is reported. As the prices in the upper portion of DHA Phase 7 haven't jumped so UPN recommends buying in the upper portion. This will definitely appear a good option for short term investment.
DHA Phase 8
There is no significant change in the prices of residential plots is reported but there has been a significant decline in the prices of commercials. So this is the best time to buy in Broadway of Phase 8. As the prices of these commercial plots are low, it will definitely give you a higher investment yield in two to three years' time.
Investment in Z Block of Phase8 is a profitable option for investors as the prices are at their lowest. We hope that this investment will return you with handsome profit in next one to two years.  Z6 commercial and 5 Marla in Z4 Block is another good option for profitable investment.
DHA Phase 9
Those investors who desire to make a long-term investment in DHA Lahore, Phase 9 Prism is a viable option for them. If you invest in residential property of Phase 9, it will return you with good profit in next 3-4 years. But buying commercials is not recommended as it will take 6 to 7 years of time to mature.
DHA Phase 9 Town
Buying in DHA Phase 9 town is highly recommended as it is the right time to make the best investment.  The prices of plots would rapidly go up as the house sales are ongoing and that is why DHA Phase 9 town is an excellent choice for residence and investment.
We have already discussed the best options of profitable investments in DHA Lahore, but before making an investment in any of the property in DHA, just contact Universal Property Network, we will assist you with the best consultancy services.