Pine Enclave Lahore | Payment Plan 2023 | Location Map
by UPN
October 4, 2023
0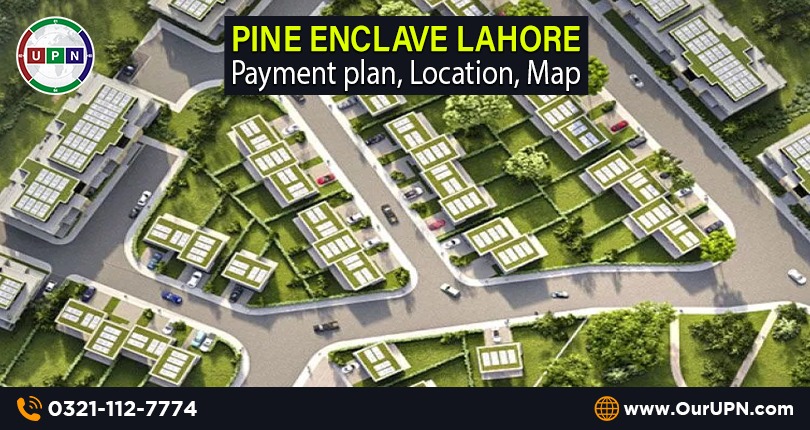 Pine Enclave Lahore | Payment Plan 2023 | Location Map
Welcome to Pine Enclave, an exceptional project by Q Links Developers that offers an incredible investment opportunity you don't want to miss. Following the overwhelming success of our 3 & 5 Marla Residential Plots, we are thrilled to present another golden opportunity – 2 Marla Commercial Plots on a 2-year Easy Installment plan. If you're looking for a smart investment, Pine Enclave is the place to be.
Prime Location in the Heart of Lahore
One of the key factors that make Pine Enclave an attractive investment is its prime location. Nestled in the heart of Lahore, this prestigious project is surrounded by renowned societies like DHA Rahber, Khayaban e Ameen, Valencia Town, and Engineer Town. This strategic placement ensures easy accessibility and close proximity to major residential areas, making it an ideal choice for investors.
Easy Payment Plan
At Pine Enclave, we understand the importance of a flexible and convenient payment plan. That's why we have designed a 2-year Easy Installment plan for our 2 Marla Commercial Plots. This plan allows you to invest without any financial burden, making your investment journey smoother and hassle-free. We believe in making your dreams of owning a commercial property a reality, and our payment plan is tailored to suit your needs.
Limited Plots, Infinite Opportunities
The demand for properties in Pine Enclave has been overwhelming, resulting in limited plot availability. This exclusivity not only adds value to your investment but also ensures that you become part of an elite group of investors who recognize the immense potential of Pine Enclave. Don't miss out on this rare opportunity to secure your plot in this sought-after location.
Why Invest in Pine Enclave?
Here are some compelling reasons why investing in Pine Enclave is a wise decision:
Location Advantage: Pine Enclave is strategically located in the heart of Lahore, near well-established societies, ensuring high growth potential and promising returns on investment.
Commercial Plots: The availability of 2 Marla Commercial Plots opens up a world of investment possibilities. Whether you plan to build your own commercial space or seek profitable rental opportunities, Pine Enclave caters to your vision.
Flexible Payment Plan: Our 2-year Easy Installment plan ensures that investing in Pine Enclave is financially feasible and convenient for you. We want to make sure that you can embark on your investment journey without any financial strain.
Limited Plot Availability: With limited plots on offer, Pine Enclave guarantees exclusivity and value for your investment. Owning a plot here means being part of an elite community with exceptional prospects for growth.
Don't Miss Out on this Opportunity!
Pine Enclave presents a rare opportunity to invest in a prime location and secure your future. Whether you dream of owning a commercial space or seek a profitable investment, Pine Enclave is the gateway to success. The limited plot availability and the demand for properties in this project make it an opportunity you don't want to miss out on.
To learn more about this exciting investment opportunity, visit our website or contact our sales team. Invest in Pine Enclave today and unlock a world of possibilities!
Please contact Universal Property Network For More Information click here or visit our Youtube channel for further assistance.