Precinct 28 Bahria Town Karachi Map, Location and Prices Updates 
by UPN
October 13, 2021
0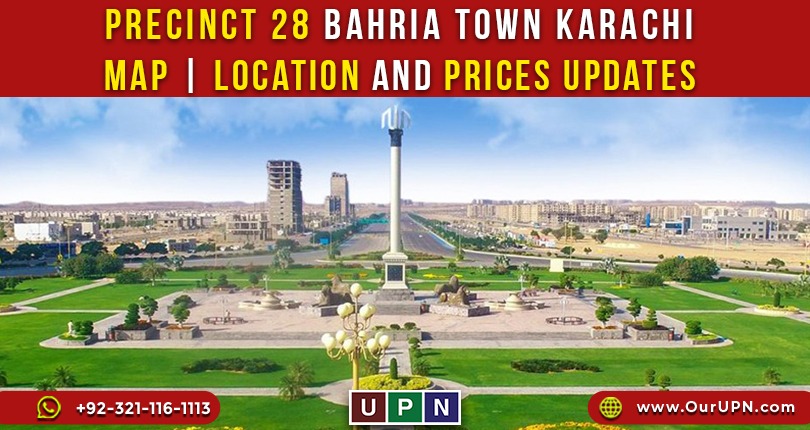 Bahria Town Karachi have many precincts but precincts of Old BTK holds significant importance. People like to buy properties in them because of impressive development and access to latest facilities. Precinct 28 Bahria Town is one of them. It's location, map, prices, and development, everything makes it a prominent option. Further details are:
Precinct 28 Bahria Town
Precinct 28 is fulfilling all these needs in one place. Its emerging features missing in other blocks are attractive and appealing. These features include dancing fountains, easy down payments, installment, interesting recreational points, customer-friendly environment, proper borderlines among blocks and undisputed territory, etc.
Location
 Precinct 28 Bahria Town is situated in a prime location as the future construction of Rafi International stadium is very near to this Precinct. It is famous for its dancing fountain in a big area and a significant source of entertainment for people these days. People like to come and enjoy themselves there. It is situated near Jinnah Avenue and in front of Precinct 20, which is the heart of Bahria Town. At the same time, it is next to precinct 27.
Precinct 27 is almost filled as many families have shifted in it. You can see well-structured and latest models of houses there. Similarly, Precinct 28 is also a well-planned block. Wide streets, beautiful parks, dancing fountains, 24/7 electricity, water filtration plant, shopping malls, institutes, etc., everything is there. Moreover, it is within walking distance from precinct 27.
Plots Prices in Precinct 28 Bahria Town
Initially, there were some disputes regarding the boundary line of Precinct 28 Bahria Town. Recently, every matter has been resolved reasonably.  It is offering 125 yards plots category. It is one of the excellent choices if you come into this zone.
Pricing
The rates and development status are remarkable. Current prices of Precinct 28, Bahria Town, are very reasonable and reachable. Its prices are in the range of every person. People from all categories, i.e., salaried or non-salaried, working or non-working, can easily purchase land in this precinct 28. It is very feasible as Bahria offers very affordable and low-priced plots in Precinct. Rates start from thirty-five lacs to onward. Rates depend on the prices of distance from Jinnah's avenue. Prices will be low as the distance increases from Jinnah Avenue. So, it is all up to you which plots you like most to invest in.
Development and Safety
It is safe to live in because it is free from all disputes. It is one of the most significant opportunities for plots for future investment in Precinct 28 Bahria Town. About 60% of developmental work is complete, and 40% of work is growing. Now very few plots are there which are available as people are taking great interest in this block. It is safe due to its boundary line.   
Dancing Fountains
Dancing fountains of Precinct 28, Bahria Town are remarkable things that you can't find anywhere else. So, it was a great idea to build such a beautiful thing. Tedious and hectic routines, family issues, health, and mental problems fill the brain with the mess. In these moments, one needs items that can change his mind, and hence, his soul can relax. In addition, it is human nature that colours always soothe his body and soul.
Undoubtedly, Precinct 28 dancing fountain is fulfilling this desire. Beautiful dances of water with charming colour ranges fascinates peoples and drawing their attention a lot. People are pulling towards these bombastic beauties and fun from far-off places, mostly on weekends. Unique and picturesque scenes are available for them. People of all ages, children, adults, old, etc., enjoy these sceneries and take selfies and pictures in front of these fountains. Due to the dancing fountain, the area is beautiful and valuable. Furthermore, this area cannot shift to anywhere else so, and its value will sustain.
Investment and Future
The investment in Precinct 28 Bahria Town, provides its customer with excellent plots that will return a considerable amount within one year. The reason is dollar prices are increasing day by day, and the country's economic situation also affects the land area in Pakistan. That is why it is an excellent opportunity for all new buyers who always search plots for investment purposes. Moreover, it is a fantastic place because its surroundings include villas, avenues, blocks, parks, and international grounds. Rates largely depend on location, boundaries, safe or unsafe zone, or off-ground matters.
Contact
If you are interested in buying or selling in Precinct 28, Bahria Town confidently contacts us from anywhere or anytime.
Contact us for further assistance.
Please contact Universal Property Network  For More Information click here or visit our youtube channel further assistance