Precinct 6 – 250 Sq. Yards Plots are Available at Amazing Prices – Details & Comparison with Other Precincts
by UPN
February 7, 2019
0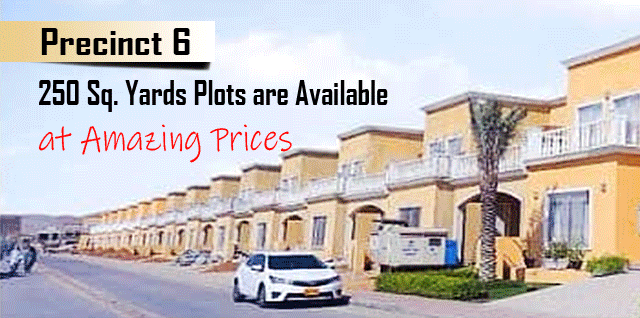 Precinct 6 is among the hot-favorite precincts of Bahria Town Karachi in which the demand for plots is increasing day by day. Buying in Precinct 6 is ideally comprised of 250 sq. yards plots that are available with possession. Not only local but overseas clients are also showing great interest in this precinct for the easy approach and so many attractions which had beautifully surrounded this precinct. These days, buying is highly recommended in this precinct for the many reasons, so let's discuss the details.
Top Option for Investment and Residence in Bahria Town Karachi
Precinct 6 is ideally positioned at the amazing location where so many attractions give it's a unique value in Bahria Town. Buying is recommended for end-users as well as investors who desire to invest their amount for a promising return. The prices of the available plots are reasonable and plots are fully developed and on-ground. Bahria Town Private Limited has already facilitated this precinct with the trademark features and top-class amenities that attracts more investors to Precinct 6.
Ideal Location & Easy Approach
Precinct 6 is located at the drive of 2 to 3 minutes from the Main Entrance of the Bahria Town. It is easily accessed from the Main Super Highway and that is also a value-added point for investors. It is one of the most nearest Precinct located close to the Grand Jamia Mosque.
Surrounded by Many Attractions
Precinct 6 appears attractive among buyers for the so many attractions that have beautifully surrounded it. Grand Jamia Mosque, Midway Commercials, Bahria Hills, Cineplex Cinema, Fully operational Food Court, Hospital, and well-maintained parks are located in its surroundings.
 Updated Prices & Comparison with Precinct 1
Precinct 6 is all comprised of fully-developed and possession plots of 250 sq. yards. The prices of the plots are starting from 65 lacs to 80 lacs. The residential plots of general and category are easily available in Precinct 6. If we make the comparison of these plots with the same plots available in Precinct 1, there is a difference in prices around 35 lacs to 40 lacs. In simple words, you are saving this amount by purchasing the best 250 sq. yards residential plots in Bahria Town Karachi.
Investment Analysis by UPN
No doubt, the entire project is definitely an amazing opportunity for buyers and investors. But Precinct 6 appears more attractive for it's the ideal location, easy access, and so many attractions. Buying a plot in this precinct and hold it for some years will for sure return you with the best profit. In term of residence, it also seems an ideal option as located close to Main Entrance so that you can easily move out and inside the project with just the drive of 2 to 3 minutes.
Universal Property Network is an authorized dealer in Bahria Town Karachi. It's a trusted name in term of sale and buying property. So, if you are searching for any details just make a contact with UPN team.