Safari Villas Bahria Town Lahore
by UPN
November 15, 2021
0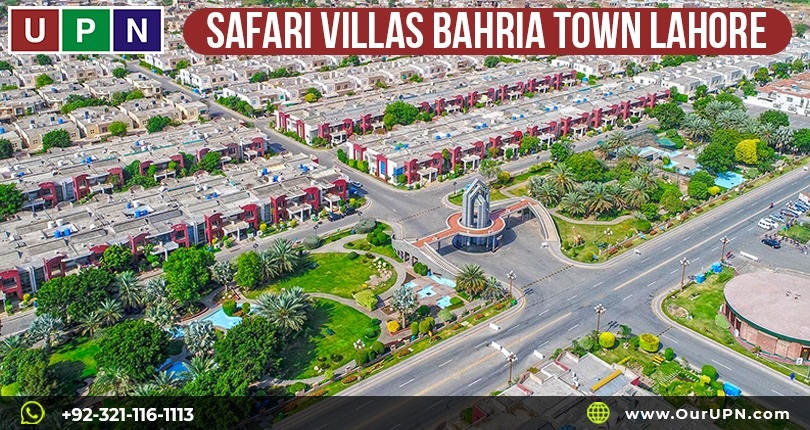 Safari Villas Bahria Town Lahore is one of the top residential projects where a luxurious lifestyle awaits you. It features well-crafted homes, a luxury community offering high-standards living facilities to the inhabitants of Lahore. Bahria Town is an accurate description of exclusivity, comforts and quality. These are family-oriented spaces, a properly developed community where hundreds of families are already living. Also, offering high returns on investment, this project is of a high value. Undoubtedly, Safari Villas is a perfect choice for people looking dream home. At the same time, the right property for residential investment and growth.
So, let's have a complete overview of this project below:
Safari Villas Bahria Town Lahore Location
This marvellous project is located in the heart of Bahria Town Lahore. It is situated in Sector B Safari Block. The villas have the most sought-after location in Lahore, where investment is very much beneficial. This appealing development is near Bahria Town International Hospital, Takbeer Block, Usman Block as well as Safari Mall. Bahria Town developers have smartly chosen the perfect location for the development of an ideal villas project. Moreover, they offer a dream lifestyle packed with all amenities essential to lead a peaceful and comfortable living.
Safari Villas Bahria Town Lahore is easily accessible from two notable routes, i.e., Shakam Chowk and Defence Road Lahore. Coming from Talwaar Chowk towards Bahria Hospital, these villas are located in its proximity. Moreover, these villas are beautifully lying near Safari Zoo and Trafalgar Square Bahria Town.
Safari Villas – Sizes and Style
These appealing villas are smartly developed as per international standards as well as requirements of modern investors. Safari Villas sizes are:
5 Marla Single – Storey and Double-Storey
8 Marla
9 Marla
11 Marla
12 Marla
1 Kanal
The styles of Safari Villas are:
European Style
Asian Style
Spanish Style
Current Prices of Safari Villas Bahria Town Lahore
The latest prices of Safari Villas 5 Marla single-storey houses are starting from 90 lacs to 1 crore. Moreover, these houses on rent will cost you around 30 – 35 thousand per month.
5 Marla double-storey villas are available in the price bracket of 1.20 crores to 1.25 crores. Also, the rental value of these houses is 45 – 50 thousand.
8 Marla European Style villas prices are starting from 1.50 crores to 1.55 crores. Moreover, these villas on rent are available for 55 – 60 thousand per month.
Also, you can buy 9 Marla beautiful villas in the price bracket of 1.65 crores to 1.70 crores.
11 Marla Safari Villas feature 4 bedrooms accommodation. So, these villas will cost you the price of 2.05 crores to 2.10 crores.
Furthermore, the prices for 12 Marla villas are around 2.35 crores to 2.50 crores.
Development and Population Update
The development work of Safari Villas has been completed so far. This project is 100% developed, and families are residing there. Yes, it's home to hundreds of families while the ratio of inhabitation increases day by day. So, a limited number of villas are available for sale and rent.
Facilities Near Safari Villas Lahore
If you want the best and high-level facilities, Safari Villas can be your destination. These heart-winning villas feature all the world-class amenities and attractions essential for a modern lifestyle. Furthermore, it's a well-developed community with the best facilities ever. Also, some of the significant commercial developments nearby are:
Eagle Mall
D Market
Bhatti Market
Shaheen Block Mobile Market
Hotels, International Food Chains as well as Ice Cream Parlor
State of the Art Mosque
Food Court and Cinema
Local and International Brands Outlets
Bahria Town International Hospital
Trafalgar Square
Safari Park and Zoo
Walking as well as Jogging Tracks
Other Basic Facilities
Gated Community
Beautiful Development
Appealing Infrastructure
Uninterrupted Supply of Electricity
Gas and Water
Parks as well as Green Areas
Play Areas for Kids
Investment in Safari Villas Lahore
Because of the promising development and strategic location, Safari Villas holds high value and appreciation. These houses are thoughtfully designed as per the requirements of modern families. These are the perfect sort of residence as the area is beautiful and have lush green surroundings.
The contemporary design of the villas, availability in different sizes and prices makes these residential properties perfect to consider. Buying in Safari Villas guarantees a desirable lifestyle and high returns on investment. Moreover, it is an ideal option to generate handsome rental income every month.
We suggest buying in Safari Villas Sector B as investing there will be a wise and futuristic decision. These villas are the best to elevate your lifestyle and to maximize your investments smartly. The development, comforts and facilities of these villas adds charm in them. Moreover, the current prices and the increasing demands, stands them above in the several other options.
Please contact Universal Property Network  For More Information click here or visit our youtube channel further assistance