Quaid Block Bahria Town Lahore – A Complete Guideline & Latest Plots Prices
by UPN
February 6, 2019
0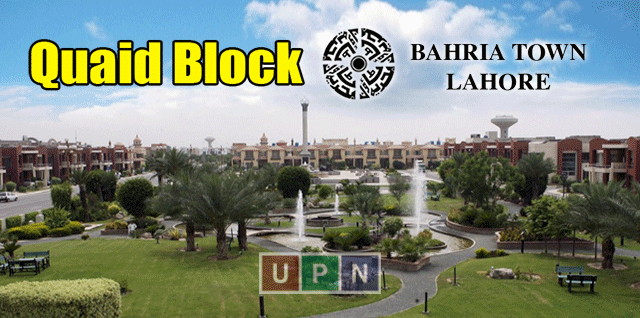 Bahria Town Lahore is one of the best housing projects with many sectors and blocks in it. But Sector E appears hot-favorite among investors. All the blocks of this sector appear as the ideal investment chance but the demand of plots is a little bit higher in its Quaid block. This block is basically comprised of 10 Marla plots cuttings. Some of the plots are on the ground while the other is off the ground. There is a difference between the prices of these plots. But still, the prices of these plots are quite reasonable. Buyers are looking to buy plots for residential as well as the investment point of view. The pace of development of Quaid Block ensure that it will soon become the most popular block of Bahria Town Lahore, so buying these plots are highly recommended.
Location Details & Easy Access
Quaid Block is located on the ideal and prime location of Lahore. It is located at the Main 150 ft. Road. This road is further linking to Canal Road and Multan Road. The future of this block is bright due to its value-adding location and approach. Eiffel Tower is located at a walking distance while a petrol pump and a newly opened store are also located opposite it.
Development Updates
The development of Quaid Block is almost completed. The ground is leveled; all the process of water lines, electricity and sewerage are moving on a fast speed. The development speed of this block ensures a handsome return. It is an ideal opportunity to invest and get a handsome return in the next few years.
Updated Prices of Plots
Quaid Block is featuring the residential plots of 10 Marla.  The price ranges for 10 Marla off ground plots are starting from 60 Lac to 62 Lac. The price ranges for on-ground plots of 10 Marla in Quaid Block is starting from 75 Lac to  88 Lac.
Investment Potential
Sector E is one of the hot-favorite sectors of Bahria Town. The availability of 10 Marla plots at the reasonable prices in its Quaid Block is an outstanding opportunity for residency and investment. It is expected that the prices for these plots will soon increase as the new patch of Ring Road Interchange will move alongside to the Talha Block that is located close to it.
For further details and updates stay in touch with Universal Property Network