Abu Bakar Block – An Ideal Block for 1 Kanal Residential Plots – Latest Updates
by UPN
February 6, 2019
0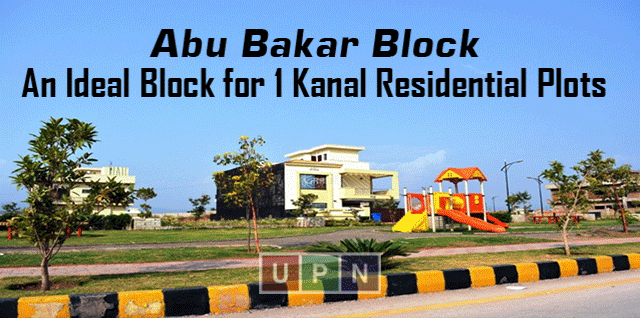 Sector F of Bahria Town Lahore is considered hot-favorite among buyers and investors.  The availability of different plot cuttings and the reasonable prices of the property is rapidly catching the attention of everyone. One of the most favorite blocks of Sector- F is the Abu Bakar Block. This block is the new participant in housing communities and comprised of 1 Kanal plot cuttings in it. The main attraction of this block is its location and the countless attractions around it surroundings. All the basic facilities and feature attached to the trademark of Bahria Town Lahore is already provided to this block. If you are expecting the good return on investments or planning to build a dream home in Bahria Town Lahore, Abu Bakar Block is the right opportunity for you.
Abu Bakar Block- Location Overview
This block of Sector-F is located at the outstanding location. If we move from the main Boulevard of Bahria Town to the Talwaar Chowk and then Eiffel Tower, it is positioned opposite to Ghaznavi Block and attached to Alamgir Block. The ideal location of Abu Bakar Block and the top-notch facilities and features makes this block the most significant in all the other blocks of Sector-F. Two beautiful parks are the part of this block. The multiplex cinema, state-of-the-art Mosque of Ghaznavi Block and the food court are located close to Abu Bakar Block.
1 Kanal Plots Prices in Abu Bakar Block
Abu Bakar Block is providing a great chance to the interested clients who desire to buy 1 Kanal plots at the reasonable rates. The cutting of 1 Kanal plots are falling in the price bracket of Rs. 75 lac to 1 crore. The price ranges for the 1 Kanal Plots are different depending on the on-ground and off-ground plots. The starting price of 1 Kanal off-ground plots are 75 lac to 88 lac. However, the on-ground plots of 1 Kanal are available at the starting price of 95 lac to 1 crore.  There is a difference in the plot prices, depending on the location of the plot.
Comparison with Jinnah and Tauheed Block
The reasonable prices of plots at Abu Bakar Block have made this as the best block in comparison to other blocks with 1 Kanal plots in them. If we make a comparison of the 1 Kanal plots in Jinnah and Tauheed block, the starting prices of the plots are 1.15 crore to 1.25 crore. So buying a plot in Abu Bakar Block is quite reasonable.  It is expected that the off-ground plots of Abu Bakar Block will be soon on-ground so, the making an investment in these plots definitely ensure a fruitful reward. Universal Property Network
For further details and updates, stay in touch with