Rafi Block 5 Marla and 10 Marla Residential Plots – Latest Updates
by UPN
December 14, 2018
0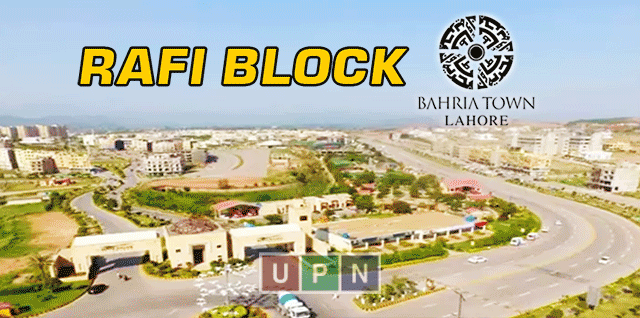 Sector E is considered an important block among all the other sectors of Bahria Town Lahore. This sector is considered the hot-favorite one for its Rafi Block Bahria Town Lahore. Yes, the plots of Rafi Block are grabbing the attention of investors and buyers for its surprising prices. The plot cuttings of 5 Marla and 10 Marla are available in Rafi Block Sector E. The prices for the plots are quite reasonable. Rafi Block is located on the ideal location and amazingly surrounded by many attractions. Buying any of the residential plots in Rafi Block is the right decision for dream residence as well as for investment. So here we have all the other details for you.
Location of Rafi Block and Attractions
Rafi Block is located on the attractive location of Bahria Town. If we move from the Grand Mosque to Eiffel Tower, this block is located at the back of Grand Mosque. Rafi Block is also known popular for its "facing mosque" features. Rafi Block is positioned close to the Clock Tower that is another major landmark of Bahria Town Lahore.
The demand for reasonable plots of 5 Marla and 10 Marla is really high and future of this block is definitely bright. The place at which Rafi Block is positioned is beautifully surrounded by many attractions that definitely raise the value of the plots available in it.
Rafi Block – Development Status and Available Possession
The development of Rafi Block is completed so far. The grounds are leveled; and the work on electricity, water lines, and sewerage are soon going to complete. The development and the availability of the possession have made this block ideal one for building your dream home at the amazing location of Lahore.
5 Marla and 10 Marla Residential Plots in Rafi Block – Updated Prices
The 5 Marla and 10 Marla plots are available in Rafi Block. The price ranges for 5 Marla residential plots is starting from 48 lac to 55 lac.
The plots of 10 Marla are available at the price range of 75 lac to 85 lac. The prices of the residential plots are different as per as location.
The availability of 5 & 10 Marla residential, as well as possession plots in any block of Bahria Town at these price ranges, where amazing attractions and unique features are waiting for you, is hardly available.
Ideal for Residence and Investment Potential
The Rafi Block of Sector E is one of the hot favorite ones among investors for the affordable rates of residential plots in it. These 5 Marla and 10 Marla residential plots are best to invest and to build your dream home. If you are looking to buy them for profit and desires to get the handsome return, don't miss the chance and buy your plot before the prices boost up.
For further details and updates stay in touch with Universal Property Network