Rafi Group Announced the Balloting and Launch of Overseas Enclave in Green Palms Gwadar – Latest Update
by UPN
March 8, 2020
0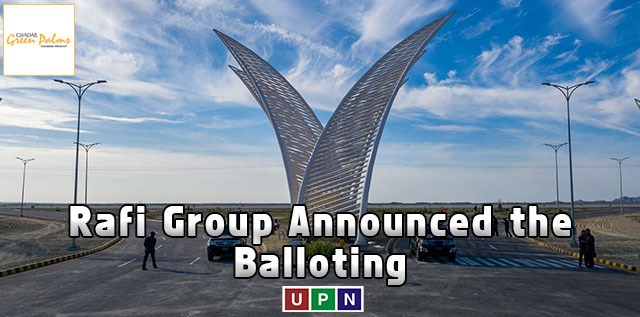 Green Palms Gwadar is one of the most appealing housing projects by Rafi Group. It is planned smartly with both the residential and commercial properties for sale. Both buyers and investors are showing interest in the available investment options. And now the time has come for the official balloting of plots in it. Yes, Rafi Group has recently announced the schedule of the location ballot of Green Palms Housing Scheme Gwadar. Moreover, they have also announced the launch of Overseas Enclave in it
Location Balloting Date and Venue
The location ballot of Green Palms Gwadar and the launching ceremony of Overseas Enclave is going to be held on the 14th of March, 2020. This event will be held at Expo Center Lahore in Hall number 02. Entry should be made through Gate 01. The members of Green Palms Gwadar are invited to participate in the balloting ceremony so that they can find out their ballot results and check their plot numbers on the map.
 The society will allot plot numbers to the investors who have paid all their due installments until the given deadline of 5th March. As now the deadline to submit the due installments is already passed, so, investors with the default of due payments will not be allotted with the plot numbers.

Launch of Overseas Enclave Gwadar
Green Palms is one of the latest and modern real estate project in Gwadar. It is covering a large area of land and further divided into many blocks. However, society has now announced the launch of Overseas Enclave in it. The launch of Overseas Enclave is also planned on 14th March 2020 on the same venue booked for the location ballot of plots.
It is expected that this block will feature the most attractive residential and commercial properties. But maybe it will be completely reserved for overseas Pakistanis.
Current Development Updates 2020
Green Palms Gwadar is a beautifully developing private housing project. Currently, the development work of society is in its initial stages. However, the development and the construction work of the entry gate are already complete. Moreover, the work on Main Boulevard is also done. Further, the development work of the society is progressing smoothly. We can expect the timely delivery of the project as Rafi Group is known to meet and fulfill their commitments.
For more details, stay connected to Universal Property Network!