Reasons Behind the Increase in Prices of Bahria Town Karachi Properties
by UPN
October 7, 2021
0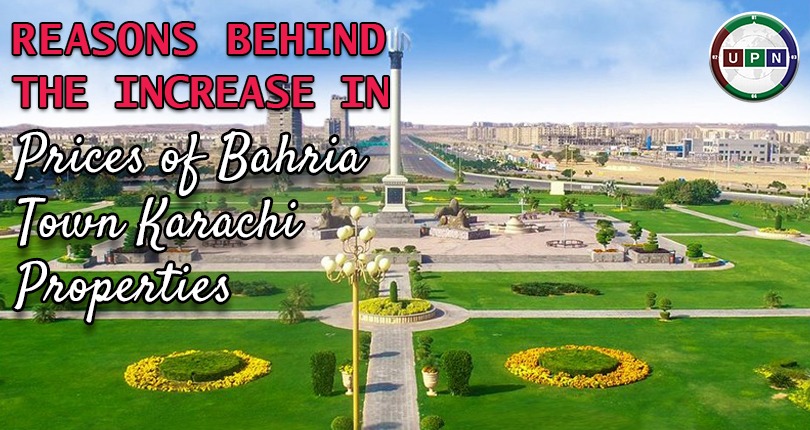 From the last couple of months, an increase in prices of Bahria Town Karachi properties has been noticed. This sudden jump in the prices benefits many investors while many are worried, waiting to invest later. But one of the main questions that arise in people's minds is that "will these prices remain high or it is just for some time?". The answer is straightforward, the prices of properties will remain stable and increasing with time. So let's discuss the reasons behind the increase below in the article!
Completion of Installments Plan
When this society officially launch, the properties in Bahria Town Karachi available on easy installments. However, these installments' plans are complete, and all the options are only available on lump-sum payment. This is one of the primary reasons behind the increase in prices.
Speedy Infrastructure Development
It is the only housing society that has experienced speedy infrastructure development. This society has become ready to live place within the first three years of its launch. However, as it is a mega project with sub-projects and several precincts, much of the infrastructural development was ongoing. But according to the current updates, the infrastructure of many precincts located at a distance from Bahria Town main entrance is also complete. On the other hand, the development work in the remaining precincts is progressing at a good pace.
Launch of Private Builders Projects
It is one of the significant reasons behind the increase in prices of Bahria Town Karachi properties. Many of the top private builders and developers lcomplete and launching their projects. Some of these projects are ready while many are in the development phases. These high-rise building projects offer properties on installments, which attracts people, which is why the demands are also increasing.
Increase in the Demands of Properties
The demands of properties are very much increasing in Bahria Town Karachi. Property demands are increasing with the increase in the availability of facilities. Several commercial projects are operational in Bahria Town, offering all the basic to top-class shopping facilities to its residents.
Moreover, the last heavy spell of rains in Karachi city and the worst situation after it make people move to Bahria Town Karachi. So, the formula is straightforward, an increase in the demands means an increase in the prices of properties.
Prices of Bahria Town Karachi Properties and Investment
Undoubtedly, the real estate sector is on its boom. Prices of Bahria Town properties are increasing day by day. But still, it is an excellent opportunity to make a safe and profitable investment. You can choose the plots available at reasonable prices like in the surroundings of Rafi Cricket Stadium. Good options are available in 125 sq yards plots available in Precinct 22, 24 and the surroundings. Furthermore, Bahria Greens is a good option for investment.
Moreover, a variety of options are available in private builders' projects, offering highly profitable investment opportunities.
Contact us for further assistance.
Please contact Universal Property Network  For More Information click here or visit our youtube channel further assistance