Reasons to Invest in Bahria Orchard Lahore
by UPN
December 27, 2021
0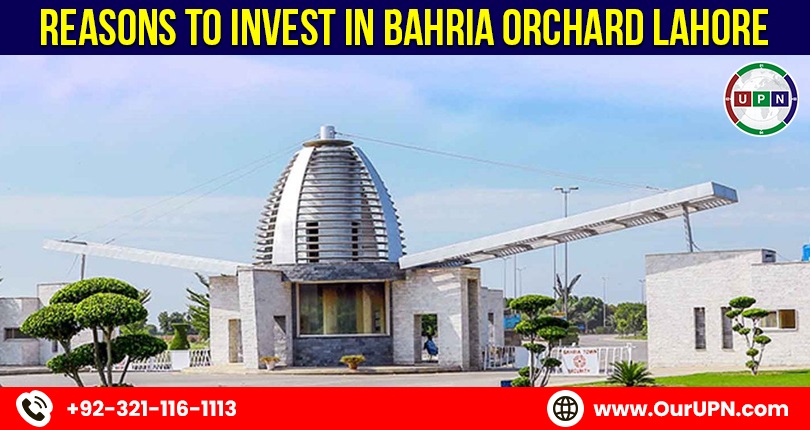 Do you desire to invest in Bahria Orchard Lahore because investment in the real estate sector of Pakistan is considered one of the secure and profitable options to go with? Well, everyone wants to invest in highly attractive property which perfectly meets his requirements. Especially whenever we plan to invest in any housing society, we always make sure to choose the project with a good location, attractive amenities, and reasonable prices. In other words, the following are the significant features we must check before investing in any housing project, i.e.,
Prime Location with Good Surroundings
Modern Day Living Facilities
Access to Commercial Areas
Affordable Prices
These features play a vital role in making a project successful and unsuccessful. So, let's find out that whether all these facilities are available to invest in Bahria Orchard Lahore or not? Please keep on reading!
Attractions to Invest in Bahria Orchard Lahore
Starting from the location of this society to the affordable prices and comparison nearby projects, we will discuss everything.
Location
Bahria Orchard Lahore has a prime location on Main Raiwind Road Lahore. This mega venture is easily accessible from Thokar Niaz Baig Interchange. One can easily access it from Adda Plot on the distance of 4-5 KM. Moreover, the other two main approaches to Bahria Orchard Lahore are from the Sundar Industrial Estate side and Jati Umrah Road. The four main gates of this society are located on Main Raiwind Road, 5th on Sundar Road, and 6th on Jati Umrah Road.
The location of this society is strategic and have beneficial surroundings. All the top-class living and commercial facilities are available within this project. However, one can easily move and access the main city centres on 20 – 25 minutes drive. People residing in Bahria Orchard can easily move within or out of the city without any hassle.
Facilities
The amenities available in Bahria Orchard Lahore are the game-changer. These are international level facilities provided to the residents of this appealing society. Everything is available at doorsteps, starting from the basic necessities to the top-notch luxuries. The parks in this society are large in numbers. There are almost 4 – 5 parks in every block. Moreover, Bahria Town international hospital is already operational inside. Several other clinics are dispensaries are also serving their residents with the best healthcare facilities.
Additionally, the educational facilities are provided with state-of-the-art Bahria Schools and Colleges. Moreover, several other well-known schools such as Beaconhouse, City School, and The Roots are operational inside. These amenities make this place ideal to invest in in Bahria Orchard Lahore.
Many mosques are developed in the several blocks of this society. Also, there are two zoos, one in C Block and the second in J Block of Bahria Orchard Phase 2.
The food court area is also designed correctly. Several local and international food chains are operational in Bahria Orchard Lahore. Moreover, the heart-wining entertainment facilities are provided with the development of high-standard cinemas.
Affordable Prices
Another major reason to invest in Bahria Orchard Lahore is the reasonable prices. This society comprises four phases. All these are planned perfectly with a wide range of properties. However, the prices of plots and constructed properties are affordable. Here a 5 Marla residential plot will cost you in the price bracket of 38 lacs to 55 lacs. The huge gap in the prices because of the block's difference and location. However, it is beneficial for many investors as providing the best investment opportunity to them. The affordable prices of plots is another major reason to invest in Bahria Orchard Lahore.
Comparison with Lake City Lahore
Bahria Orchard Lahore has several housing societies in proximity. However, it is an international standard mega housing venture. Its comparison is only possible with a high-standard project like Lake City Lahore. So, while comparing plots, you will find: Lake City 5 Marla plots are available in the price range of 60 lacs to 85 lacs. On the other hand, the same size plots are available at 45 lacs to 55 lacs prices. A 10 Marla plot in Lake City Lahore will cost you 1 crore to 1.30 crores. But the same plots in Bahria Orchard Lahore can be purchased in 80 lacs.
Conclusion
While summing up all the details and reasons to invest in Bahria Orchard Lahore, we conclude that it is the perfect option to consider. Located ideally, it is full of amenities and attractions. Furthermore, its prices are attractive, and a wide range of options are available. Moreover, it has no comparison with any other project designed with unmatchable features. Therefore, buying in Bahria Orchard Lahore is ideal for residence and investment.
So, what are you waiting for? Get ready to buy the best plots for sale in Lahore on Main Raiwind Road in the best housing society Bahria Orchard Lahore.
Please contact Universal Property Network For More Information click here or visit our youtube channel further assistance