Reasons to Invest in Park View City Lahore
by UPN
May 12, 2022
0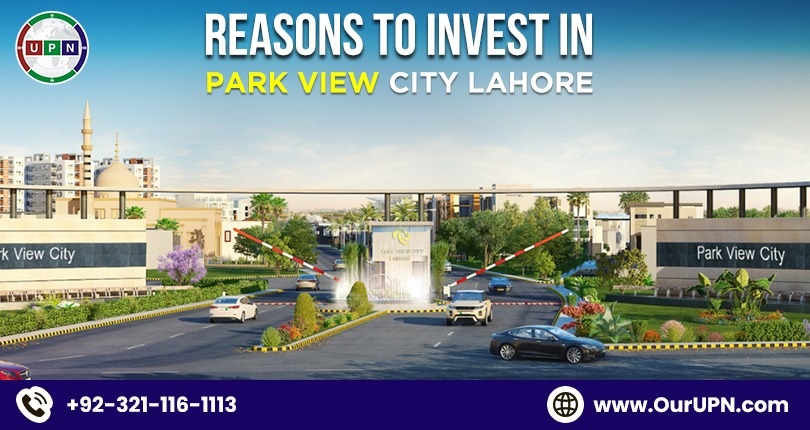 Over the last few years, the Lahore property market is growing so fast. Different new and appealing residential and commercial ventures are launched providing incredible living and investment opportunities to people. These projects are equipped with numerous attractive options and amenities, making them dream destinations. If you are looking for the best opportunities invest in Park View City Lahore.
It's a state-of-the-art housing venture with advanced development, ideal facilities, reasonable prices, and a wide range of options. Both buyers and investors find it suitable for residence and to meet their investment needs.
Invest in Park View City Lahore
In this latest blog post, we will discuss the top reasons for investment in this society that will surely help you in making the right decision:
Prime Location
The location of a housing society matters a lot when choosing a property. It is important as an investor is putting his hard-earned money into a property. An excellent location benefits while a location that is hard to approach and does not have good surroundings does not attract anyone. Park View City Lahore holds importance as it features an ideal location. It is located in a central area of Lahore.
This society enjoys prime and easily accessible locations. Park View City is growing on Main Multan Road. Also, it is lying adjacent to DHA EME Sector Lahore. Also, this project is only 3 KM away from Thokar Niaz Baig and Canal Road. Moreover, Park View City's distance from the M2 Motorway is only 2 KM. This strategic location of this venture makes it an ideal choice for investment.
100% NOC Approval
Another major reason to invest in Park View City Lahore is its complete approval by LDA. This 100% approval from Lahore Development Authority makes it legally valid, increasing the trust of the people. Having an LDA approval from society is very much important. It provides great feelings of satisfaction and more investors invest there. You can also check the approval status of this society on LDA official site.
Wide Range of Options Available
Park View City Lahore stands prominent among other projects because it provides a wide range of options. Here you will find the best residential and commercial plots for sale. The sizes of the plots are good and thoughtfully crafted. These properties are enough to cater to the needs of modern buyers. Following are the sizes of plots:
3.5 Marla (Residential)
5 Marla (Residential)
6 Marla (Residential)
10 Marla (Residential)
1 Kanal (Residential)
6 Marla (Commercial)
8 Marla (Commercial)
Availability on Installments
A large number of buyers prefer buying and investing on installments. Undoubtedly, Lahore's property market is full of options available with easy payment plans. But there are very less top-class and approved societies providing a chance of profitable investment on installments. This is another significant reason to invest in Park View City Lahore. This society is covering a large area of land where several blocks are planned. However, the top blocks with plots on installments are:
Park View City residentials and commercials are both available at budget-friendly prices. Moreover, the booking of plots is starting with 20% and 25% advance. Moreover, the remaining amounts will be payable in easy installments. Currently, the plots on installments in Park View City Lahore are available in:
Overseas Block
Diamond Block
Executive Block
Jade Block
Rose Block
Topez Block
Golf Estate Block
The prices of plots in these blocks are reasonable. Moreover, booking starts with a 20 – 25% down payment. The rest of the amount will be payable in an easy payment plan of 2-2.5 years.
High Standard Facilities
It is another major factor that people consider and properly check before doing investments in any housing society. The provision of all the latest living facilities is very much important. That's the reason, Park View City Lahore is fully-equipped. It's a perfect place for enjoying your dream lifestyle. Some of the appealing amenities in this society are:
Peaceful and Clean Environment
Grand Mosque as well as Mosque in Every Block
Clean Water and Good Sewerage System
Community Centre and Country Club
Educational Institutes and Healthcare Facilities
Secure Gated Community as well as Boundary Wall
Gas and Electricity with 24/7 Assurance of Provision
Underground Electrification Wiring
Parks and Beautiful Landscapes
Up to Date Security
Malls and Proper Commercial Area
Additionally, reliable developers and owners, state-of-the-art development, availability of possession, and increasing inhabitation are also the best reasons to invest in Park View City Lahore.
Please contact Universal Property Network For More Information click here or visit our youtube channel further assistance