Royal Residencia Lahore – Booking Details
by UPN
June 6, 2017
0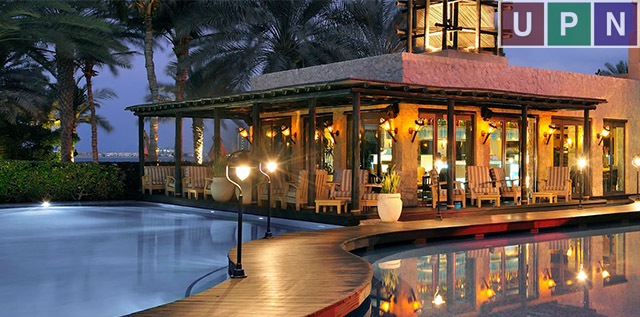 Royal Residencia, an LDA approved housing society is offering a royal life standard. Royal Residencia housing scheme uses an innovative approach to providing luxury and comfort with high-tech infrastructure. The society has an attractive location i.e. connection to Defense Road. Due to its location benefit, quality infrastructure, and affordable pricing, Royal Residencia Lahore is an attractive investment opportunity
Royal Residencia Location
Royal Residencia is located at New Defense Road, Lahore. Royal Residencia has the benefit of surrounding societies and nearby locations that include:
– Millat Employee Housing Society
– Kahna Railway
– Fruits and Vegetables Market
– Rohi Nala Road
– Audits and Accounts Housing Society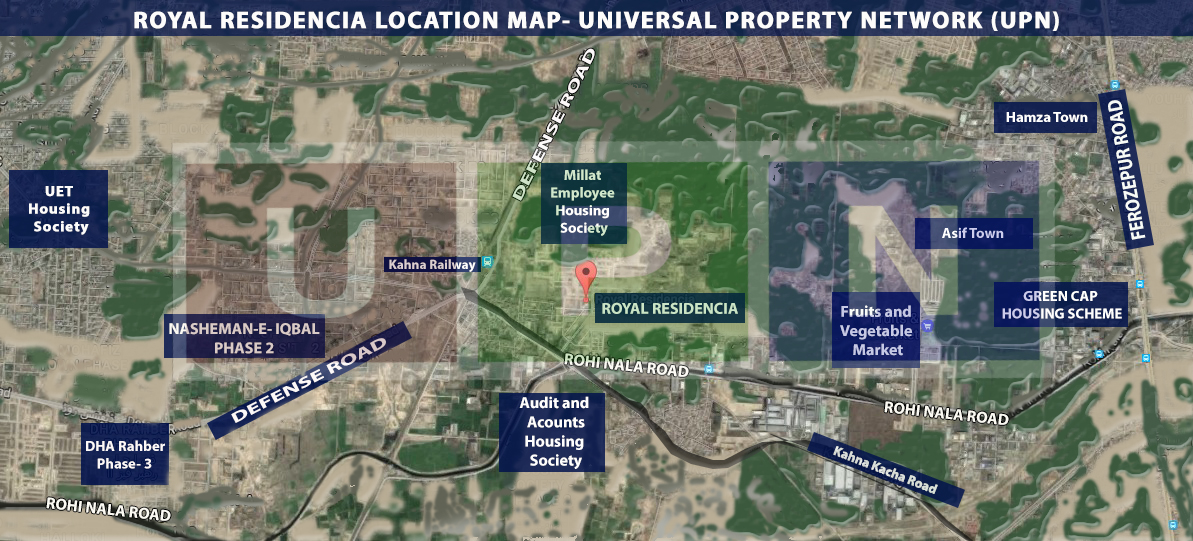 From the location map, it is visible that Royal Residencia Housing Scheme Lahore has proximity to many facilities that are attractive for residential purpose. The society is proximal to Defense Housing Authority Audit and Accounts Housing Society and Millat Employee Housing Society. It also has proximity to Fruits and vegetable market. The public transportation network is accessible for residents.
Royal Residencia Investment Analysis
Investment in Royal Residencia Lahore is attractive. The society is in its first stage where plots and plot files for residential and commercial purposes are available at affordable prices that are approximately 7-8% lower such as in Accounts and Audit Society; 4-Marla plot is approximately 46 Lakh, whereas 4-Marla plot is Royal Residencia is 35 Lakhs.
Architecture Planning
Royal Residencia Housing Society offers commercial and residential facilities with high standard design and infrastructure. Commercial area includes business centers, grocery stores, and shopping malls. The commercial area in Royal Residencia depicts Italian theme in combination with royalty. The commercial area will allow easy access to a variety of items that include grocery, eatables, consumer goods/ services, and other necessities within the community.
The design of residential areas of Royal Residencia Housing Society Lahore combines tradition with modernity i.e. high tech and advanced infrastructure design in combination with royal comfort and luxury. The housing scheme provides an opportunity to enjoy the modern lifestyle, connecting to community life and other benefits of a secure and gated community.
Amenities/Features of Royal Residencia
Some of the essential amenities offered by Royal Residencia Housing Society includes followings:
– Royal Gym
– Royal Resort
– Royal Cineplex
– 24/7 Security
– Royal Marquee
– Tweeting Zone
– Yousef Mosque
– Mini Golf Course
– Commercial Areas
– Community Centre
– 100% Backup Power
– E-Tag Entrance Gates
– Wild Life Theme Park
– Healthcare and Schools
– Advanced Infrastructure
– Parks/Children Play Grounds
Royal Residencia Residential Plots Booking
New bookings for Royal Residencia Residential Plots and Plot Files are available on 2.5 years easy installments (10 quarterly installments) as per the payment plan below:
| | | | | |
| --- | --- | --- | --- | --- |
| Category | Down Payment | Installment Price | At Possession | Total Price |
| | 15% | 7% | 15% | |
| 4 Marla | 525,000 | 245,000 | 525,000 | 3,500,000 |
| 6 Marla | 720,000 | 336,000 | 720,000 | 4,800,000 |
| 8 Marla | 900,000 | 420,000 | 900,000 | 6,000,000 |
| 12 Marla | 1,275,000 | 595,000 | 1,275,000 | 8,500,000 |
| 1 Kanal | 1,875,000 | 875,000 | 1,875,000 | 12,500,000 |
| 2 Kanal | 5,250,000 | 2,450,000 | 5,250,000 | 35,000,000 |
– 10% rebate on Cash Payment of plots
– 10% Additional charges for park facing plots, corner plot of main road plots
– All prices are subject to change without notice/ Conditions Apply
Royal Residencia Commercial Plots Bookings:
The bookings for commercial plots in Royal Residencia Lahore are easily available on 2.5 years easy installments (10 quarterly installments) as per the payment plan below:
| | | | | | | |
| --- | --- | --- | --- | --- | --- | --- |
| Category | 4 Marla | 6 Marla | 8 Marla | 10 Marla | 15 Marla | 17 Marla |
| Total Price | 12,000,000 | 18,000,000 | 24,000,000 | 30,000,000 | 45,000,000 | 51,000,000 |
| Down Payment (15%) | 1,800,000 | 2,700,000 | 3,600,000 | 4,500,000 | 6,750,000 | 7,650,000 |
| Quarterly Installments | 840,000 | 1,260,000 | 1,680,000 | 2,100,000 | 3,150,000 | 3,750,000 |
| At Possession | 1,800,000 | 2,700,000 | 3,600,000 | 4,500,000 | 6,750,000 | 7,650,000 |
– 10% rebate on Cash Payment
– 10% additional charges for prime location (park facing, Main Boulevard 60 Ft, Corner)
– 15% additional for Main Boulevard 80FT or 150 Ft
– All prices are subjected to change without notice/ conditions apply