Sialkot-Lahore Motorway Is Finally Opened for Traffic
by UPN
April 6, 2020
0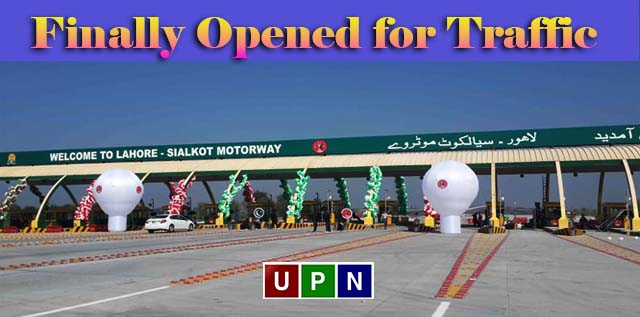 Sialkot-Lahore Motorway (M-11) is finally officially opened on 18th March 2020. The opening ceremony of the motorway was canceled due to the Coronavirus epidemic. However, now the motorway is open for traffic.
The opening of this newly constructed motorway will reduce the total distance between Sialkot and Lahore from two and a half hours to only 50 minutes.
This motorway project was launched in the government of PML-N while the constructed work started in 2017. The completion and finally the official opening of this project is definitely a great addition to the infrastructure of Pakistan. M-11 Motorway will reduce the distance between the main cities and will make them closer.
Sialkot-Lahore Motorway- Project Details
Sialkot-Lahore Motorway is an excellently planned project by the authorities. It is a 91.5 km long road project with 4 lanes. Basically, this motorway will allow people to travel between Lahore and Sialkot easily. However, this motorway project also includes 7 interchanges, 18 underpasses, 7 flyovers, and 20 bridges.
The first section of Sialkot-Lahore Motorway also known as M-11 starts from Kala Shah Kaku and ends in Muridke. This section of M-11 is consists of 22 KM of the total 91 KM of the whole project. However, the rest of 69 KM long roads will be also opened soon for traveling as the construction work is moving at a fast pace. It is expected that the whole project will be completed in June 2020.
Importance of Sialkot Lahore Motorway
The completion and finally the opening of the M-11 motorway will decrease the traffic burden on other roads. Moreover, the traveling time between Lahore and Sialkot will reduce to 50 minutes. It goes hand in hand with GT Road Lahore while covers Gujranwala, Kamoki, Sambrial, Daska. Sialkot-Lahore Motorway will be also helpful in a business point of view as the trading between these two major cities will become faster. In addition, the completion of this M-11 motorway will also improve the connectivity of industrial triangle Sialkot, Gujranwala, and Gujrat-Wazirabad to the rest of the country especially Lahore, resulting in a big boost to exports.
M-11 motorway almost cost around Rs. 44 Billion while 3 industrial zones and 2 universities are also the part of this project along Sialkot's route. These developments are further increasing the worth and importance of this infrastructural development.
Stay Updated with Universal Property Network!
Check out our site for more detail. Latest News