Societies to Invest on Raiwind Road Lahore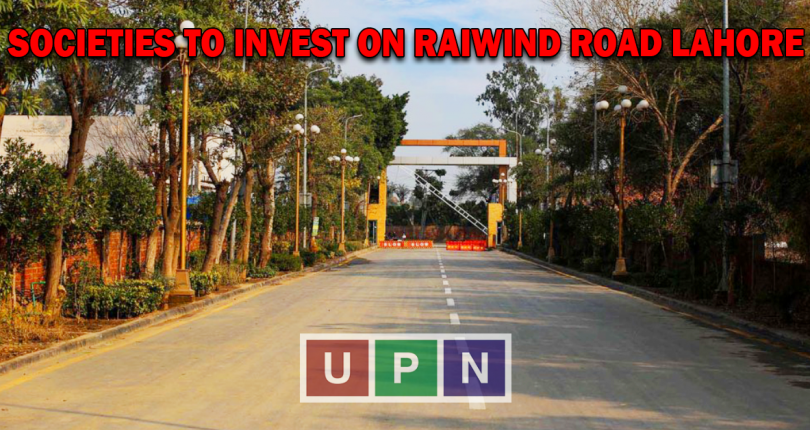 Raiwind Road is one of the major arteries of Lahore that has become a hub of modern housing societies. With the development of all these attractive, high-standard developments, Raiwind Road plays an important role in boosting Lahore's economy. Over the last few years, the ratio of inhabitation is increasing because of the provision of the latest facilities at affordable cost.
If you are searching for a house at one of the fully-facilitated places or planning to invest in beneficial properties of Lahore, Raiwind Road can be a good option. But still, the question is which societies are best to invest there? Check the answer below:
Etihad Town Phase 1 and Phase 2, Raiwind Road
Travelling from Thokar Niaz Baig to Raiwind Road, the societies are Etihad Town Phase 1 and Phase 2. All the installments of the properties of Phase 1 are paid. It's a beautifully developed and inhabited society. Even the installments of plots in Phase 2 are also near completion. However, you can buy several sizes of residential and commercial plots on installments in Etihad Town Phase 2. The Union Luxury Apartments are also available in it, which are best to call your dream home.
LDA Avenue 1, Raiwind Road
Located close to Adda Plot Interchange, LDA Avenue 1 is a residential project with the best opportunities. The smallest size residential plot in LDA Avenue 1 is 10 Marla. The minimum prices for these plots is 70 lacs depending on the location. Also, the well-known Marina Apartments, a family-oriented apartments' project, is located inside LDA Avenue 1. You can buy plots as well as apartments to become a part of this community.
Al-Kabir Town Phase 1 and Phase 2
The next societies located ideally on Raiwind Road and prefer buying and investment are Al-Kabir Town Phase 1 and Phase 2. Both these projects were launch 3, 4 years ago. The 3 Marla and 5 Marla plots in Al-Kabir Town Phase 2 were launched at 15 lacs and 25 lacs, respectively. But now, the prices are much increased. Similar plots of 3 Marla are currently available in the price range of 32 lacs to 36 lacs. Both these projects are 100% approved by LDA.
Lake City Lahore
The society located opposite to Al-Kabir Town is Lake City Lahore. It's a well-known and wonderful housing society in that area. Offering several sizes of plots and homes, Lake City Lahore is a perfect choice to reside on Raiwind Road. Equipped with all the latest-day amenities, Lake City Lahore is a well-populated society. The average price of a 5 Marla plot in Lake City Lahore is 60 lacs.
Bahria Orchard Phase 1, Phase 2, Phase 3 and Phase 4
Comprising of four phases, Bahria Orchard is a high-class residential project on Raiwind Road. It's a modern and attractive society at the same time; it's a budget-friendly option. Offering plots of 5 Marla, 8 Marla, 10 Marla, and 1 Kanal, Bahria Orchard Lahore has countless options available for you.
It also offers a wide range of under-construction villas on installments. The popular villas projects in Bahria Orchard are Jasmine Villas, Eastern Villas, Safari Villas and Overseas Villas. All these options are available at the best prices, along with installment plans.
Kings Town Lahore
Kings Town Lahore, also popular as Al-Kabir Town Phase 3, is a golden opportunity for investors. It's a new, but 100% LDA approved housing society on Raiwind Road. Offering several sizes of plots, villas and apartments on installments, it is one of the most suitable investment options in that locality. The 3 Marla total price in Kings Town is 21 lacs where booking starts with 3 lacs.
Maryam Town (Jasmine Avenue Homes and Villas)
Located close to Kings Town, Maryam Town is a new residential project. It is a project by Q-Links Developers. Offering 5 Marla double-storey villas and triple-storey apartment homes, Maryam Town is one of the best options to buy homes and villas. Jasmine Avenue Homes is the latest project as well as available at booking prices.
So, that's all was the details of the societies ideal to invest on Raiwind Road Lahore.
Please contact Universal Property Network  For More Information click here or visit our youtube channel further assistance