Sports City Villas for Sale in Bahria Town Karachi
by UPN
July 14, 2021
0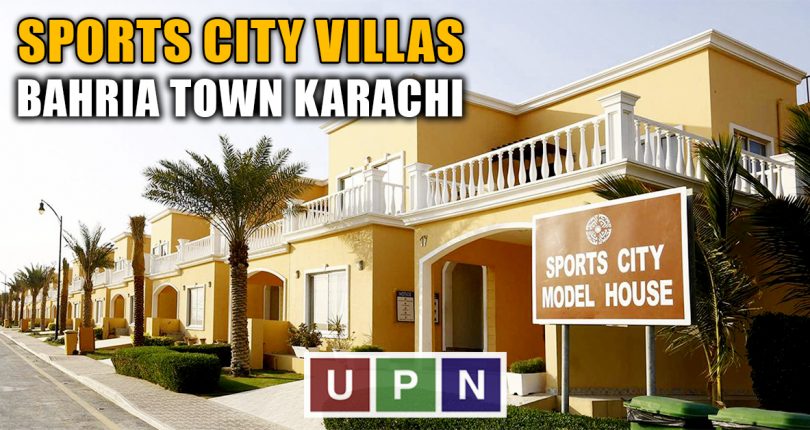 Bahria Town Karachi is the only housing society with a wide range of options in ready-to-move properties. This mega venture offers several categories and sizes of constructed properties such as apartments and villas. However, Sports City Villas for sale in Bahria Town Karachi is one of the most attractive options. These are 4-bedroom accommodation, beautiful villas, located in Bahria Sports City. Bahria Town Karachi villas in Sports City are covering an area of 350 sq yards. Featuring eye-catching exteriors and impressive interiors, these are the perfect living spaces to update your living standards.

Sports City Villas for Sale – A Complete Overview
Located in the heart of Bahria Town Karachi, Bahria Sports City, this beautiful villa's actual location is Precinct 35. These are double–storey 350 sq yards villas that come with 4-bedroom accommodation. Sports City Villas for sale in Bahria Town features four bedrooms with attached bathrooms, kitchen, lounge, dining room, and drawing-room. Also, all of these villas have a small lawn in the backyard.
The Sports City Villas location is outstanding and easily accessible. Moreover, this project also holds importance for beneficial surroundings. Sports City Villas have so many attractions nearby, such as Rafi Cricket Stadium, Dancing Fountain, and Precinct 31 Villas.
Also, a shopping gallery is operational nearby. Moreover, the construction of a mosque in the proximity is near completion. Soon, it will be open for Namazis.
Sports City Villas for Sale – Launching Prices vs. Latest Prices
The launching price of Sports City Villas was 1.45 crores. Also, these villas were available in easy installments. But as the payment plan completes so far, villas are ready and possession available, so anyone can only buy them in full cash.
Only six months ago, the prices of Sports City villas were around 1.60 crores to 1.80 crores. However, the latest prices are ranging from 2 crores to 2.50 crores. The brand-new villas with keys will cost you more than used villas or the villas in grey structure.
Learn More: Bahria Sports City Map
Families Living in Sports City Villas
The 350 sq yards villas of Sports City Villas are ideal to reside in Bahria Town Karachi. These villas are impressively occupied. Almost 100 to 150 families are living in Sports City Villas of Bahria Town. These villas have good inhabitation as most of the villas from Street 7 to Street 11 are residence.
Investment in Sports City Villas
The prices of villas of 350 sq yards are increasing with time. However, buying in them is only beneficial for residence and rental gains. Those planning to invest for capital growth and investment gains can also search for several other options. But here, we would like to add that Sports City Villas for sale in Bahria Town Karachi are excellent villas, anyone can buy to live comfortably with his family.
Contact us for further assistance.
Please contact Universal Property Network  For More Information click here or visit our youtube channel further assistance